Pinus banksiana / jack pine
subgenus Pinus, section Trifoliae (Duhamel), subsection Contortae (Little et Critchfield)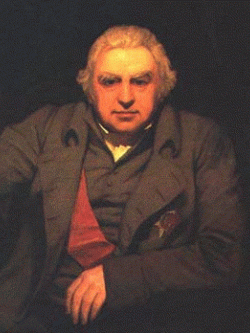 Pinus banksiana, described in 1803 by Aylmer Bourke Lambert (1761–1842), in a Description of the Genus Pinus, vol 1:7, is commonly known as jack pine or less commonly as gray, black, black jack, scrub, Prince's or Banksian pine, as well as pin gris in the French Canadian dialect of French. The epithet is named for the great British botanist and patron of the natural sciences, Sir Joseph Banks (1743 - 1820). In 1766 he was part of an expedition to study the natural history of Labrador and Newfoundland which he recorded in a diary using Linnean descriptions, a remarkable achievement since he was only 23 at the time.

Ethnobotany. Like other species of pine, Pinus banksiana has use as timber, although its wood tends to be knotty and not highly resistant to decay. Products include pulpwood, fuel, decking, and utility poles.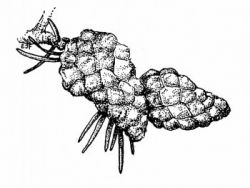 Description. Jack pine is a coniferous species of tree which grows to heights of 30 to 70 feet (9 – 22 m) tall. They are most commonly seen growing shrub-sized, due to poor growing conditions. They do not usually grow perfectly straight, resulting in an irregular shape similar to pitch pine (Pinus rigida). This pine often forms pure stands on sandy or rocky soil. It is fire-adapted to stand-replacing fires, with the cones remaining closed for many years, until a forest fire kills the mature trees and opens the cones, reseeding the burnt ground.
Bark is scaly and orange- to red-brown in color.
Branches grow descending to spreading-ascending and self-prune poorly.
Twigs are rough, slender, orange-red to red-brown in color, aging to gray-brown.
Buds are resinous, ovoid shaped, colored red-brown, measure 0.2 to 0.4 inch (0.5 - 1 cm) long. Scale margins nearly entire.
Leaves (needles) grow in fascicles of two, needle-like, twisted, slightly yellowish-green in color, and 0.8 to 1.6 inches (2 –4 cm) long.
Pollen cones are cylindrically shape, 0.4 to 0.6 inch (10 - 15 mm), and yellow to orange-brown in color.
Seed cones are typically 2 inches (5 cm) long and curved at the tip with scales growing with a small, fragile prickle that usually wears off before maturity, leaving the cones smooth. The seed cones on mature trees are serotinous. They open when exposed to intense heat, greater than or equal to 122°F (50°C). The typical case is in a fire, however cones on the lower branches can open when temperatures reach (81°F (27°C) due to reflected heat from the ground. Additionally, when temperatures reach −51°F (−46°C), the cones will open due to the nature of the resin. The Jack pine cones can remain on garden plants for many years and never open; sometimes they are bound so close to the stem that surrounding wood tissue can, over time, engulf them.
Seeds are compressed-obovoid shaped, oblique with a brown to near black 0.16 to 0.2 inch (4 - 5 mm) body, and attached wing, 0.4 to 0.48 inch 10-12 mm long.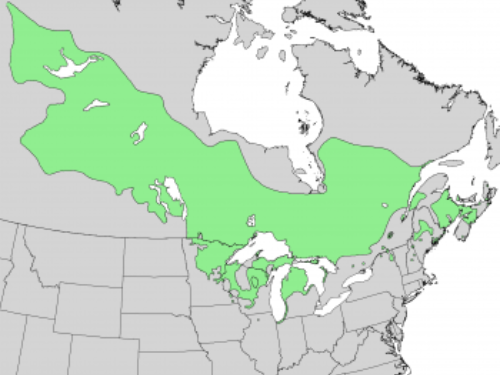 Distribution. This species is native to northern North America from Newfoundland to Pennsylvania and west to the Pacific. Of all the pines in North America, banksiana reaches the furthest north.
While jack pines can become 75 feet (25 m) high and take on the typical growth patterns of many conifers (mound, spreading, bun, etc.), some of the most collectible cultivars are known not just for their stiff, twisting needles but for the irregularity of their development. Some have no predictable pattern (two seemingly identical specimens, planted side-by-side, under identical conditions, can evolve into wildly different shapes) and lend themselves to staking to create unique sculptural forms.
Hardy to USDA Zone 2 — cold hardiness limit between -50° and -40°F (-45.6°C and -40.0°C).
Attribution from: R. Kral, Pinus. Flora of North America Editorial Committee (editors.); Flora of North America North of Mexico, Vol. 2; ©1993, Oxford University Press.