Picea wilsonii / Wilson's spruce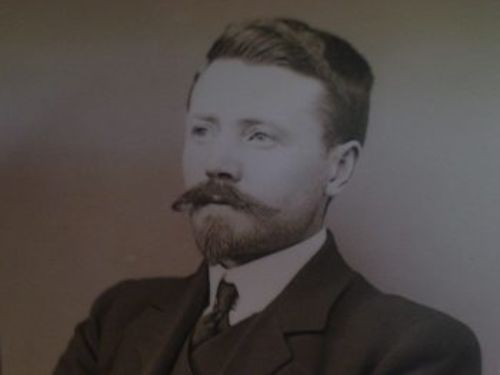 Picea wilsonii, as described in 1903 by Maxwell Tylden Masters (1833–1907), in The Gardeners' Chronicle: a weekly illustrated journal of horticulture and allied subjects. series 3; is commonly known as Wilson's spruce, as well as 青扦 (qīng qiān / green barley) in the Chinese language. The species name honors Ernest Henry "Chinese" Wilson (1876 - 1930), who collected the seeds of many trees and shrubs in central China, first for England's Veitch nursery, and later for Boston's Arnold Arboretum.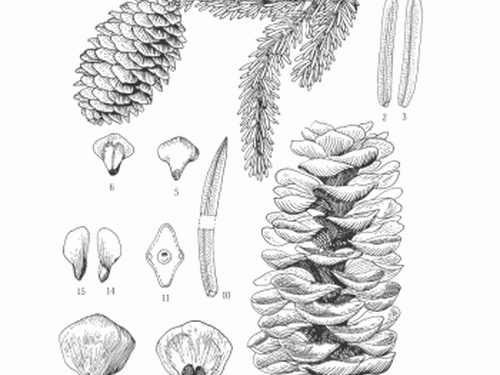 Description. Wilson's spruce is an evergreen conifer species of tree that grows to mature heights of 165 feet (50 m) tall, with a trunk up to 50 inches (130 cm) in diameter, measured at breast height; with a broadly pyramidal crown.
Bark is gray in color and irregularly flaking.
Branchlets are initially yellowish green or yellowish gray in color, later turning pale gray or brownish gray. They have a glabrous texture.
Leaves (needles) are directed forward on the upper sides of branchlets, spreading on the lower sides. Individually, they have quadrangular-linear outline, growing straight or slightly curved, with a broadly quadrangular cross section. Needles measure (0.32 to 0.52 inch (8 - 13 mm) long and 0.048 to 0.068 inch (1.2 - 1.7 mm) broad, with dark-green color and 4 to 5 stomatal lines along each surface and acuminate apices.
Seed cones mature yellow-brown in color, with ovoid shape, individually measuring 2 to 3.2 inches (5 - 8 cm) long and 1 to 1.6 inches (2.5 - 4 cm) broad.
Seed scales have obovate shape, measuring 0.55 to 0.66 inch (14 - 17 mm) by 0.4 to 0.56 inch (10 - 14 mm). Exposed parts have no striations and variable apices.
Seeds have obovoid shape and measure 0.12 to 0.16 inch (3 - 4 mm), with an attached 0.32 to 0.44 inch (8 - 11 mm) pale brown wing. Pollination takes place in April, followed by seed maturity in October.
The extremely rare and less hardy
Taiwan spruce
(
Picea morrisonicola)
is similar, but its twigs are never hairy.
Distribution. This species is native to China — Gansu, Hebei, Hubei, Nei Mongol, Qinghai, Shaanxi, Shanxi, Sichuan provinces; where it is found growing at elevations of 4,600 to 9,200 feet (1,400 - 2,800 m) above sea level, in mountains and river basins.
Hardy to USDA Zone 5 — cold hardiness limit between -20° and -10°F (-28.8°C and -23.3°C).
Champion trees (data attributed to Arthur Jacobsen):
to 180 feet (55M) tall in southwestern Kansu province, China according to S.C. Lee.
69 feet (21 m) tall by 5.4 feet (1.7 m) D.B.H. at Birr Castle, County Offaly, Ireland; measured in 1988, planted in 1916.
50 feet (15.25 m) tall at Arnold Arboretum, Boston Massachusetts; measured in 1982, planted in 1912).
39.5 feet (12 m) tall by 1.8 feet (55 cm) D.B.H. in Seattle, Washington; measured in 1994, planted in 1957.
According to
D.M.van Gelderen
and
J.R.P. van Hoey Smith
in
Conifers The Encyclopedia,
"... a widespread species in northern China, from Beijing to northern Sichuan Province. This tall tree to 30 to 40 m is related to
Picea abies
, but usually has longer needles."
Don Howse of Porterhowse Farms, Oregon, adds in his catalog, "... was introduced to cultivation by the explorer and plant hunter, E.H Wilson, in the early 1900's. This fine needled, medium-sized tree develops conspicuous brown buds. Zone 3."
Attribution from: Wu Zheng-yi and Peter H. Raven (editors); Flora of China, Volume 4; ©1999, Science Press, Beijing; Missouri Botanical Garden, St. Louis.