Picea torano / Tiger-tail spruce
Picea torano, as described in 1893 by (Siebold ex K.Koch) Bernhard Adalbert Emil Koehne (1848–1918), in the 22nd edition of Deutsche Dendrologie, is commonly known as Tiger-tail spruce to English speakers; as Tigerschwanz-Fichte in the German language; and as ハリモミ (hari-momi, bara-momi torano-momi) in Japanese. Synonyms include Picea polita (Siebold et Zucc.) Carrière 1855. The name Picea polita is more often seen in most published floras and most horticultural texts than Picea torano; as the norm, at least until the early 21st century. The species name, Torano is from the Japanese vernacular toran-wo, meaning "tiger's tail."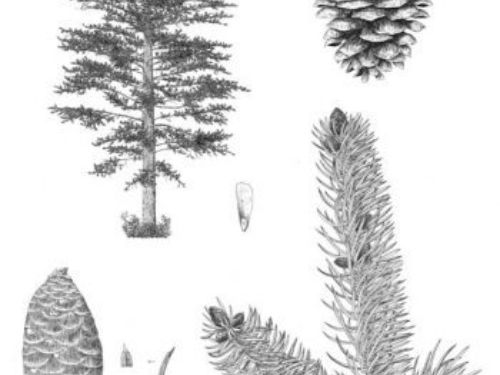 Description. Tiger-tail spruce is a monoecious, evergreen, coniferous tree which will grow to mature heights of 100 feet (30 m); with a trunk up to 40 inches (100 cm) in diameter, measured at breast height; and a broadly conical crown with horizontal branching.
Bark is gray-brown in color, deeply fissured, and peeling off in scales.
Branchlets are stout, shiny yellowish brown in color, with glabrous texture, and deep grooves.
Leaves (needles) are stiff, hard, and sharp-pointed (some consider them the sharpest among all the spruces). They are linear and ridged, with a quadrangular cross section; each measuring 0.6 to 0.8 inch (15 - 20 mm) long, by circa 0.1 inch (2.5 mm) thick; with deep green color, and a band of stomata on each side.
Pollen cones have a cylindrical shape, colored red-purple, with numerous microsporophylls. Mature trees generally flower in May and June, near the apex of previous year's short shoots.
Seed cones are pendant, with an ovate-oblong shape, colored green when young, maturing to brown in October. Cones measure 2.8 to 4 inches (7 - 10 cm) long and 1.6 to 1.8 inches (4 - 4.5 cm) broad.
Cone scales are persistent, with a widely obovate outline, thinly woody; measuring 0.7 to 0.9 inch (17 - 23 mm) long, and 0.5 to 0.7 inch (14 - 18 mm) wide. They are irregularly denticulate on upper margins.
Bract scales very small and inconspicuous.
Seeds are black-brown in color, with an obovate shape, measuring circa 0.24 inch (6 mm) long, and 0.12 (3 mm) wide. Seed wings are brown in color, also with an obovate shape, measuring circa 0.52 inch (13 mm) long and 0.28 inch (7 mm) wide.
Distribution. This species is native to Japan — from the Pacific Ocean side of Honshu island (westward from Fukushima prefecture), Shikoku and Kyushu islands, in the mountains growing at elevations of 1,300 to 6,000 feet (400 - 1,850 m) above sea level, growing on volcanic soils. Its preferred climate is moist-maritime, with annual precipitation of over 40 inches (1,000 mm) with cold, snowy winters. It occasionally forms pure stands but more often occurs in mixed stands with species such as Abies homolepis, Larix kaempferi, Pinus densiflora, Betula, Acer, Fagus, Quercus, Prunus, and Zelkova serrata.
Hardy to USDA Zone 6 —cold hardiness limit between -10° and 0°F (-23.2° and -17.8°C).
Attribution from: K. Iwatsuki, T. Yamazaki, D.E. Boufford, and H. Ohba (editors); Flora of Japan, Volume 1. Pteridophyta and Gymnospermae; ©1995, Kodansha, Tokyo, Japan; pp. xv and 263-288.