Picea spinulosa / Sikkim spruce
Picea spinulosa, as described in 1906 by (Griffith) Augustine Henry (1857–1930), in The Gardeners' Chronicle: a weekly illustrated journal of horticulture and allied subjects, series 3. Common names include Sikkim spruce in the English language; as well as 西藏云杉 (xīzàng yún shān / Tibetan spruce) in Chinese. The species name translates into "full of small spines" in Latin, which aptly describes this conifer's needle structure.
According to W.H. Lang in his 1913 book, Makers of British Botany, this species was first collected by William Griffith (1810–1845), a remarkable botanist who collected over 12,000 species in his short life.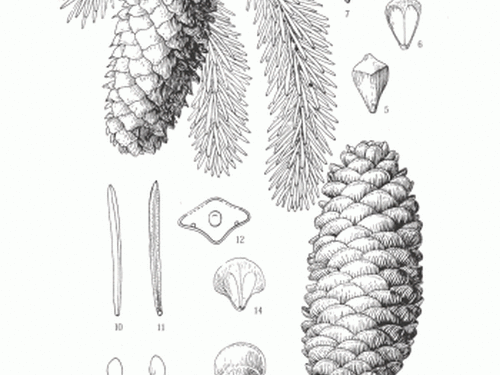 Description. Sikkim spruce is an evergreen coniferous species of tree that grows to mature heights of 130 to 180 feet (40 - 55 m) tall, exceptionally to 215 feet (65 m), and with a trunk up to 3 to 8 feet (1 - 2.5 m) in diameter, measured at breast height. Mature trees have a broadly conical crown with level branches and usually pendulous branchlets.
Bark is rough and flaking with age.
Shoots are whitish to pale buff in color, and glabrous (hairless).
Leaves are needle-like, individually measuring 0.7 to 1.25 inches (1.7 - 3.2 cm) long and slender. They are rhombic to slightly flattened in cross-section, colored glossy green on the upper side, with two conspicuous Blue-white stomatal bands on the lower side.
Seed cones have cylindric-conic shape and measure 2.4 to 4.8 inches (6 - 12 cm) long and 0.8 inch (2 cm) broad, initially colored green or tinged reddish, later maturing glossy orange-brown to red-brown, opening to 1.2 inches (3 cm) broad, 5 to 7 months after pollination.
Cone scales are moderately stiff, with a bluntly pointed apex.
Seeds are dark brown and measure circa 0.2 inch (5 mm) long. They have an attached lustrous, obovate-oblong, pale brown wing that measures 0.44 to 0.6 inch (1.1 - 1.5 cm) and circa 0.2 inch (5 mm) broad.
Distribution
. This species is native to the eastern Himalaya, in India (Sikkim), Nepal and Bhutan, where it grows at elevations of 8,000 to 12,000 feet (2,400 - 3,700 m) above sea level in mixed, mountainous, coniferous forests.
Hardy to UDSA Zone 8 — cold hardiness limit between 10° and 20°F (-12.1° and -6.7°C).
Ethnobotany. Sikkim spruce is occasionally grown as an ornamental tree in large gardens in western and central Europe for its attractive pendulous branchlets.
Attribution from: Wu Zheng-yi and Peter H. Raven (editors); Flora of China, Volume 4; ©1999, Science Press, Beijing; St. Louis: Missouri Botanical Garden.