Picea smithiana / west Himalayan spruce
Picea smithiana, as described in 1884 by (Nathaniel Wallich) Pierre Edmond Boissier (1810–1885), in the 5th edition of Flora Orientalis, is commonly known as west Himalayan or morinda spruce to English speakers; as well as 长叶云杉 (changye yunshan) in the Chinese language. There are two plausible contemporary Smiths for whom Wallich may have named this species: James Edward Smith (1759 - 1828), The founding president of the Linnean Society of London, who died 4 years before the publication of the species, and Mr. Smith (maybe Smythe), a gardener at the Hopetoun in Scotland, who raised the first trees from seed sent to him in 1818.
G.Gordon reports *morinda* is from the Himalayas, meaning nectar, or honey of flowers, on account of the resinous drops or tears found on the young cones and other parts of the tree, resembling honey.
Ethnobotany. Morinda spruce is a popular ornamental tree in large gardens in western Europe for its attractive pendulous branchlets. It is also grown to a small extent in forestry for timber and paper production, though its slower growth compared to Norway spruce reduces its importance outside of its native range.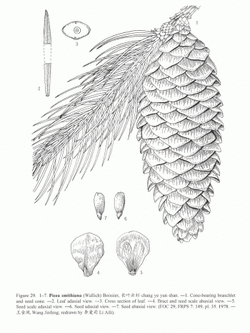 Description. West Himalayan spruce is an evergreen, coniferous species of tree that grows to mature heights of 200 feet (60 m) tall; with a trunk up to 80 inches (2 m) in diameter, measured at breast height; and a conical crown.
Bark is pale brown in color, breaking into irregular plates.
Branchlets are strongly pendulous, colored pale brown or pale gray when young, with glabrous texture.
Foliar buds are reddish brown in color, with conical or ovoid shape, scales are slightly open, or rarely appressed at base of branchlets.
Leaves (needles) are spread radially about the stem, directed obliquely forward. They are Blue gray in color, slender and curved; and quadrangular to subquadrangular in cross section. Individual needles measure 1.3 to 2.2 inches (3.3 - 5.5 cm) long, by 0.052 to 0.072 inch (1.3 - 1.8 mm) thick, with 2 to 5 lines of stomata along each surface; and an acute or acuminate apex. They are among the longest of all spruces needles.
Seed cones are lustrous green in color when young, maturing brown; with a cylindric or fusiform-cylindric shape, measuring 4 to 7.2 inches (10 - 18 cm) long, by 1.8 to 2 inches (4.5 - 5 cm) thick.
Seed scales gave broadly obovate shape and are thick; measuring circa 1.2 by 0.96 inches (3 × 2.4 cm); and are rigid, with cuneate bases, entire apices; with a broadly triangular-obtuse outline.
Seeds are dark brown in color, measuring circa 0.2 inch (5 mm); with an ovoid-oblong wing, measuring 0.4 to 0.6 inch (1 - 1.5 cm) long; and a pointed apex.
Distribution. This species is native to Afghanistan; India — Kashmir state; as well as Nepal; Pakistan; and southern Tibet, found growing in alpine lithosols; at elevations of 7,500 to 8,500 feet (2,300 - 3,600 m) above sea level. Its natural climate is moist monsoon, with abundant precipitation over two rainy seasons, but becoming gradually drier in the western parts of the range. Some of the precipitation falls as snow which accumulates over winter. Companion conifers include East Himalayan fir (Abies spectabilis), Himalayan white pine (Pinus wallichiana) and Himalayan hemlock (Tsuga dumosa), in the eastern part of the range; and with West Himalayan fir (Abies pindrow) and Deodar cedar (Cedrus deodara) in the western part.
Hardy to USDA Zone 7 — cold hardiness limit between 0° and 10°F (-17.7° and -12.2°C).
Attribution from: Wu Zheng-yi and Peter H. Raven (editors); Flora of China, Volume 4; ©1999, Science Press, Beijing; Missouri Botanical Garden. St. Louis.