Picea schrenkiana / Schrenk spruce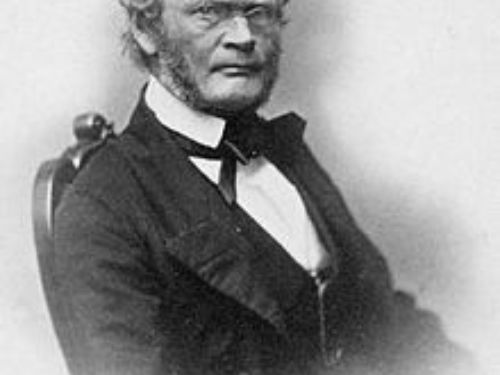 Picea schrenkiana, first described by Friedrich Ernst Ludwig von Fischer (1782 - 1854), and Carl Anton von Meyer (1795 - 1855), in Bulletin de l'Academie Imperiale des Sciences de St-Petersbourg, séries 3 is commonly known as Schrenk spruce; as well as 雪岭杉 (xueling yunshan) in the Chinese language. The cultivar name honors Baltic-German naturalist, Alexander von Schrenk (1816 - 1876).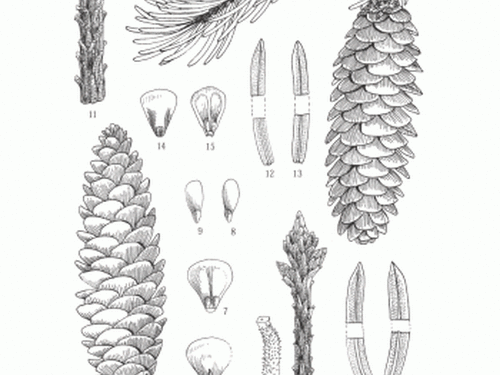 Description. Schrenk spruce is an evergreen coniferous species of tree that will grow to mature heights of 200 feet (60 m) tall with trunk up to 12 feet (200 cm) in diameter, measured at breast height. It has a narrowly pyramidal crown cloaked in pendulous foliage.
Bark is dull brown and thickly flaking.
Branchlets are pendulous, yellowish gray or yellow in color, turning dark gray with age.
Leaves (needles) spread radially, directed forward, growing straight or somewhat curved, broadly rhombic in cross section. Needles measure 0.8 to 1.4 inches (20 - 35 mm) long and 0.12 inch (1.5 mm) broad, with 5 to 8 stomatal bands on the lower and 4 to 6 on the upper surface.
Seed cones are initially colored purple or green, maturing to purplish brown. They have a cylindrical shape, measuring 2.5 to 4.5 inches (6 - 11 cm) long and 1 to 1.4 inches (2.5 - 3.5 cm) broad.
Seeds are 0.12 to 0.16 inch (3 - 4 mm) long with a 0.5 inch (12 - 13 mm) wing. Pollination occurs in May and June, with seed maturity occurring in September and October.
Distribution
. This species is native to central Asia's Tian Shan mountains, including China, Xinjiang province and Kazakhstan. There are also isolated stands in the northern Pamir and southern Xinjiang provinces.
Hardy to USDA Zone 4 (cold hardiness limit between -30° and -20°F (-34.3° and -28.9°C).
Attribution from: Wu Zheng-yi and Peter H. Raven (editors); Flora of China, Volume 4. Beijing: ©1999, Science Press; St. Louis