Picea rubens / red spruce
Picea rubens, as described in 1898 by Charles Sprague Sargent (1841–1927), in the 12th edition of The Silva of North America, is commonly known as red spruce, eastern spruce, or yellow spruce to English speakers; as well as épinette rouge in the French Canadian language. The species and common names refer to the bark's reddish cast, as compared with white and black spruce. Red spruce is the provincial tree of Nova Scotia, Canada.
Ethnobotany. The long roots were pulled by native peoples, peeled and split for lacing. The pitch was used for patching holes and leaking seams. The gum was formerly collected and processed for chewing gum. Early settlers (and no doubt some modern homebrewers) used the fresh green foliage to flavor fermenting beer. It is still harvested for timber.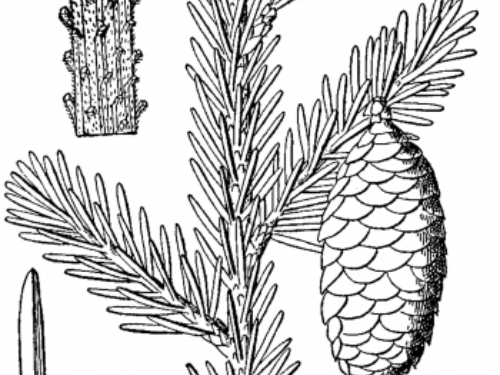 Description. Red spruce is a evergreen, coniferous species of tree which, under optimal conditions, will grow to mature heights of 60 to 130 feet (18 – 40 m)' with a trunk diameter up to circa 24 inches (60 cm), measured at breast height. Exceptional specimens can reach 150 feet (46 m) tall, with a 12-inch (30 cm) trunk diameter. It has a narrow conical crown.
Bark is colored gray-brown on the surface and red-brown on the inside. It is thin, and scaly.
Twigs are not pendent, rather stout, colored yellow-brown, with a densely pubescent to glabrous texture.
Foliar buds are reddish brown in color, measuring 0.2 to 0.32 inch (5 - 8 mm), with an acute apex.
Leaves are needle-like, colored yellow-green, measuring 0.48 to 0.6 inch (12 – 15 mm) long. They are four-sided and curved, with a sharp point, extending from all sides of the twig.
Seed cones have a cylindrical shape, measuring 1.2 to 2 inches (3 – 5 cm) long, with a glossy red-brown color and stiff scales. The cones hang down from branches.
It is closely related to
Picea mariana
, and hybrids between the two are frequent where their ranges meet.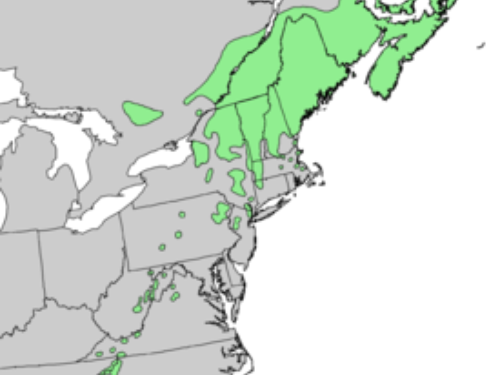 Distribution. This species is native to Canada — Ontario, Québec, Prince Edward Island, New Brunswick, Nova Scotia; and USA — Maine, New Hampshire, Vermont, Massachusetts, Connecticut, New York, Pennsylvania, New Jersey, Maryland, Virginia, West Virginia, North Carolina and Tennessee; growing at elevations from sea level to 6,500 feet (2,000 m) in upper montane to subalpine forests.
Red spruce grows at a slow to moderate rate, and lives for 250 to 450+ years; it is very shade-tolerant when young. It is often found in pure stands or forests mixed with eastern white pine (Pinus strobus), balsam fir (Abies balsamea), or black spruce (Picea mariana). Along with Fraser's fir (Abies fraseri), red spruce is one of two primary tree types in the southern Appalachian spruce-fir forest, a distinct ecosystem found only in the highest elevations of the Southern Appalachian Mountains. Its habitat is moist but well-drained sandy loam, often at high altitudes. Red spruce can be easily damaged by wind-throw and acid rain. Notable red spruce forests can be seen at Gaudineer Scenic Area, a virgin red spruce forest located in West Virginia, the Canaan Valley, Roaring Plains West Wilderness, Dolly Sods Wilderness, Spruce Mountain and Spruce Knob all also in West Virginia and all sites of former extensive red spruce forest. Some areas of this forest, particularly in Roaring Plains West Wilderness, Dolly Sods Wilderness as well as areas of Spruce Mountain are making a rather substantial recovery.
Hardy to USDA Zone 3 — cold hardiness limit between -40° and -30°F (-39.9° and -34.4°C).
Attribution from: Ronald J. Taylor, Sections on Picea and Tsuga. Flora of North America Editorial Committee (editors); Flora of North America North of Mexico, Vol. 2; ©1993, Oxford University Press.