Picea purpurea / purple-cone spruce
Picea purpurea, as described in 1906 by Maxwell Tylden Masters (1833 – 1907), in Journal of the Linnean Society, Botany, 37th edition, is commonly known as purple-cone spruce; as well as 紫果云杉 (ziguo yunshan) in the Chinese language. The species name acknowledges the attractive reddish-purple immature seed cones.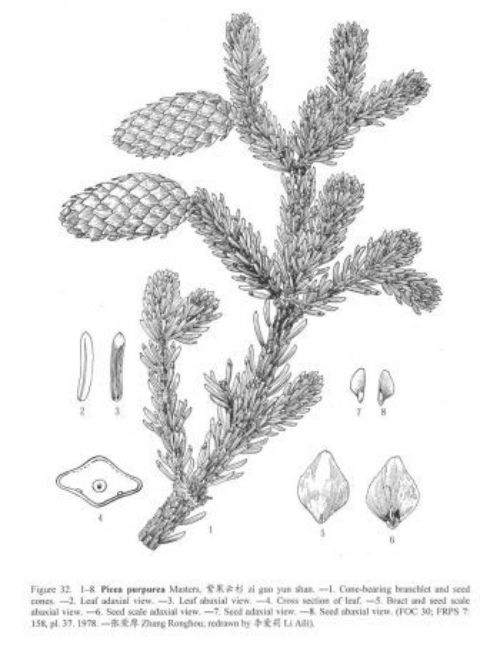 Description. Purple-cone spruce is an evergreen coniferous species of tree that grows to mature heights of 165 feet (50 m) tall; with a trunk up to 40 inches (100 cm) in diameter, measured at breast height; and a pyramidal crown.
Bark is dark gray in color and scaly.
Branchlets are initially yellow, graying with age, and densely pubescent.
Leaves (needles) spread radially about the branchlet, or closely appressed forward on upper sides, spreading on lower side. Individual needles are straight or slightly curved and flattened-rhombic in cross section. They measure 0.28 to 0.48 inch (7 - 12 mm) long and 0.06 to 0.72 inch (1.5 - 1.8 mm) broad, with 4 to 6 stomatal lines along lower surfaces, and variable apices.
Pollen cones measure (15 - 25 mm) long and are red in color.
Seed cones are initially reddish to very dark purple in color, with ellipsoid shape, measuring 1 to 1.6 inches (2.5 - 4 cm) long and 0.68 to 1.2 inches (1.7 - 3 cm) wide.
Seed scales are loosely arranged with a rhombic-ovate shape. They are described as papery, undulate, and erose-denticulate.
Seeds measure circa 0.36 inch (9 mm) long including a brown, purple-spotted wing. Pollination takes place in April, with seed maturity in October.
Distribution. This species is native to China — southern Gansu, eastern Qinghai, and northwestern Sichuan provinces; where it can be found growing in mountainous terrain; predominantly on north-facing slopes, at elevations of (2,600 - 3,800 m) above sea level.
Hardy to USDA Zone 4 — cold hardiness limit between -10° and 0°F (-23.3° and -17.8°C).