Picea pungens / Colorado spruce
Picea pungens, as described in 1879 by Georg Engelmann (1809–1884), in The Gardeners' Chronicle, new series 11, is commonly known as Blue spruce, Colorado spruce, white spruce, silver spruce, or Parry spruce; as well as épinette bleue in French Canadian; and as pino real in Spanish. The species name described this conifer's exceptionally spiny needles. It is the state tree of Colorado.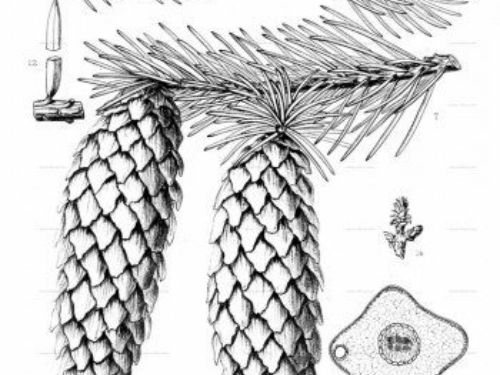 Description. Colorado spruce is an evergreen coniferous species of tree that grows to mature heights of 165 feet (50 m) tall with a trunk 5 feet (150 cm) in diameter, measured at breast height.
Crown is broadly conic in shape.
Bark is gray-brown in color.
Branches grow slightly to strongly drooping; non-pendant twigs are stout and yellow-brown in color, usually glabrous.
Foliar buds are dark orange-brown in color, measuring 0.24 to 0.48 inch (6 - 12 mm) in size, with a rounded to acute apex.
Leaves are needle-like, measuring 0.6 to 1.2 inches (1.6 - 3 cm) long, 4-angled in cross section, rigid, Blue-green in color, bearing stomata on all surfaces, with a spine-tipped apex.
Pollen cones are red in color, growing in whorls of 3 to 5 at the proximal end of new shoots, primarily borne in upper crown.
Seed cones are also borne in the tree's upper crown. They are pale green or red when fresh, ripening to pale buff brown, 2 to 5 inches (5 -12 cm) long with elliptic to diamond-shaped scales, widest below middle. Seed cones mature in August; seed shed is from September into winter.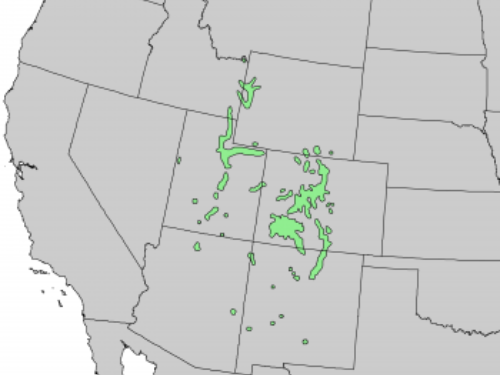 Distribution. This species is native to USA — Idaho, Wyoming, Utah, Colorado, New Mexico and Arizona, growing in the montane zone at elevations varying from 5,800 to 8,800 feet (1,830 - 2,740 m) above sea level in the northern range of the species, and from 6,800 to 9,800 feet (2,130 - 3,050 m) in southern areas. It prefers conditions where the climate is cool and summer-wet, with mean winter minimum temperatures of 12 to 48°F (-11.1 - 8.9°C) and mean summer maximum temperatures of 70 to 72° F (21.1 - 22.2°C). Average annual precipitation varies from 18 to 24 inches (460 - 610 mm), with half of the annual precipitation falling during the growing season. It is the most drought-tolerant species of Picea in North America.
Hardy to USDA Zone 3 (cold hardiness limit between -40 and -30° (-39.9° and -34.4°C).
Attribution from: Ronald J. Taylor, Sections on Picea and Tsuga. Flora of North America Editorial Committee (editors); Flora of North America North of Mexico, Vol. 2; ©1993, Oxford University Press.