Picea orientalis / Caucasian spruce
Picea orientalis, as described in 1847 by (Carolus Linnæus), Johann Heinrich Friedrich Link (1767 – 1851) in Linnaea vol.20, is commonly known as Caucasian spruce; as well as Ель восточная (Yel' vostochnaya / eastern spruce) in the Russian language; and Doğu ladini in Turkish. Formerly, the common name, Oriental spruce was most-often seen. This term, in general, is falling out of favor and it is the ACS' position to use Caucasian spruce as the common name for this species. This is the native spruce of eastern Europe's Caucasus and Pontic mountains, the old Orient (east in the Latin language), hence the species name.
Oriental spruce is an extremely attractive tree in the landscape, with its shiny, dark-green, very short needles; the bright red male cones in late April or early May; and its columnar growth habit. It deserves much wider planting, and has the grace and charm so palpably missing from Norway spruce (P. abies). It thrives on a wide range of sites with very few issues with disease and pests.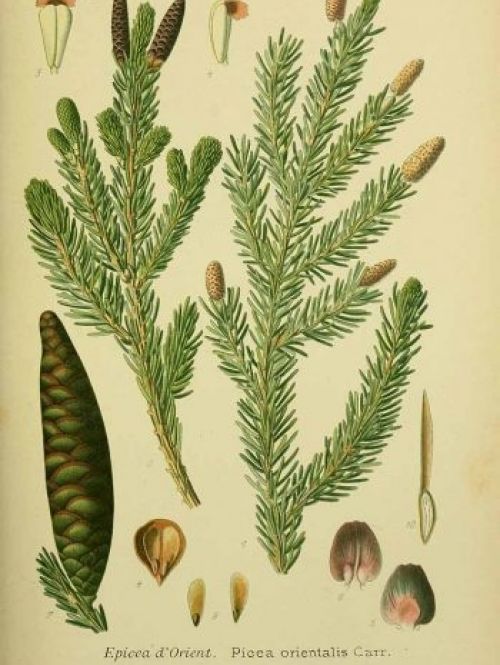 Description. Caucasian spruce is an evergreen, coniferous species of tree that grows to mature heights of 125 feet (40 m); with a trunk up to 6 feet (2 m) in diameter, measured at breast height; and a narrowly conic crown that is open in whorls of young trees, and columnar with a broad, dense conic top in old trees.
Bark is smooth and pink-gray in color, later cracked into small rounded plates.
Shoots are hairy (glabrous), and orange-brown in color, becoming gray-brown with age.
Foliar buds are ovoid-conical in shape, measuring 0.16 inch, (4 mm) long and are not resinous.
Leaves (needles) are more-or-less radial arranged around the branchlet, oriented forward toward the tip, parted below on weaker shoots, only slightly flattened in cross-section. They have blunt tips, colored glossy very-deep green, and are very short, only 0.24 to 0.32 inch (6 -8 mm) long.
Pollen cones are bright deep red in color, measuring 0.4 to 0.8 inch (10 - 20 mm) long.
Seed cones are ovoid-conically shaped, pointed, colored dark purple when young, ripening brown, each measuring 2.4 to 4 inches (6 - 10cm) long.
Seeds are are 0.12 to 1.18 inch (3 - 4.5 mm) long with an attached wing, 0.24 to 0.36 inch to (6 - 9 mm) longer.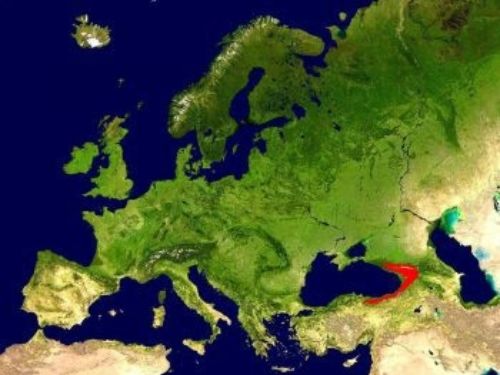 Distribution. This species is native to the Caucasus mountains of southern Russia, Georgia, Azerbaijan, Armenia. and northeastern Turkey, where it forms pure stands or mixed with other conifers and hardwoods, often dominating on moist, shaded slopes or ravines at elevations of 3,200 to 6,500 feet (1,000 - 2,100 m) above sea level.
Hardy to USDA Zone 5 — cold hardiness limit between -20° and -10°F (-28.8° and -23.3°C).
Attribution from: Keith Rushforth; Conifers (©1987); First published in the United States in 1987 by Facts On File, Inc., 460 Park Avenue South, New York, New York 10016; ISBN: 0-8160-1735-2. Rare & out of print.