Picea omorika / Serbian spruce
Picea omorika, as described in 1877 by Emanuel von Purkyně (1832–1882), in Österreichische Monatsschrift für Forstwesen, 27th edition, is commonly known as Serbian spruce; as well as Панчићева оморика (Pančićeva omorika) in the Serbian language; as Ель сербская in Russian; Serbische fichte in German; èpicea de Serbie in French; or picea di Serbia in Italian. The species name simply translates into generic "spruce" in the Serbian language.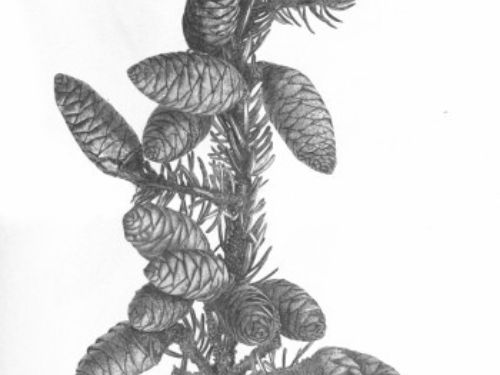 Description. Serbian spruce is an evergreen coniferous species of tree that grows to mature heights of 165 feet (50 m) tall with a narrowly pyramidal crown and straight trunk up to 3 feet (1 m) wide, measured at breast height.
Bark is thin and red-brown in color.
First-order branches are short; less than 6 feet (2 m) long. They are somewhat pendant, curling up somewhat at the ends. This is a distinctive feature of this species.
Leaves (needles) measure 0.32 to 1.6 inches (8 - 20 mm ) long and up to 0.08 inch (2 mm) thick; each is dark green in color on the adaxial (upper) side, with 2 white stomatal lines on the abaxial (lower) side. Needle tips are blunt to slighted pointed.
Pollen cones are light red in color, measuring 0.8 to 1 inch (20 - 25 mm) long. Flowering takes place from the end of April into June, depending on habitat.
Seed cones are pendant and about 2 inches (5 - 6 cm) long, young seed cones are colored violet-red-brown, ripening in October and November.
Seed scales are fan-shaped to circular, thin, but woody and stiff.
Seeds are 0.08 to 0.12 inch (2 - 3 mm) long, with a wing 0.2 to 0.32 inch (5 - 8 mm) longer.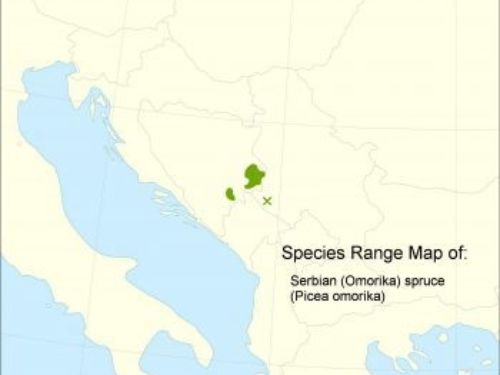 Distribution. This species is native to western Serbia and eastern Bosnia in a small area around the Drina river, on the following mountains: Tara, Zvijezda, Viogor, Radomišlja, Jadovnik. This species was widespread in Europe millions of years ago (known by fossilized remains), but after Pleistocene glaciation it survived only in this small area. It is found on chiefly calcareous soils at elevations of 1,380 to 5,500 feet (400 - 1,700 m) above sea level, usually on steep north-facing slopes.
Hardy to USDA Zone 5 — cold hardiness limit between -20° and -10°F (-28.8° and -23.3°C).
Attribution from: Branislav Jovanoviæ; "Picea omorika," in Flora Srbije; ©1986, Serbian Academy of Sciences and Arts, Belgrade.