Picea morrisonicola / Taiwan spruce
Picea morrisonicola, as described in 1908 by Bunzō Hayata (1874–1934), in Journal of the College of Science, Imperial University of Tokyo, 25th edition, is commonly known as Taiwan spruce in the English language; as well as 台湾云杉 (Taiwan yunshan) in Chinese. The species name refers to the high mountains of Taiwan's central range including the Yushan (known in English as Mt. Morrison). It is found only in Taiwan, and it is the only species of spruce in Taiwan.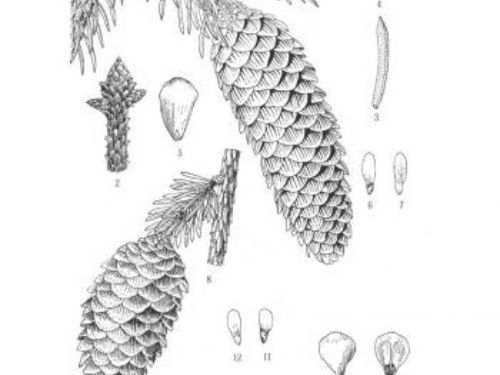 Description. Taiwan spruce is an evergreen coniferous species in the Pinaceae family. It is a large tree that grows to mature heights of up to 165 feet (50 m) tall with a trunk up to 4.5 feet (1.5 m) in diameter, measured at breast height.
Bark is grayish brown, scaly, and flaking with age.
Branches are dense and horizontal.
Branchlets are initially brown or yellowish brown in color, turning grayish brown in their 2nd year. They have glabrous texture.
Leaves have a linear outline, measuring 0.4 to 0.6 inch (10 - 15 mm) long, and 0.08 to 0.12 inch (2 - 3 mm) broad, with acute tips.
Mature seed cones have a cylindric-oblong shape and purplish color, measuring about 2.8 inches (7 cm) long.
Seed scales are entire with an obovate shape, each measuring 0.6 inch (15 mm) long, and rounded at the apex.
Seeds measure 0.4 to 0.48 inch (10 - 12 mm) long including the wing.
Distribution
. This species is native to Taiwan, in the central mountain range, in the vicinity of Yushan National Park, where it grows at elevations of about 6,600 to 8,200 feet (2,000 – 2,500 m) above sea level, in ravines and mountain slopes, either in pure stands, but often mixed with other trees.
Hardy to UDSA Zone 8 — cold hardiness limit between 10° and 20°F (-12.1° and -6.7°C).
Ethnobotany. Taiwan spruce is historically, one of the most important timber species in Taiwan. Populations have declined because of over-exploitation.
Attribution from: Li Hui-Lin; Flora of Taiwan, V.1, parts 1-8; ©1975, Epoch Publishing, Taipei.