Picea meyeri / Meyer's spruce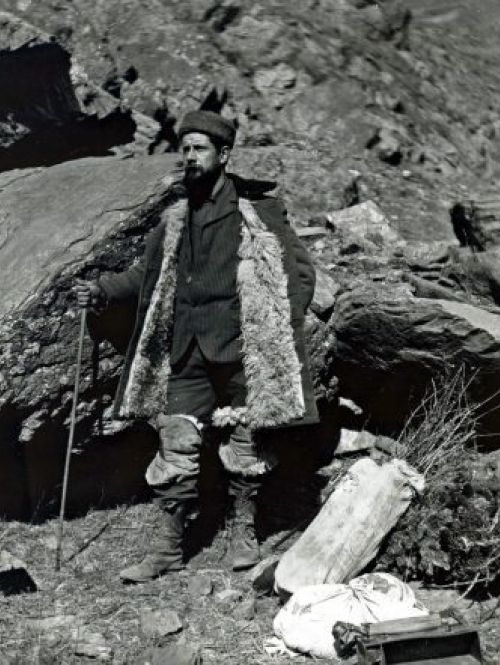 Picea meyeri, as described in 1914 by Alfred Rehder (1863–1949) and Ernest Henry Wilson (1876–1930) in Plantae Wilsonianae, an enumeration of the woody plants collected in Western China for the Arnold Arboretum of Harvard University during the years 1907, 1908 and 1910, edited by Charles Sprague Sargent (1841–1927). It is commonly known as Meyer's spruce; and well as 白扦 (baiqian) in the Chinese language. The species name honors Frank N. Meyer (1875 - 1918), a collector for the U.S. Department of Agriculture who collected the type specimen on February 25th, 1908, at the temple of "Tchai-ling-tse" on the Wutai shan (Shanxi province) at 9,900 feet (3,000 m) elevation. Considering that the Wutai is 10,100 feet (3,058 m) tall, this temple must be near the summit. Meyer later died during a subsequent collecting trip in China.
Description. Meyer's spruce is an evergreen, coniferous species of tree that grows to mature heights of 100 feet (30 m) tall; with a trunk up to 24 inches (60 cm) in diameter, measured at breast height; and a conical crown.
Bark is gray-brown in color and irregularly flaking.
Branchlets are colored yellow-brown, with pubescent or glabrous texture.
Winter foliar buds are brown with conical or ovoid-conical shape, slightly resinous, and recurved scales.
Leaves (needles) spread radially, and somewhat ascending on upper branchlet surfaces, growing spreading and curved upward on lower sides. Individual needles are quadrangular-linear and slightly curved, measuring 0.52 to 1.2 inches (1.3 - 3 cm) long and circa 0.08 inch (2 mm) wide, with stomatal lines present on all surfaces. The needle apex is obtuse or subacute.
Seed cones are green when young, maturing brownish yellow, with oblong-cylindric shape, measuring 2.4 to 3.6 inches (6 - 9 cm) long and 1 to 1.4 inches (2.5 - 3.5 cm) wide.
Seed scales are of obovate shape, measuring circa 0.64 by 0.48 inch (1.6 × 1.2 cm), striate on abaxial exposed parts. Bases are broadly cuneate or nearly orbicular. Apices are rounded or triangular-obtuse.
Seeds are of obovoid shape, measuring circa 0.14 inch (3.5 mm), with pale brown, oblanceolate wings measuring circa 0.4 inch (1 cm) long.
This conifer was confused from the very beginning with
Dragon spruce
(
Picea asperata)
and most trees cultivated as Meyer's spruce are actually that species. It is in cultivation from seeds collected in Hebei province by Joseph Hers, although it was introduced as Dragon spruce!
Distribution. This species is native to China — Gansu, Hebei, Nei Mongol, Shaanxi, and Shanxi provinces, growing in the mountains at elevations of 5,200 to 8,900 feet (1,600 - 2700 m) above sea level.
Hardy to USDA Zone 6 — cold hardiness limit between -10° and 0°F (-23.2° and -17.8°C).
Ethnobotany. Timber is used for construction, poles, bridge building, furniture, and wood pulp. Meyer's spruce is also cultivated for afforestation and as an ornamental where its popularity is increasing in the eastern United States, where it is being used to replace Colorado spruce (Picea pungens), which is more disease-prone in the humid climate there.
Attribution from: Wu Zheng-yi and Peter H. Raven (editors); Flora of China, Volume 4; ©1999, Science Press, Beijing, China.