Picea maximowiczii / Japanese bush spruce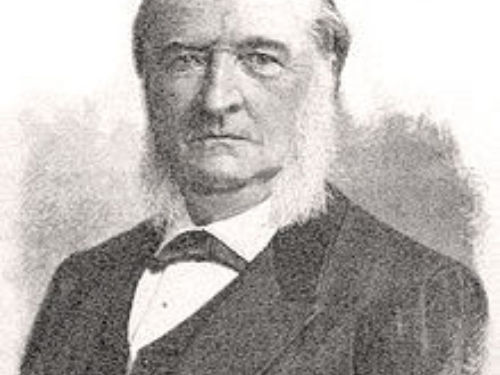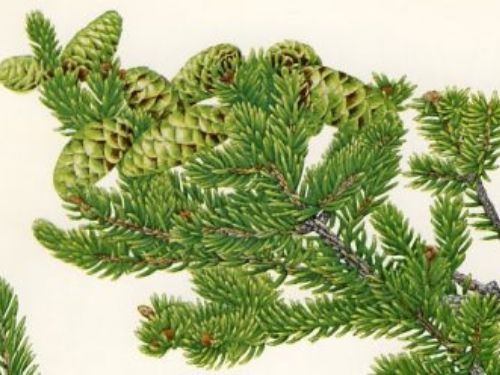 Description. Japanese bush spruce is an evergreen, coniferous species of tree that grows to mature heights of 100 feet (30 m) tall; with a trunk up to 40 inches (100 cm) in diameter, measured at breast height.
Bark is gray-brown in color and fissured, peeling off in thick scales.
Branchlets are pale grayish brown, grooved, and glabrous. Pulvini are short, measuring only 0.008 to 0.012 inch (0.2 - 0.3 mm) long.
Leaves are leathery, linear, and quadrangular in cross-section, measuring 0.4 to 0.8 inch (10 - 20 mm) long and circa 0.04 inch (1 mm) across, with acute apices, deep green color, and a stomatal groove on each surface. Two resin canals are present at the margins.
Flowers appear from May to June, appearing terminal, solitary or in bundles of 2 or 3 crowded on the previous year's shoots.
Pollen cones are cylindric and pale brown in color with many stamens.
Seed cones are pendulous, colored brown upon ripening in October. They are oblong or cylindric-oblong shaped, measuring 1.6 to 2.8 inches (4 - 7 cm) long and 0.6 to 0.8 inch (1.5 - 2 cm) across. Cone seed scales are thinly woody, orbicular-obovate shape, cuneate to base, and entire, measuring 0.28 to 0.52 inch (7 - 13 mm) long and wide; bract scales very small, oblong, and acute, measuring circa (0.12 inch (3 mm) long.
Seeds are gray-brown in color, with obovate shape, measuring circa (0.16 inch (4 mm) long and 0.08 inch (2 mm) wide. Seed wings are obovate shaped and pale brown in color, measuring 0.24 to 0.32 inch (6 - 8 mm) long and 0.12 to 0.16 inch (3 - 4 mm) wide.
Distribution
. This species is native to Japan — central Honshu (Chichibu mountain range, Yatsugatake mountains and Mt. Senjogatake), found growing at elevations of 3,600 to 6,500 feet (1,100 - 2,000 m) above sea level. The World Conservation Monitoring Center also reported it growing in montane woodland on Fuji san.
Hardy to USDA Zone 7, cold hardiness limit between 0º to 10ºF (-17.7° and -12.2°C).
Notes. The photograph of the hardened new growth on this Japanese bush spruce was made by Clement Anthoine, a renowned Belgian collector and broom hunter. ACS's Dax Herbst (Illionois, USA) submitted it to the ConiferBase noting that sources state that current cultivated forms may derive from var. senanensis, separating it from typical var. maximowiczii due to the production of larger seec cones and larger cone scales in fewer numbers than cones of the typical species. Var. senanensis have these cone morphologies; additionally, var. senanensis needles are parted below the shoot. The common form of Picea maximowiczii in cultivation demonstrates hybrid cones, or, may belong to the var. senanensis.
To contrast the differences it seems that one must travel to the Chichibu mountain range of Japan, its native habitat, and not rely on the cultivated forms for proper identification until further information is published.
Perhaps a discussion in the comments below might lend some clarity on this issue so we can amplify and post those findings in the appropriate plant record. — Web Editor.
Attribution from: K. Iwatsuki, T. Yamazaki, D.E. Boufford, and H. Ohba (editors); Flora of Japan, Volume 1: Pteridophyta and Gymnospermae; ©1995, Kodansha, Tokyo, Japan.