Picea mariana / black spruce
Picea mariana, as described in 1888 by (Miller) Nathaniel Lord Britton (1859–1934), Emerson Ellick Sterns (1846–1926), and Justus Ferdinand Poggenburg I (1840–1893), in Preliminary Catalogue of Anthophyta and Pteridophyta Reported as Growing Spontaneously within One Hundred Miles of New York, is commonly known in English as black, bog, or swamp spruce; as well as épinette noire in French Canadian. The species name means, "of Maryland" in the Latin language, even though this conifer does not naturally live there. Apparently in the 18th century, botanists thought Maryland covered much more territory than it does today. Black spruce is the provincial tree of Newfoundland and Labrador, Canada.
Synonyms include Picea brevifolia (Peck); Picea mariana var. brevifolia (Peck) Rehder; and Picea nigra (Aiton).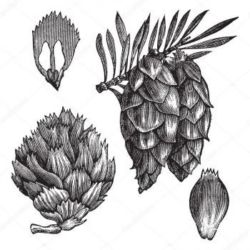 Description. Black spruce is a slow-growing, upright pyramidal evergreen coniferous species of small tree (rarely a shrub), that grows to mature heights of 20 to 50 feet (5 – 15 m), on average; with a straight trunk up to 6 to 20 inches (15 – 50 cm) in diameter, measured at breast height, with little taper. Occasional specimens can reach 100 feet (30 m) tall with a 24-inch (60 cm) trunk diameter. Mature trees have a scruffy habit, and a narrow, pointed crown of short, compact, drooping branches with upturned tips.
Bark is thin, scaly, and grayish brown.
Twigs are not pendent, rather slender, colored yellow-brown, with pubescent texture.
Foliar buds are gray-brown, circa 0.12 inch (3 mm) long with acute apices.
Leaves are needle-like, measuring 0.24 to 0.6 inch (6 – 15 mm) long, and are stiff, four-sided; and dark bluish green on the upper sides, paler glaucous green below.
Seed cones are the smallest of all of the spruces, measuring only 0.6 to 0.8 inch (1.5 – 4 cm) long and 0.4 to 0.8 inch (1 – 2 cm) broad, spindle-shaped to nearly round, colored dark-purple ripening red-brown; and are produced in dense clusters in the upper crown, opening at maturity but persisting for several years on the tree.
It differs from white spruce (Picea glauca) by having a dense cover of small hairs on the bark of young branch tips, an often darker reddish-brown bark, shorter needles, smaller and rounder cones, and a preference for wetter lowland areas. Numerous differences in details of its needle and pollen morphology also exist but require careful microscopic examination to detect. From true firs, such as balsam fir (Abies balsamea), it differs through its pendulous cones, persistent woody leaf-bases, and four-angled needles, arranged all round the shoots.
Natural hybridization occurs regularly with the closely related red spruce (Picea rubens), and very rarely with white spruce (Picea glauca).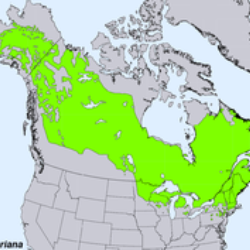 Distribution. This species is found throughout all provinces of Canada. In the United States it is native to Alaska, Minnesota, Wisconsin, Michigan, Pennsylvania, New York, New Jersey, Connecticut, Rhode Island, Massachusetts, Vermont, New Hampshire and Maine, growing at elevations from sea level to 5,000 feet (1,500 m) above sea level in muskegs, bogs, bottom-lands, and relatively dry peat-lands.
Hardy to USDA Zone 2 — cold hardiness limit between -50° and -40°F (-45.6° and -40.0°C).
Attribution from: Ronald J. Taylor, Sections on Picea and Tsuga. Flora of North America Editorial Committee (editors); Flora of North America North of Mexico, Vol. 2; ©1993, Oxford University Press.