Picea koyamae / Koyama's spruce
Picea koyamae, as described in 1913 by Yasuyoshi (Miho or Homi) Shirasawa (1868 – 1947) in the 17th edition of Botanical Magazine, Tokyo, is commonly known as Koyama's spruce, as well as ヤツガタケトウヒ (Yatsugatake tohi) in the Japanese language. The species name honors Mitsua Koyama, the botanist who discovered it in 1911 on the slopes of Yatsuga in central Hondo, Japan, which is the its known locality.
Description. Koyama's spruce is an evergreen coniferous species of tree that grows to mature heights of 65 feet (20 m); with a straight round trunk up to 24 inches (40 cm) in diameter, measured at breast height; and long, slender, horizontally spreading branches.
Bark is smooth and brown on young trees, turning gray-brown; peeling off in thin scales. On older trees bark is black-grey, rough and scaly.
Branchlets are brown in colored and grooved, with a glabrous texture; and stout pulvini, measuring 0.032 to 0.036 inch (0.8 - 0.9 mm) long.
Leaves are linear, with a quadrangular cross-section, measuring 0.32 to 0.48 inch (8 - 12 mm) long, by 0.06 inch (1.5 mm) thick; they are acute on young branches and obtuse on fruiting ones. Needles are pale green in color, with a prominent stomatiferous band in each surface.
Flowers May to June.
Pollen cones develop on previous year's shoots, they have a cylindric shape, colored red-brown, with numerous stamens.
Seed cones are erect, solitary, and terminal on previous year's shoots; reddish purple in color, with a cylindrical shape; and pendulous when mature, measuring 1.6 to 3.2 inches (4 - 8 cm) long, by 0.8 to 1 inch (2 - 2.5 cm) across.
Seed scales are thin and woody, with orbicular-obovate outline, cuneate to base; measuring circa 0.6 inch (15 mm) long, by 0.52 to 0.64 inch (13 - 16 mm) wide; with minutely denticulate upper margins.
Bract scales measuring circa 0.12 inch (3 mm) long, with an obovoid outline, and acute apex.
Seeds have a fusiform shape and black-brown color, measuring circa 0.12 inch (3 mm) long, by 0.08 inch (2 mm) across; with pale brown, oblong-obovate wings that measure circa 0.4 inch (10 mm) long, by 0.2 inch (5 mm) wide.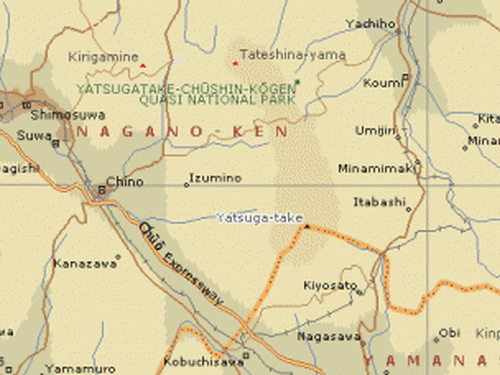 Distribution. This species is native to Japan — from Mt. Yatsugadake mountains of Honshu, Japan, where it is very rare; to northern Korea, and continental northeast Asia, where it grows in small groves of 10 to 20 trees (there are only a few hundred trees in all) or in mixed stands on north-facing slopes at elevations of 5,000 to 6,500 feet (1,500 - 2,000 m) above sea level. Its preferred climate is cool, with snowy winters and 40 to 60 inches (1,000 - 2,000 mm) of annual precipitation. There are frequent typhoons, which are a principal disturbance and have reduced the population in historic times. It usually grows with Larix kaempferi, Picea alcoquiana var. acicularis, Picea maxomowiczii, as well as various angiosperm trees and shrubs.
Hardy to Zone 5 — cold hardiness limit between -20° and -10°F (-28.8°C and -23.3°C).
Notes
J. Silba and Keith Rushforth say most trees labelled P. koyamae are acually Korean spruce (P. koraiensis Nakai); others say P. koraiensis itself is not specifically distinct from P. koyamae.
Arthur Jacobson says that it is "uncommon, and of of little appeal. Has the same nondescript appearance as a green Colorado spruce (Picea pungens). Buds very pitchy. Koyama's spruce is in cultivation but is rare; most of the trees so labeled are Korean spruce, which has been confused with it."
Records
to 82 feet (25 m) in the wild
70 feet (21.3 m) tall, by 4 feet 3 inches (1.3 m) diameter trunk at Stanage Park, Powys, Wales, measured in 1978; planted in 1920.
57 feet (17.4 m) tall at the Arnold Arboretum, Boston, Massachusetts, measured in 1982.
50 feet (15.25 m) tall by 3 feet 5 inches (1 m) wide in Seattle, Washington, measuring in 1994; planted in 1960.
Attribution from: K. Iwatsuki, T. Yamazaki, D.E. Boufford, and H. Ohba (editors); Flora of Japan, Volume 1. Pteridophyta and Gymnospermae; ©1995, Kodansha, Tokyo, Japan.