Picea koraiensis / Korean spruce
Picea koraiensis, as described in 1919 by Takenoshin Nakai (1882–1952), in the 33rd edition of Botanical Magazine, Tokyo; is commonly known as Korean spruce; as well as 종비나무 (jong bi namu) in Korean, as Ель корейская (jel koreiskaya) in Russian, and 红皮云杉 (Hongpi yunshan) in Chinese. It is the endemic spruce to the Korean peninsula, hence the species name.
Ethnobotany. The timber is used for construction, furniture, carving, poles, ships, and wood pulp. Resin is extracted from the trunk, and tannin from the bark and cones. The species is also cultivated for afforestation and as an ornamental.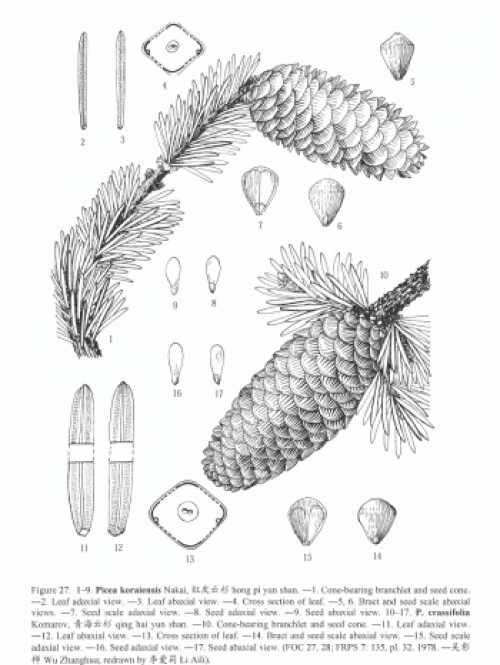 Description. Korean spruce is a medium-sized, evergreen coniferous species of tree that grows to mature heights of 100 feet (30 m) tall; with a trunk up to 32 inches (0.8 m) in diameter, measuring at breast height; and a pyramidal crown.
Bark is gray- or red-brown in color, rarely gray, with a flaky texture.
Shoots are orange-brown in color, either glabrous (smooth in texture) or with scattered pubescence.
Foliar buds are reddish brown in color, with a conical-ovoid shape. They are slightly resinous, with more-or-less recurved scales at the apex.
Leaves are needle-like; directed forward on upper side of branchlets, spreading on lower side; measuring 0.48 to 0.66 inch (12 - 22 mm) long, with a rhombic cross-section; colored dark bluish-green with conspicuous stomatal lines.
Seed cones are cylindric-conically shaped, measuring 1.6 to 3.2 inches (4 - 8 cm) long and 0.8 inch (2 cm) broad, maturing to pale brown in color 5 to 7 months after pollination.
Seed scales are stiff, and smoothly rounded.
Seeds are dark gray in color, with an obovoid shape; measuring circa 0.16 inch (4 mm); with a narrowly obovate-oblong, pale brown wing, measuring 0.36 to 0.48 inch (0.9 - 1.2 cm) long. Pollination takes place in May and June; seed maturity in September and October.
It is closely related to
Koyama's spruce
(
Picea koyamae)
and some authors treat the two as synonymous.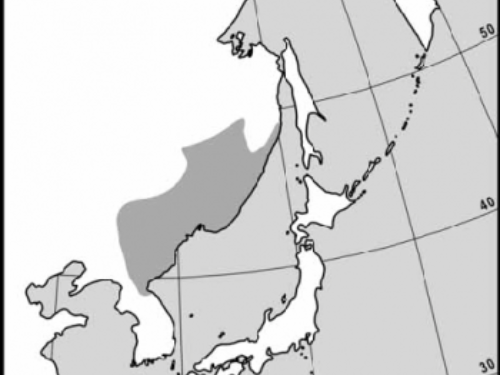 Distribution. Its population is stable though low, and there are no known protocols in place to protect it. This species is mostly found in North Korea near the Yalu River, and in Russia near the Ussuri River. In China it is restricted northeastern provinces Heilongjiang, Jilin, and Liaoning. It is also believed that it might possibly occur in areas in southern Ussuriland. It's natural habitat is on mountain slopes and along streams, growing at elevations of 1,400 to 6,000 feet (400 - 1800 m) above sea level.
Hardy to USDA Zone 6 — cold hardiness limit between -10° and 0°F (-23.2° and -17.8°C).
Attribution from: Wu Zheng-yi and Peter H. Raven (editors); Flora of China, Volume 4; ©1999, Science Press, Beijing; Missouri Botanical Garden. St. Louis.