Picea jezoensis / Yezo spruce
Picea jezoensis, as described in 1855 by Philipp Franz von Siebold (1796–1866) and Joseph Gerhard Zuccarini (1790–1848) in Traité Général des Conifères, by Elie-Abel Carrière (1818–1896), is commonly known as Yezo or Jezo spruce; as well as エゾマツ (ezo matsu) in the Japanese language; as 卵果鱼鳞云杉 (yu lin yunshan) in Chinese; and as Ель аянская (Yel' ayanskaya) in Russian. The species name is derived from another name for the Japanese island of Hokkaidō (Yezo).
There are 3 recognized subspecies which are distinguished based in differences in shoot color, needle length, and seed cones.
Picea jezoensis subsp. jezoensis, the type, which is fully described on this page, with pale yellowish brown shoots; the longest needles and the largest seed cones of the species with ovate or oblong-ovate cone scales that have a denticulate edge on the upper scales.
Picea jezoensis subsp. hondoensis, Hondo spruce, with reddish brown shoots; the shortest needles of the species; and intermediate seed cones with broadly obovate cones scales.
Picea jezoensis subsp. komarovii, Komarov's spruce, with yellowish brown shoots; intermediate length needles; and the smallest seed cones in this species, with rhomboidal seed scales.
Ethnobotany. Yezo spruce is important in the Russian Far East and northern Japan, for timber and paper production. Much of what is cut is harvested unsustainably (and often illegally) from pristine natural forests. It is also occasionally planted as an ornamental tree in large gardens. The Ainu string instrument called tonkori has a body made from Yezo Spruce.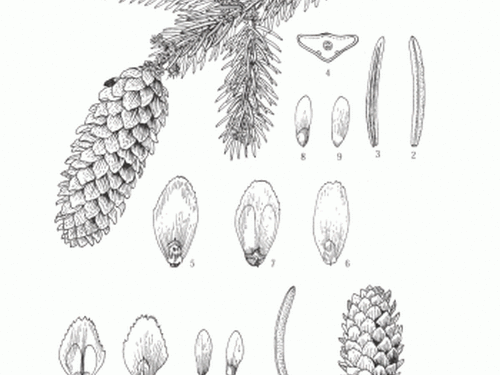 Description. Yezo spruce is an evergreen, coniferous species of tree that grows to mature heights of 120 feet (35 m) with a trunk up to 60 inches (100 cm) in diameter, measured at breast height.
Bark is grayish brown, and deeply fissured, peeling off in irregular scales.
Branchlets are pale yellowish brown in color, deeply grooved, with a glabrous texture; pulvini are 0.02 inch (0.5 mm) long.
Leaves (needles) are leathery, linear, flat, and slightly keeled on both surfaces. Individual needles measure 0.6 to 1 inch (15 - 25 mm) long, by 0.06 to 0.08 inch (1.5 - 2 mm) thick, with a pointed apex and two bright-white stomatal bands on the upper surface. There are also 2 resin canals near the lower surface.
The plant flowers in May to June and the cones ripen in September.
Pollen cones are borne in clusters of 1 to 3, growing terminal on the previous year's shoots. They cylindrically shaped, colored red-brown, measuring 0.6 to 0.8 inch (1.5 - 2 cm) long, by 0.24 inch (6 mm) wide, with numerous stamens.
Seed cones are solitary and terminal on the previous year's shoots. They are cylindrically shaped, brown in color, and pendant, measuring 1.6 to 2.8 inches (4 - 7 cm) long, by circa 0.8 inch (2 cm) broad.
Seed scales are thinly woody, shaped ovate or oblong-ovate, with an obtuse or rounded apex. They are slightly denticulate on the upper margins; measuring circa 0.4 inch (10 mm) long and 0.24 to 0.28 inch (6 - 7 mm) wide.
Bract scales are small, narrowly ovate, acute, and laxly denticulate on upper margin, measuring circa 0.12 inch (3 mm) long.
Seeds are obovate shaped, brown in color, measuring 0.08 to 0.1 inch (2 - 2.5 mm) long by 0.06 inch (1.5 mm) wide.
Seed wings are oblong-ovate shaped, colored pale brown, measuring 0.2 to 0.24 inch (5 - 6 mm) long and 0.08 to 0.1 inch ( 2 - 2.5 mm) wide.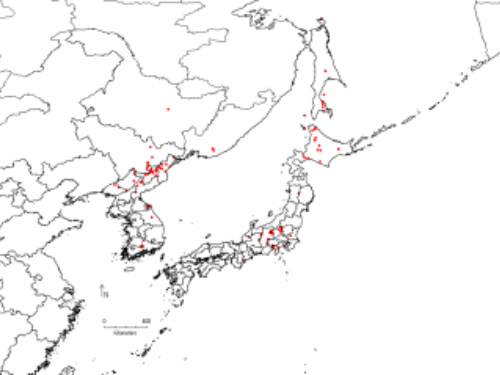 Distribution. This species is native to Japan — the southern Kuriles and Hokkaido; in China — Heilongjiang province; North Korea; and Russia — Ussuri, Sakhalin, the Kuriles, and central Kamchatka. In Japan, it is found growing in subalpine forests at elevations of 125 to 3,500 feet (40 - 1,000 m) above sea level; in Russia, it occurs north along the Sea of Okhotsk coast to Magadan as "an ecological counterpart of Sitka spruce."
Hardy to USDA Zone 5 — cold hardiness limit between -20° and -10°F (-28.8°C and -23.3°C). Plants with Russian or North Korean provenance will undoubtedly be up to 2 zones hardier.
Attribution from: K. Iwatsuki, T. Yamazaki, D.E. Boufford, and H. Ohba (editors); Flora of Japan, Volume 1. Pteridophyta and Gymnospermae; ©1995 Kodansha, Tokyo, Japan.