Picea glauca / white spruce
Picea glauca, as described in 1907 by Conrad Moench (1744–1805) and finalized by Andreas Voss (1857–1924), in Mitteilungen der Deutschen Dendrologischen Gesellschaft, 16th edition, is commonly known as white spruce, Canada spruce, skunk spruce, cat spruce, single spruce, western white spruce (var. albertiana, Canadian Rocky Mountains), Porsild spruce (var. porsildii, Alaska), Black Hills spruce (var. densata, Dakota); as well as épinette blanche in the French Canadian language. The epithet describes the species' waxy needles that create a glaucous effect in the landscape.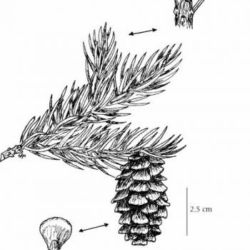 Description. White spruce is a large coniferous evergreen tree which grows to heights of 50 to 100 feet (15 - 30 m), but can grow up to 130 feet (40 m) tall with a trunk diameter of up to 3 feet (1 m), measured at breast height. The crown is narrowly conic in young trees, becoming cylindrical in older trees.
Bark is thin and scaly, flaking off in small circular plates 2 to 4 inches (5 - 10 cm) across.
Shoots are pale buff-brown in color, glabrous (hairless) in the east of the range, but often pubescent in the west, with prominent pulvini.
Foliage is needle-like, measuring 0.48 to 0.8 inch (12 - 20 mm) long, rhombic in cross-section, glaucous Blue-green above with several thin lines of stomata, and Blue-white below with two broad bands of stomata.
Seed cones are pendulous, slender, and cylindrical, measuring 1.2 to 2.8 inches (3 - 7 cm) long and 0.6 inch (1.5 cm) wide when closed, opening to 1 inch (2.5 cm) broad. They have thin, flexible scales 0.6 inch (15 mm) long, with a smoothly rounded margin. They are green or reddish in color when, maturing to pale brown 4 to 8 months after pollination.
Seeds are black, 0.08 to 0.12 inch (2 - 3 mm) long, with a slender, 0.2 to 0.32 inch (5 - 8 mm) long pale-brown wing.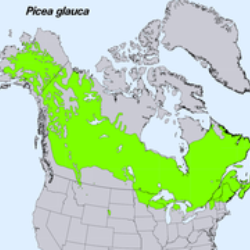 Distribution. White spruce is the northernmost tree species in North America, reaching just north of 69°N latitude in Canada's Mackenzie River delta. It grows between sea level and elevations exceeding 5,000 feet (1,520 m). Its northern distribution roughly correlates to the location of the tree line, which includes an isothermic value of 50°F (10°C) for mean temperature in July, as well as the position of the Arctic front; cumulative summer degree days, mean net radiation, and the amount of light intensities also figure. White spruce generally is found in regions where the growing season exceeds 60 days annually.
The southern distribution corresponds to the July isotherm of 64°F (18°C) around the Great Lakes; in the Prairie Provinces its limit is north of this isotherm. During the summer solstice, photoperiod values range from 17 hours at its southern limits to 24 hours above the Arctic Circle.
Hardy to USDA Zone 2 — cold hardiness limit between -50° and -40°F (-45.6° and -40.0°C).
Attribution from: Ronald J. Taylor, Sections on Picea and Tsuga. Flora of North America Editorial Committee (editors): ©1993, Flora of North America North of Mexico, Vol. 2. Oxford University Press.