Picea engelmannii / Engelmann spruce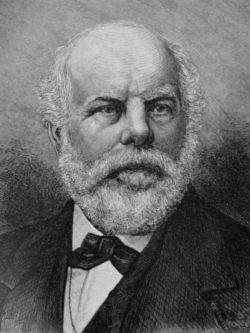 Picea engelmannii, as described in 1863 by Charles Christopher Parry (1823–1890) ex Georg Engelmann (1809–1884), in Transactions of the Academy of Science of St. Louis, 2nd edition, is commonly known as Engelmann or Mountain spruce; as well as épinette d'Engelmann in the French Canadian language, or pino real in Spanish. The species name honors Georg Engelmann (1809–1884), a physician and botanist from St. Louis, Missouri, who undertook pioneering studies in North American cacti and yuccas, as well as of conifers.
There are two recognized subspecies:
Picea engelmannii subsp. engelmannii (Engelmann spruce). The typical species, described here.
Picea engelmannii subsp. mexicana (Mexican spruce).
Ethnobotany. Engelmann spruce is of economic importance for its wood, harvested for paper-making and general construction. Wood from slow-grown trees at high altitude has a specialized use in making musical instruments such as acoustic guitars, harps, violins, and pianos. It is also used to a small extent as a Christmas tree.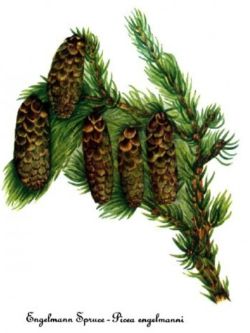 Description. Engelmann spruce is a medium-sized to large evergreen coniferous species of tree that grows to mature heights of 80 to 130 feet (25 – 40 m), exceptionally to 213 feet (65 m) tall, and with a trunk diameter of up to 4.5 feet (1.5 m) wide; and a narrowly conic crown in young trees, becoming cylindric in older trees.
Bark is thin and scaly, flaking off in small circular plates 2 to 4 inches (5 – 10 cm) across.
Shoots are buff-brown to orange-brown in color, usually densely pubescent, and with prominent pulvini.
Leaves are needle-like, measuring 0.6 to 1.2 inches (15 – 30 mm) long, with a rhombic cross-section, colored glaucous Blue-green above with several thin lines of stomata, and Blue-white below with two broad bands of stomata.
Seed cones are pendulous, slender, and cylindrical, measuring 1.6 to 3.2 inches (4 – 8 cm) long and 0.6 inch (1.5 cm) broad when closed, opening to 1.2 inches (3 cm) broad. They have thin, flexible scales 0.6 to 0.8 inch (15 – 20 mm) long, with a wavy margin. They are reddish to dark purple in color, maturing pale brown 4 to 7 months after pollination.
Seeds are black, measuring 0.08 to 0.12 inch (2 – 3 mm) long, with a slender, 0.2 to 0.3 inch (5 – 8 mm) long pale brown wing.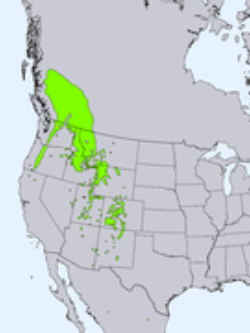 Distribution. This species is native to Canada — Alberta and British Columbia; to the United States — Washington, Idaho, Montana, Wyoming, Colorado, Oregon, California, Nevada, Utah, Arizona, New Mexico. It will grow as krummholz at the alpine timberline. Engelmann spruce and subalpine fir (Abies lasiocarpa) form one of the most common forest associations in the Rocky Mountains. They can be seen, for example, in all Rocky Mountain National Parks from Jasper in Alberta, Canada to Rocky Mountain in Colorado. They also form a dominant forest type in eastern North Cascades National Park and the Pasayten Wilderness in Washington.
Hardy to USDA Zone 3 — cold hardiness limit between -40° and -30°F (-39.9° and -34.4°C).
Champion trees.
North Joffre Spruce in British Columbia, is 131 feet (41 m) tall with an 88 inch (220 cm) diameter trunk, measured at breast height.
Easy Pass Tower growing along the North Cascades Highway (Washington State Route 20) near the Easy Pass Trailhead is 216 feet (67.7 m) tall with a 67.6 inch (169 cm) diameter trunk, measured at breast height.
Attribution from: Ronald J. Taylor, Sections on Picea and Tsuga. Flora of North America Editorial Committee (editors): ©1993, Flora of North America North of Mexico, Vol. 2. Oxford University Press.