Picea crassifolia / Qinghai spruce
Picea crassifolia, as described in 1923 by Vladimir Leontyevich Komarov (1869–1945), in the 4th edition of Botanicheskie Materialy Gerbariya Glavnogo Botanicheskogo Sada RSFSR (Petrograd), is commonly known as Qinghai spruce; as well as 青海云杉 (Qinghai yunshan) in the Chinese. Many authors don't grant full species status to this spruce rather, listing it as a specific variety of Schrenk spruce, i.e., P. schrenkiana var. crassifolia. The species name translates into "fleshy leaved" in the Latin language.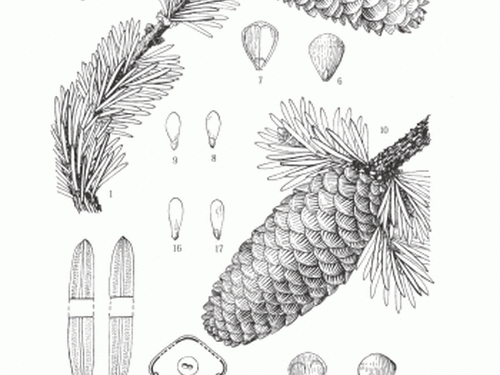 Description. Qinghai spruce is an evergreen, coniferous species of tree that grows to mature heights of 80 feet (25 m); with a trunk up to 24 inches (60 cm) in diameter, measuring at breast height; and an pyramidal to conical crown that becomes open with age.
Branchlets are initially greenish yellow, turning pink or brownish yellow, rarely turning yellow in their 2nd year or on drying. They usually have a glaucous, pubescent or glabrous texture.
Foliar buds have a conical shape, and are usually not resinous; are scales usually reflexed, and obviously keeled on dorsal sides at base of branchlets.
Leaves (needles) spread nearly radially from the twigs, or ascend on upper side of branchlets, while curving laterally on lower side. They are stout, and broadly quadrangular in cross section. Individual needles measure 0.48 to 1.4 inches (1.2 - 3.5 cm) long by 0.08 to 0.12 inch (2 - 3 mm) thick; colored bright green with 5 to 7 stomatal lines along each surface adaxially and 4 to 6 along each surface abaxially; with obtuse or mucronate apices.
Seed cones have cylindrical shape, measuring 2.8 to 4.4 inches (7 - 11 cm) long, by 0.8 to 1.4 inches (2 - 3.5 cm) broad.
Seed scales at middle of cones have an obovate outline and are slightly incurved, measuring circa 0.72 by 0.6 inches (1.8 × 1.5 cm), with entire or slightly undulate margins; and rounded apices.
Seeds have an obliquely obovoid shape, measuring circa 0.14 inch (3.5 mm); with an obovate wing, circa 0.36 inch (9 mm) long. Pollination takes place in April and May, seed maturity comes in September and October.
Distribution.
This species is native to China — Nei Mongol (Helan Shan, Daqing Shan), Gansu, Ningxia, northeastern Qinghai (Qilian Shan, and around Qinghai Hu), found in the mountains, growing at elevations of 5.200 to 12,250 feet (1,600 - 3,800 m) above sea level. It occurs on calcareous and non-calcareous soils (for example, the first soil type in Helan Shan). The climate is cold continental and dry, with most of the precipitation falling as snow. It forms mostly pure forests, but occasionally mixed with with
Betula albosinensis
and groves of
Populus tremula.
Hardy to USDA Zone 5 — cold hardiness limit between -20° and -10°F (-28.8° and -23.3°C).
Attribution from: Wu Zheng-yi and Peter H. Raven (editors); Flora of China, Volume 4; ©1999, Science Press, Beijing; Missouri Botanical Garden. St. Louis.