Picea chihuahuana / Chihuahua spruce
Picea chihuahuana, as described in 1942 by Maximino Martínez (1888–1964), in the 13th edition of Anales del instituto de Biología de la Universidad Nacional de México, is commonly known as Chihuahua spruce; as well as cahuite, cahuite espinoso, cahuite bravo, or pinabete espinoso in the Spanish language. It is primarily endemic to the Chihuahua state of Mexico, hence the species and common names. It is one of the rarest and most vulnerable of Earth's spruces with fewer than 40 known stands, the largest of which has few than 2,500 trees, while smaller stands may only number a few dozen.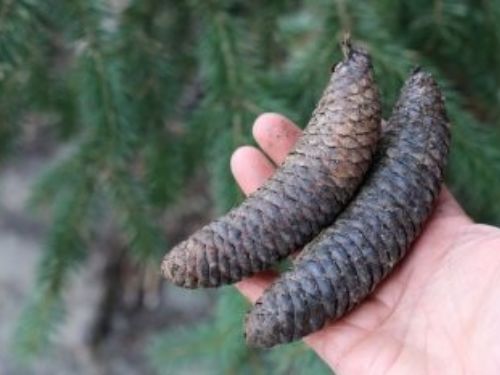 Description. Chihuahua spruce is an evergreen coniferous species of tree that grows to mature heights of 80 to 120 feet (25 - 35 m); with a trunk up to 18 to 28 inches (45 - 70 cm) in diameter, measured at breast height. Crown narrowly conic and open, with few long level branches among more numerous very short branches.
Bark is colored pale gray, furrowed and scaling.
Shoots are stout and pale buff in color.
Leaves are colored matte Blue-green, with conspicuous stomatal lines, measuring 0.68 to 0.92 inch (17 - 23 mm) long, rhombic to slightly flattened in cross-section, and exceedingly sharp, with a long spine tip (readily drawing blood when shoots grasped)
Seed cones are green in color, ripening orange-brown with a cylindrical shape, measuring 2.8 to 4.8 inches (7 - 12 cm) long, by 1.6 to 2 inches (4 - 5 cm) broad when open.
Seed scales are tightly packed or even congested, measuring 0.72 to 0.92 inch (18 - 23 mm) long and 0.56 to 0.8 inch (14 - 20 mm) wide, with a truncated apex; almost square-ended.
Seeds measure 0.14 to 0.16 inch (3.5 - 4 mm) long, and are black, with a 0.4 to 0.48 inch (10 - 12 mm) wing.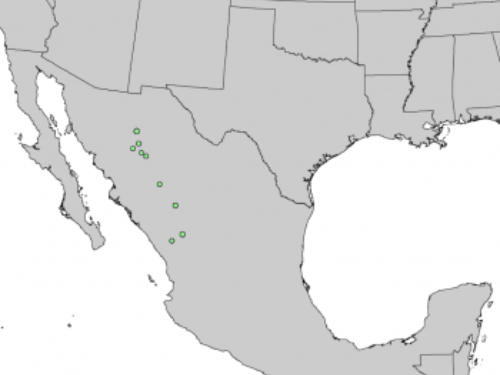 Distribution. This species is native to Mexico — southwestern Chihuahua and western Durango, growing at elevations of 7,500 to (perhaps) 10,500 feet (2,300 - 3,200 m) above sea level. An attempt at a comprehensive inventory conducted by Ledig et al. in 2000 identified 39 stands in three disjunct clusters along the Sierra Madre Occidental, extending northwards 425 miles (687 km) from just south of the Tropic of Cancer. This, and P. morrisonicola of Taiwan, are the world's most southerly Picea species.
Their native climate is continental and among the coldest in Mexico; at Creel, Chihuahua, the temperatures range from an average January minimum of 22°F (-5.6°C) to an average July maximum of 80°F (26.5°C), where the climate is summer-wet with average monthly rainfall of 0.64 inch (16 mm) in April and 6.5 inches (166 mm) in July.
Hardy to USDA Zone 8 — cold hardiness limit between 10° and 20°F (-12.1° and -6.7°C), although observed specimens growing in an arboretum in Stewart Park, Medford, Oregon suggest that Zone 7 may also be possible.