Picea alcoquiana / Alcock spruce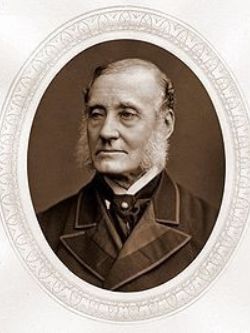 Picea alcoquiana, as described in 1867 by (Veitch ex Lindley) Élie-Abel Carrière (1818–1896), in Traité général des conifères, 2nd edition, is commonly known as Alcock spruce; as well as マツハダ (iramomi, matsuhada) in the Japanese language. Picea bicolor is considered synonymous, but alcoquiana seems to have gained precedence in recent years.
The first specimens were collected by John Gould Veitch on an ascent of Japan's Mount Fujiyama in September of 1860. He originally gave the species name of alcoquiana and the common name of Alcock spruce in honor of Sir Rutherford Alcock (British minister to Tokyo from 1858 to 1862) who accompanied Veitch on the climb.
Description. Alcock's spruce is an evergreen coniferous species of tree that grows to 100 feet (30 m) in height with a straight, round trunk and long, slender, spreading branches.
Bark is purple-brown, smooth to scaly on young trees, maturing to gray-brown, fissured and peeling off in thick scales.
Branchlets are slender, red-brown in color, smooth in texture, ridged, grooved and glabrous.
Foliar buds measure 0.12 to 0.4 inch (3 - 5 mm) long, and are resinous, with triangular, brown, persistent scales.
Leaves are linear, with a quadrangular cross section, each measuring 0.4 to 0.6 inch (10 - 15 mm) long, and 0.06 inch (1.5 mm) broad. They are acutely pointed on young trees, and only slightly pointed on mature trees. Individual needles are deep green in color, with 1 to 3 stomatal lines on the ventral surface, and 3 to 4 on dorsal surfaces, including two resin canals at the margins.
Cone bloom takes place from May to June and appears solitary and terminal on the previous year's shoots.
Pollen cones measure 0.4 to 0.6 inch (10 - 15 mm) long, red in color at first, later turning yellow, with numerous stamens.
Seed cones cones are pendant, very short, pedunculate, ovoid shaped, and red-purple in color before maturing. They ripen in October to red-brown or pale brown in color, with an oblong or cylindrical shape, measuring 3 to 4 inches (7 - 9 cm) long and 1 to 2 inches (2.5 - 5.5 cm) across when open. Cone scales are loosely overlapping before maturity. Scales are thinly woody, orbicular-ovate in shape, narrowing upward, cuneate to the base, measuring 0.52 to 0.64 inch (13 - 16 mm) long and wide, denticulate on margin. Bracts very small, obovate, acute, slightly laciniate on margin, 0.12 to 0.16 inch (3 - 4 mm) long and 0.08 inch (2 mm) wide.
Seeds are oblong-obovate in shape, blackish brown in color, circa 0.16 inch (4 mm) long and 0.08 inch (2 mm) wide.
Seed wings are brown in color, with obovate or oblong-obovate shape, each measuring 0.28 to 0.4 inch (7 - 10 mm) long, and 0.16 to 0.2 inch (4 - 5 mm) wide.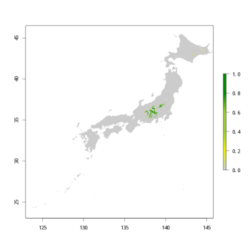 Distribution. This species is native to Japan on the Pacific Ocean side of central Honshu island, found growing at elevations of 5,000 to 6,000 feet (1,500 - 2,000 m) above sea level in subalpine forests. The tree prefers cool climates with snowy winters and 30 to 75 inches (1,000 - 2,500 mm) of annual precipitation. Soils are volcanic in composition. It typically grows in mixed conifer forests with Picea jezoensis ssp. hondoensis, Tsuga diversifolia, and Larix kaempferi. In some areas it is found with Pinus parviflora and Abies veitchii, and it grows at high elevations with Abies mariesii. Alcock spruce is sensitive to drying winds and not recommended for culture on exposed sites.
Hardy to USDA Zone 4 — cold hardiness limit between -10° and -0°F (-23.3° and -17.8°C).
Attribution from: K. Iwatsuki, T. Yamazaki, D.E. Boufford, and H. Ohba (editors); Flora of Japan, Volume 1. Pteridophyta and Gymnospermae; ©1995, Kodansha, Tokyo, Japan.