Picea abies 'Merrell Broom' / Merrell Broom Norway spruce
Picea abies 'Merrell Broom' is an irregular globose selection of Norway spruce with short, clumpy branches holding very dark, shiny short green needles. After 10 years of growth, a mature specimen will measure 12 to 18 inches (15 - 20 cm) tall and wide, an annual growth rate of 1 to 1.5 inches (1.5 - 2 cm).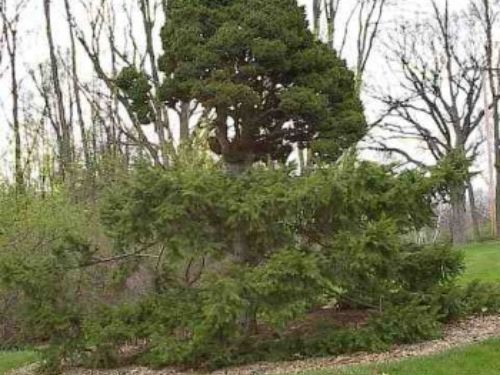 This cultivar originated as a witch's broom found in the early 1990s by Dr. David Merrell of Rossford, Ohio, USA. The mother tree with broom was growing in a farm windbreak near Rossford. In 1995, Dr. Merrell arranged to have the tree dug and donated to the Harper Collection of Dwarf & Rare Conifers at Hidden Lake Gardens, Tipton Michigan where it lives to this day.