Manoao colensoi / Manoao
Manoao colensoi, first described in 1995 by (Hook.) Brian P.J. Molloy, is commonly known as Manoao in New Zealand's indigenous Maori language; as well as Silver pine, Westland pine, and White silver pine. The species name honors William Colenso (1811 - 1899), a British-born minister and printer who collected many plants in New Zealand, including the type of this species.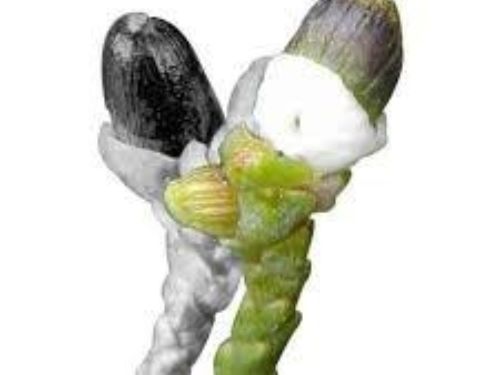 Description. Manoao is an evergreen coniferous species of tree which grows to heights of 50 feet (15 m) tall with a trunk 3 feet (100 cm) in diameter, measured at breast height, with a straight, clear trunk and slender branchlets. In its younger stages the silver pine is a cone-shaped tree but later develops a tall, moderately spreading crown.
Bark is bark brown-grey in color.
Foliage defines the tree's three distinct growth stages. In the juvenile tree, leaves are 0.24 to 0.48 inch (6 - 12 mm) long; narrow, pointed, and subterete in shape; rather limp and spreading, with distinct bands of stomata on their undersurfaces. As the plant reaches the semi-adult stage, the leaves are smaller, 0.12 to 0.18 inch (3 - 4.5 mm) long; subfalcate and flattened in shape; and arranged in two opposite rows along the same plane. The leaves of the adult tree are smallest, at 0.04 to 0.1 inch (1 - 2.5 mm) long; thick, coriaceous, keeled and scale-like in shape, growing appressed to the branchlets in four rows with ultimate branchlets circa 0.6 inch (1.5 mm) in diameter.
Pollen cones are grow solitary, terminal on the branchlets and are 0.12 to 0.2 inch (3 - 5 mm) long and circa 0.06 inch (1.5 mm) wide.
Seed cones grow solitary or paired, terminal on the branches, with thin, final scale leaves that are rather lax and spreading. The epimatium is transversely keeled, and about 1/3 to 1/2 the length of the . . .
Seed, which is 0.08 to 0.16 inch (2 - 4 mm) long, black in color and broadly ovoid-oblong in shape.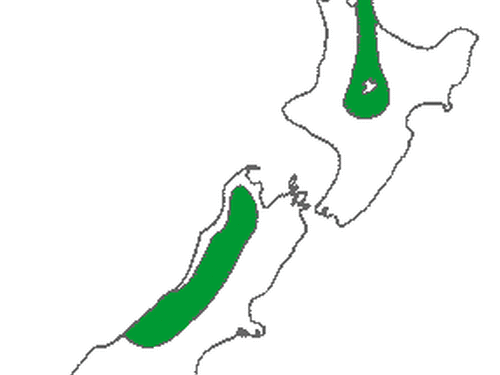 Distribution. This species is native to New Zealand's North and South Islands, growing from sea level to an altitude of about 3,000 feet (950 m). Within its range, mean annual temperature is 52ºF (11.1°C), with an average minimum in the coldest month of 30ºF (-1.4°C), and a mean annual precipitation of 147 inches (3,744 mm). It is hardy to USDA Zone 8, cold hardiness limit between 10º and 20ºF (-12.1° and -6.7°C).
It has evolved to thrive in high-rainfall districts from North Cape to South Westland and Lake Te Anau, but is notably absent from large parts of the North Island, eastern South Island, Fiordland, and Stewart Island. Plants of M. colensoi occur in shady situations with rich soil in a wet climate. Usually it is found on older, poorly drained surfaces with leached infertile soils, and in acid swamps and peats, notably the 'pakihi' lands of western South Island. It grows very slowly.
Attribution from: Molloy, B.P.J. 1995. Manoao (Podocarpaceae), a new monotypic conifer genus endemic to New Zealand. New Zealand Journal of Botany 33: 183-201.