Lepidothamnus intermedius / Yellow Silver-pine
Lepidothamnus intermedius, first described in 1982 by (Kirk) Christopher John Quinn (born 1936), is commonly known as Yellow Silver-pine and Mountain pine. The epithet describes the foliage, intermediate in form between the close held scales of L. Fonkii and open scales of L. laxifolius.
Description. Yellow Silver-pine is an evergreen coniferous species of small tree that will grow to heights of 60 feet (15 m) tall with trunks up to 24 inches (60 cm) in diameter, measured at breast height. Branches are spreading; bark is brown-gray in color, shed in small platelets, under which the new bark is red-brown.
Leaves on juvenile plants are 0.36 to 0.6 inch (9 - 15 mm) long, spreading, limp, faintly keeled, narrow-linear-subulate, acute and recurved in shape. On slightly older plants the leaves tend to spread around the branchlet, becoming shorter and more scale-like. Adult leaves are 0.06 to 0.12 inch (1.5 - 3 mm) long, imbricate, appressed, rhomboid, obtuse, keeled, coriaceous in shape, and appearing to be arranged around the branchlet in four rows.
Pollen cones are abundant, solitary, and terminal on branchlets. They are 0.2 to 0.24 inch (5 - 6 mm) long, and circa 0.08 inch (2 mm) wide with a broadly triangular, obtuse apiculus. Male cones are ripe by late November and pollinate in early December.
Ovules are solitary, and terminal on branchlets. The basal 3 to 4 scale leaves are thin and the ovule is erect, the epimatium is not more than one-quarter the length of seed. The ovule of the female appears in November among the leaves at the tip of the branchlet, maturing over the next sixteen to eighteen months.
Seeds are 0.12 to 0.2 inch (3 - 5 mm) long, narrow to broadly oblong in shape, nutlike in appearance, black in color, and blunt or tapering to a minute point.
Wood is red-yellow in color.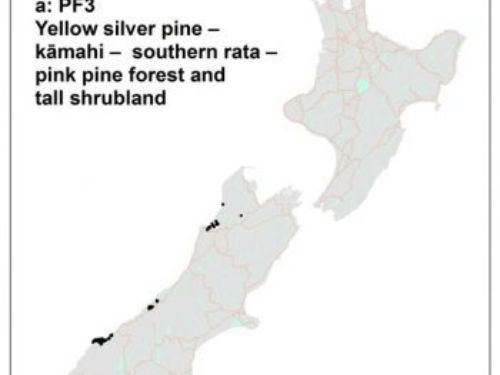 Distribution. This species is native to New Zealand's North Island where it grows scattered from the Bay of Islands southward, but it is more common on the West Coast of the South Island, and it is the principal tree in the swamp forests of Stewart Island. It is a slow-growing tree, found from sea level to about 2,900 feet (900 m) above sea level in regions with very wet climate. It is hardy to USDA Zone 8, cold hardiness limit between 10º and 20ºF (-12.1°C and -6.7°C).
Attribution from: Allan, H.H. 1961. Flora of New Zealand. Volume I, Indigenous Tracheophyta. Wellington: R.E. Owen Government Printer.