Lepidothamnus fonkii / Chilean rimu
Lepidothamnus fonkii, first described in 1860 by Rodolfo Amando Philippi (1808–1904), is commonly known as Chilean rimu, Chilean Pygmy-cedar, as well as Ciprés enano in the Spanish language. The species name honors Francisco Fonk, a physician who collected many botanical specimens in Chile between 1852 and 1858, including the type specimen of this species.
Description. Chilean rimu is densely branched, typically prostrate shrub without a significant main trunk, which grows up to 24 inches (60 cm) tall, with short, slender erect branchlets up to 0.2 inch (5 mm) in diameter. Crown is spreading, with creeping branches bearing upright, many-branched shoots densely covered with foliage.
Leaves are scale-like, triangular-ovate in shape, obtuse, closely pressed against the branchlet, keeled on the back, with a blunt and incurved apex, circa 0.16 to 0.2 inch (4 - 5 mm) long and 0.12 to 0.16 inch (3 - 4 mm) thick.
Pollen cones are circa 0.24 inch (6 mm) long and 0.08 inch (2 mm) wide with ca. 0.04 inch (1 mm) scales, subtended by basal bracts, growing terminally on branches.
Seeds are shiny, yellowish brown in color, grow at the apex of branchlets, surrounded at the base by a thin, cuplike aril less than 0.04 inch (1 mm) deep. They are ovoid in shape, 0.12 to 0.16 inch (3 - 4 mm) long and 0.08 inch (2 mm) wide. Flowers November to February.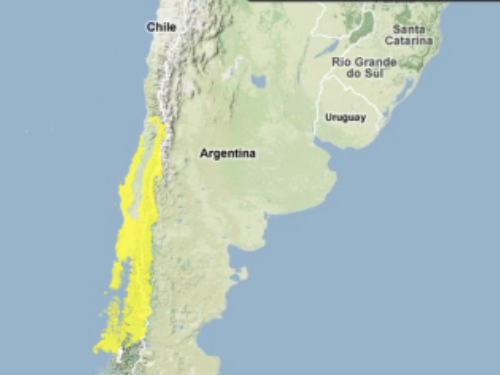 Distribution. This species is native to Argentina's Chubut and Neuquén provinces, and Rio Negro; to Chile's Aisén, Los Lagos, and Magellanes provinces; from Tierra del Fuego north to 40°S growing in Magellanic moorland and bogs at elevations of 0 to 3,700 feet (0 - 1,150 m) above sea level, where annual precipitation measures 60 to 72 inches (1,500 to 1,800 mm). This species is in a close race with Libocedrus uvifera for the title of "world's southernmost conifer." It is hardy to USDA Zone 7, cold hardiness limit between 0º and 10ºF (-17.7° and -12.2°C).
Attribution from: Moore, David M. 1983. Flora of Tierra del Fuego. U.S.A.: Missouri Botanical Garden.