Trunk Show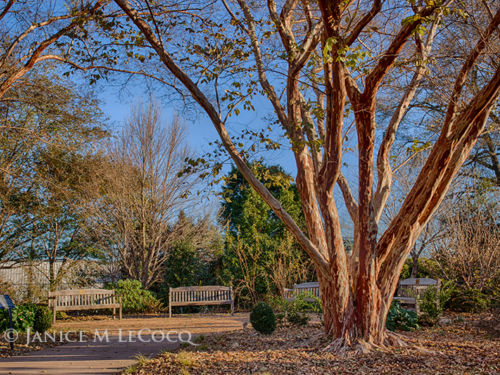 We are known to wax poetic at Form and Foliage over the joys of, well, form and foliage. Most of the time, that means that we show you gorgeous woody plants and their leaves, with a generous sprinkling of ornaments such as cones and berries. Now, however, we'd like to direct your attention to a part of the plant that tends to get short shrift in garden photography, and in our view contributes much to a tree's eye appeal: the trunk.
In fact, there are some trees, such as this paper bark maple (Acer griseum) photographed at Quarryhill Botanical Garden, that would be worth having even if they remained leafless! The paper bark maple actually has very nice leaves, albeit not the most dramatic. But the peeling bark adds texture and interest to the garden all year long.
Another tree with peeling bark is Arbutus 'Marina', a hybrid cultivar of our native California madrone. The young trees have semi-gloss, cinnamon bark that, when it ages, breaks open to display a chartreuse under-layer. The evergreen leaves, flowers and fruit of this tree are all stunning, but the trunk is the attention-grabber.
While we're on the subject of peeling, let's look at Physocarpus, a shrub whose trunk peels with such abandon that its common name is ninebark. We've never counted the layers, but we make a point of pruning this shrub to showcase the lovely textured trunk. Like Arbutus 'Marina', ninebark has beautiful leaves (in colors that range from gold and lime to copper and maroon), flowers and berries.
Not all trunks have to be burlesque strippers to command attention, however. Some do it simply with grandeur and presence. The redwood crown provides shade but the trunk adds sculptural and textural interest, as well as rich color that deepens in the winter rains.
Some trees, such as olives, are known for their naturally occurring intriguing, twisted shapes, which can be enhanced by careful pruning. The tree on the right is showcasing the characteristic knobby protuberances that develop as the trees age. These olives were planted as small trees about 12 years ago, primarily for shade, but now also serve as sculpture.
In this trunk trifecta, the olive trunks in the foreground are echoed by the cinnamon trunk of Arbutus 'Marina' in the middle and that of the aged live oak (Quercus agrifolia) in the rear. Color, texture, shape—these trunks have it all! And as we remind you repeatedly, they don't hibernate in winter.
This David's maple is less than 25 years old and serves as a sculpture—and a bench!—in the woodland landscape of Quarryhill Botanical Garden. It stands out against the surrounding thicket and provides plenty of interest, even when bare of foliage.
Larches are unusual amongst conifers in that they drop their needles each year, leaving only bare trunk and branches. The Larix kaempferi 'Diana', pictured above, holds court in late autumn at The Oregon Garden, with its shaggy, sculptural trunk and branches festooned with lichens.
Some trunks make their statement by their color rather than their form or texture. The stark white trunks of Betula papyrifera, or paper birch, are much more visible in winter when the tree is leafless. On drab days they light up the garden and draw the eye.
Red-twig dogwoods (Cornus stolonifera spp) are an easy way to add boldly colored trunks to the winter landscape. Unassuming shrubs when in leaf, they take center stage when wearing only their bare branches. There are yellow-twigged versions, as well.
Our 'go to' tree for red trunks and stems is the coral bark maple, whose botanical cultivar name 'Sango Kaku' means 'coral tower' or 'coral pillar' in Japanese. The above shot was taken in spring as the tree is leafing out with chartreuse foliage, and the drama of the complementary colors (remember the color wheel!) is evident.
'Sango Kaku's autumn display is more muted, as the leaves turn to soft yellow-orange.
Coral bark maple is a lovely small tree that grows in full sun in our zone 9b. There are dwarf varieties available, as well, such as 'Aka Kawa Hime'. The red tends to be most vivid on new growth, so the dwarf, slower growing cultivars will provide more eye candy at eye level.
Japanese maples have trunks with all shades of yellow, gold and green, as well as coral. In addition, they have some of the loveliest shapes, most delectable new growth and gorgeous fall color of any trees. Surely you have room for just one?
We've saved the most unusual trunk for last. While some may call it a weeping Douglas fir (Pseudotsuga menziesii 'Pendula'), others would just call it an elephant!:
Comments