The Sequel to the Ever-Popular Summer: Autumn!
The Sequel to the Ever-Popular Summer: Autumn!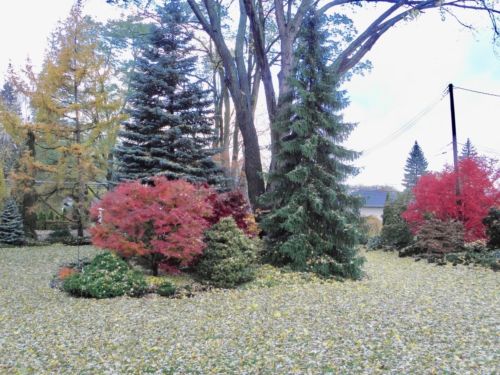 Fall Gardening
Back in July, as you may recall, our anonymous film director manqué wrote a piece likening his gardening to that of overseeing ensemble actors on a set, along with managing lighting, placement and interaction. Well, he's back with a sequel, and like so many sequels, this one is more dramatic than the original! While is it tempting to think that the garden director's job is easier than that performed on a Hollywood set, Hollywood generally doesn't have death, disease or pathogens impair progress, nor does it have the peculiar problem specific to garden design, wherein the subjects outgrow their spots. Imagine if a movie director had to get his project finished before the star player got (literally) too big for his britches. (Full cast, from left to right: Larix kaempferi 'Diana', Chamaecyparis pisifera 'Nana', Acer palmatum 'Ueno yatsubusa', and, to its right, Acer palmatum 'Pixie', with Pinus parviflora 'Ogon janome' in between. Behind is a blue form of Abies concolor, not a named cultivar but selected from the field. On the far right is Acer x 'Trompenburg', aka Acer palmatum 'Trompenburg'.)
In the photo above, the three maples, which were reasonably content to play as part of the ensemble, without claiming star billing, seem to have gotten Hollywood-sized egos as their autumn performance came around. The assorted conifers are all evergreens, and are steadfastly continuing on in character, while the maples apparently got fat new contracts and stars on their dressing rooms. What they don't appreciate is that the deep, rich, cool blues and greens allow the yellow and red to blaze. What is life - or beauty - without contrast?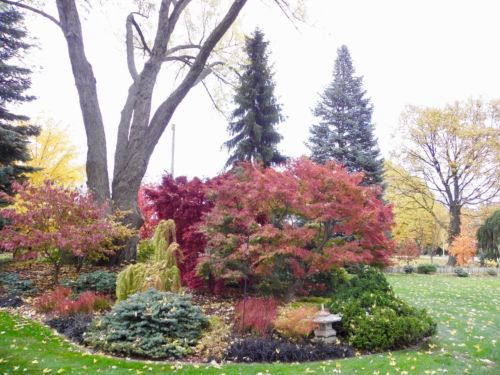 Evergreens and Fall Color
In this shot we see that the director has changed the plot of the sequel to an inferno! Dogwoods, maples, grasses and more have all changed costumes to portray fall's fiery colors. Even the grass, stubbornly remaining green, gets an autumnal sprinkling. The evergreen conifers, again, reliably playing their parts, provide the contrast necessary to really ignite the deciduous characters. The blue spruce is particularly useful, as blue and orange are color-wheel opposites and opposite pairings produce the most dramatic combinations. The same is true of red and green. (Full cast, from left to right: Cornus florida 'Appalachian Spring' - note that the yellow behind it is Acer x 'White Tigress, which is a cross between A. davidii and A. tegmentosum, Abies procera 'Glauca Prostrata', Imperata cylindrica var. koenigii 'Red Baron', Ophiopogon planiscapus 'Kokuryu', Larix kaemferi 'Pendula, wrapped around Picea pungens 'St. Mary's Broom', Acer palmatum 'Pixie', Acer palmatum Ueno yatsubusa', Acer palmatum 'Koto no ito' (a very small specimen to the right of the lantern), Chamaecyparis pisifera 'Nana'. Two tall conifers in the background: Picea omorika 'Pendula' and the same blue Abies concolor. Far right in far background is Acer japonicum 'Vitifolium')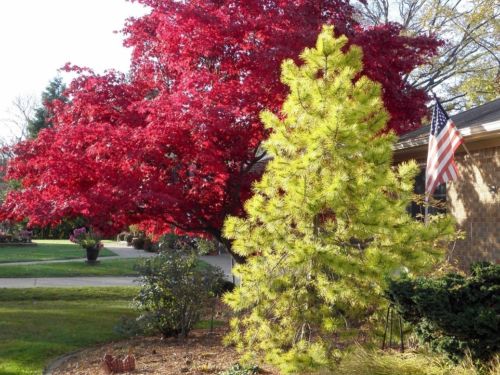 Not all conifers are cool dudes in their blues and greens. Some, like the pine above, glow golden in autumn's soft light, and make a stunning pairing with a Japanese maple costumed in scarlet. We'd love to be able to call it a 'scarlet starlet' but this tree is mature and handsome; a diva, not an ingenue. Turns out that it was 'discovered talent', picked up at a clearance sale with no tag. With special coaching, our director teased its roots and gave it the confidence to play a leading role! The conifer is one that we have almost all coveted but have not all succeeded with: Pinus contorta var. latifolia 'Chief Joseph'. It lurks in the background for much of the year, playing an understated role of medium green. Come cold weather it reveals its true talents and struts its sunny yellow. This one may well be the largest specimen east of the MIssissippi, as it was planted over 25 years ago. Imagine whta it looks like when male cardinals cavort amongst its needled.
Did you think that this much color could be had without flowers? And neither one of these plants requires deadheading or fertilizing.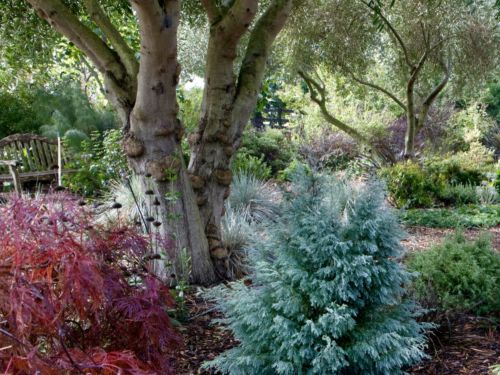 Our director gardens in the upper midwest, but lest you think that this only plays in Peoria, see the above shot of a garden in northern California. The stars (an Acer palmatum 'Ruby Lace' and a Chamaecyparis lawsoniana 'Barry's Silver') can take the show on the road and play with the local talent to round out the cast, in this case a couple of olive trees and some Helictotrichon sempervirens. Different cast, same powerful production.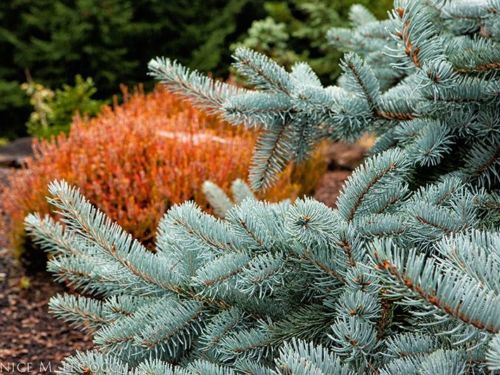 For much of the year at this Silverton conifer collection, the conifers' performance is center stage, playing majestically in full-needled glory. But autumn's colors make the conifers play off the season's stars, in this case a flaming heather. Once again, note how the blue of the conifer really sets off the hot tones. Not all actors can be divas in all productions! We need a chorus, too.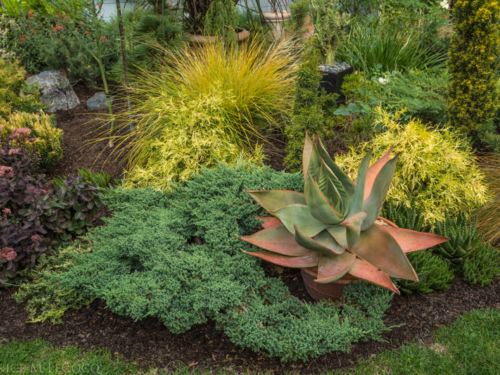 Ideas for Fall Garden Color
If you live in the mid-Atlantic, Southeast, lower midwest or Pacific Northwest, Japanese maples will play in your production very happily. Those in adjacent areas can also often find specific actors who will oblige. But if you find that Acer palmatum is a flop in your garden, there are many other plants that can provide autumn color to contrast with your conifers. The Aloe above is locked in a passionate embrace with a juniper, and come autumn, always blushes at the juniper's advances. If you are in a cold zone, try Rhus or Spirea, Fothergilla or Viburnum. For those of us in Mediterranean climates, we can often 'borrow' stars from other studios, successfully growing Nyssa, Viburnum, Cotinus and Acers other than palmatum. The mountain west has its aspens, and Texas and the southwest boast a long list of native species that color dramatically when the days shorten, such as oaks, maples, mesquite and cypress. Look at your garden as we approach the end of Daylight Savings Time. Could it use a little star power? Maybe even a star couple: a blue or green conifer and an orange or red deciduous co-star!
That's a wrap!
Comments