The Lushness of the Late Summer Garden
The Lushness of the Late Summer Garden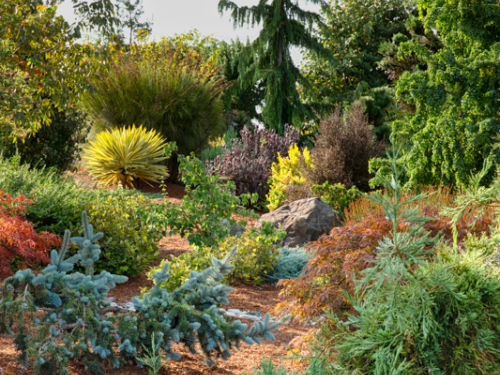 Late summer can be a difficult time in an ornamental garden. Most perennials are as weary as we are of seemingly endless days of heat and water-stress. Tender leaves are crisp, inflorescences are loaded with spent blooms, and autumn leaves have not yet begun to brighten the landscape.
Foliage gardens tend to fare better, especially those with evergreen plants, such as conifers. The photo below is of the same scene, shot from farther back.
We've talked about using blues to accent fiery fall foliage; blue also cools down the heat of late summer. Blue conifers have a tendency to be able to withstand searing sun; the blue color is due to waxes on the needles that reflect specific wavelengths of light. The presence of these waxes help the plants deal with the strong ultraviolet rays experienced at high altitudes, so it isn't surprising that they protect the plants through hot summers.
Blue creates dramatic combinations when paired with the fall oranges, reds and yellows. However, when paired with green it makes for a soothing, lush environment.
The Mexican Martinez piñon pine above is rare in its native environment so we are lucky to have a domesticated specimen. Both the pine and the cedar originate at altitudes markedly above sea level. The pine, especially, seems to ice down the afternoon, veritably chilling the air around it. We always feel a bit cooler when we pass it.
Comments