The Greens of Summer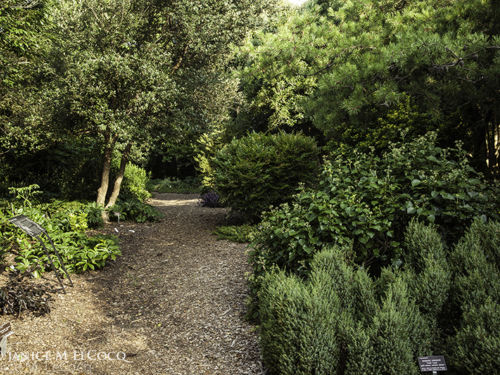 Even though Paul Simon writes about his Nikon camera and Jan uses a Canon, we can't help but think of the lyrics from 'Kodachrome' when we are out in the late summer garden. By the end of August perennial gardens are often tired from the prolonged heat, but not so the foliage garden. When we go out to stroll on torrid days, we gravitate to the cool, shady spots and keep movement to a minimum. And we plan for the dog days by making sure we'll have an abundance of green around to soothe and cool us when the weather is hot.
While Sara didn't originally plan it this way, due to the overwhelming preponderance of foliage plants in her garden, there are decided colors associated with each season. Autumn, not surprisingly, is dominated by the turning leaves and many berries and is very orange. Winter, with bracts, stems and berries taking center stage, reads 'red'. Spring, with the flush of new growth, is very yellow. Summer is refreshingly green. If we had planned it, we would have chosen just this color progression: when better to have cool green be the dominant hue than in hot summer, and how better to light up the weak winter light than with red?
Annuals and perennials flower in every hue in the rainbow, and color choices usually come down to personal preference; some gravitate to pinks and purples, there are those who adore red and blue is the favorite of many a gardener. 'Those nice bright colors' that Simon writes about are dramatic and eye-catching, but they don't do much to lower the heat. In fact, they seem to raise the temperature a degree or two. So even though it seems counter-intuitive to de-emphasis flowers for summer, it will cool you down when you need it most! At the very least, surround those flowers with enough foliage to make the mood serene.
Going green doesn' t mean giving up a variety of textures, shapes or hues. The Elegia capensis (horsetail restio) pictured above has grass-like foliage that holds its clear green shade all year long, and does not fade in the summer sun's hot rays. Look how different it is from the 'Lace Lady' foliage in the earlier shot:
Even the crabapples fall in with the cooling scheme; this fruit ripens to vivid orange in another month but in summer is, well, apple-green. In fact, we think that crabapples are among the most under-respected landscape trees, providing a lovely floral display in spring, months of lush green foliage, finished by a riot of colorful fruit in autumn.
For ornamental grass fans, there are many varieties that stand up to sun in summer and mimic the sensation of a turfgrass lawn. The LeCocq garden in Bellingham WA has the lovely coolness on sunny days that a lawn provides, with no mowing or fertilizing and much more texture and interest.
Another shot of the LeCocq garden illustrates how lovely the green backdrop can be when flowers are treated as ornamentation, rather than used for the 'bones' of the garden. We feel cool just looking at this photograph, despite the current temperature reading of near 90 degrees:
Back at the JC Raulston Arboretum, we find another serving of mixed greens, with both conifers and broadleaved evergreens providing a nice range of textures and colors. The glossiness of the broad leaves plays well against the soft fuzziness of the pine. We're really cooling off as we continue our green parade.
Liven up your greens with some variegated foliage, such as that of the sycamore maple 'Nizetii'. This stunner takes baking sun all summer long and stays cool, calm and collected, casting welcome shade for other plants - and us. The maple's dense crown casts deep shadow in which it feels many degrees cooler than in the sun.
So remember, as you were always instructed to eat your green vegetables, plant your green plants. If your plate is supposed to be 2/3 vegetables, think of your garden in the same manner and make it at least 2/3 green. You'll find that most of those foliage plants don't require anywhere near the maintenance that the flowering perennials do, most of them require virtually no tending in summer when it's too hot to work comfortably outside, and you'll get even more pop from your flowers when you showcase them against an emerald background.
We're going out to walk in the garden now and enjoy our leafy greens!
Comments