The ACS gets a Shout-Out from the American Horticultural Society
The ACS gets a Shout-Out from the American Horticultural Society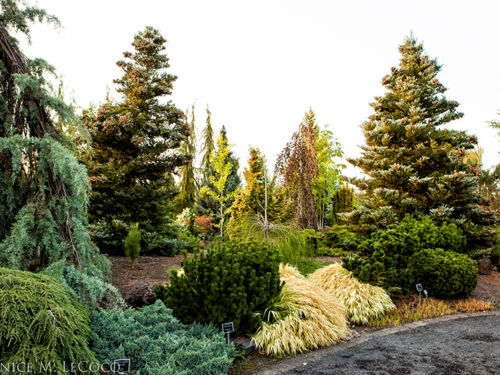 The Oregon Garden's conifer collection has been one of the ACS's most successful Reference Gardens. ACS volunteers, led by Western Region member Doug Wilson, have worked in tandem with the Garden's staff and management to envision, plan, plant and care for a stunning variety of conifers and companion plants. The mounded beds in the conifer garden are replete with not just a dizzying number of conifer specimens, but also a wide variety of companion plants. Japanese maples, beeches, Japanese snowbell trees, peonies, ornamental grasses, dogwoods, heathers and heaths are only some of the plants used with conifers to produce painterly combinations of foliage that rival any floral display. The mix of evergreens and deciduous trees and shrubs, varied shapes, sizes and textures is amongst the best we've seen at any public garden.
The American Horticultural Society's latest monthly newsletter carries an article about The Oregon Garden, calling the conifer collection the Garden's 'crown jewel' and noting that there are 3,000 taxa in this one acre area!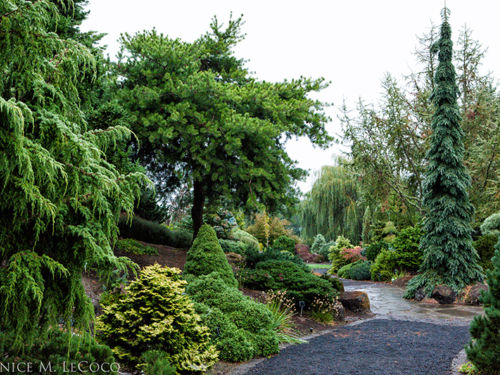 The pandemic has made travel challenging, but this is one to put on your list for when normal life resumes. The Oregon Garden Resort is on the property and guests are able to enter the garden at any hour. Wandering the paths of the conifer garden with glass of wine or cup of coffee in hand is a lovely way to experience this marvelous collection. And don't forget your camera!
Comments