Taxodium Species Finally Get Some Respect!
Taxodium Species Finally Get Some Respect!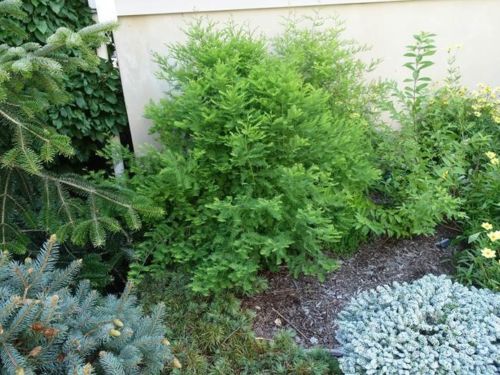 Bald and pond cypresses are versatile trees for the landscape, so why don't they get planted more? Sometimes Taxodium species are not considered to be suitable for northern landscapes. This is perhaps due to northern visitors seeing them at Cypress Gardens in South Carolina or the Everglades in Florida and then presuming that they are not cold hardy. But the nativity of bald cypress extends into the colder areas of the U.S., such as southern Illinois and Missouri. They have even been successfully grown in colder zone 5 areas in the Midwest and New York State. Pond cypress is a bit less hardy but certainly is a zone 6 tree. The ACS lists both bald cypress (Taxodium distichum) and pond cypress (Taxodium ascendens) hardy to zone 5. (Author's note: there is a third species in this genus, Taxodium mucronatum, but it is a semi-tropical, zone 9 plant.)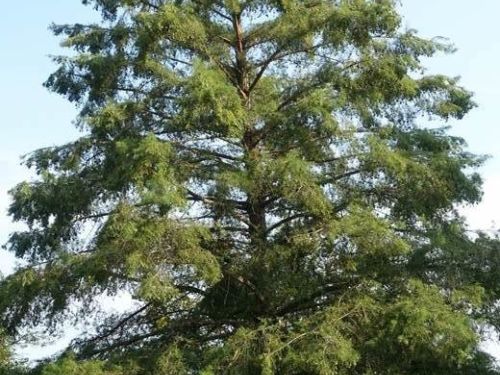 Taxodium are among the few trees that are notably resistant to most insect and disease problems. They also are very resistant to blow-over by high winds, a feature that is now more important in times of major changes in the weather.
Cultivars of T. distichum include 'Pendens' which has large cones and drooping branchlets, 'Shawnee Brave', a narrow pyramidal form, and 'Monarch of Illinois' which is wide spreading. There is also a dwarf selection, found by Gary Gee of Gee Farms in MIchigan, called 'Gee Whizz'. Read the link to see why Gary gave it this name!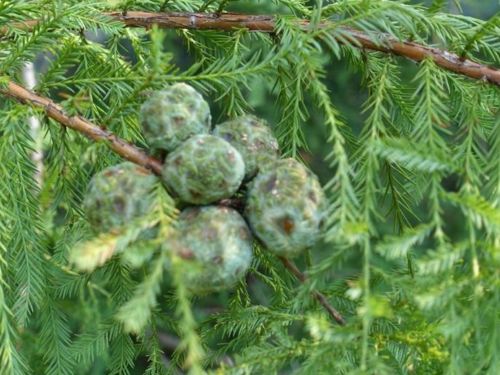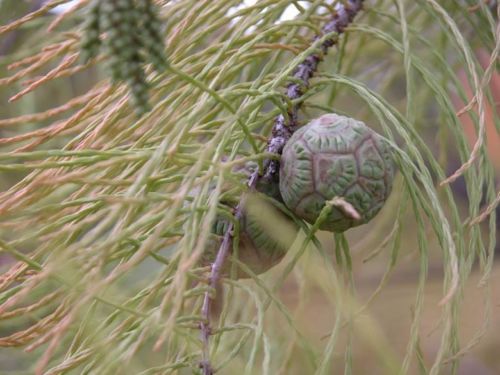 Bald cypress and dawn redwood (Metasequoia glyptostroboides) have a similar overall appearance, as both are in Cupressaceae, the cypress family. Their macro-appearance is similar, but they can be distinguished by noting whether the leaves and branches are alternate or opposite. Bald cypress has alternately arranged leaves and branches, often referred to is the 'ABC rule": alternate bald cypress. Dawn redwood is much more frequently used in the landscape than bald cypress, perhaps because of the fascinating story of its finding in China in the early 1940's, long after it was thought to be extinct. Following this discovery, a large amount of seed was exported to the U.S. and Europe and trees were grown in arboreta and large estates across both the old and new worlds. It rapidly found its way into the landscape industry because of widespread adaptability to American gardens.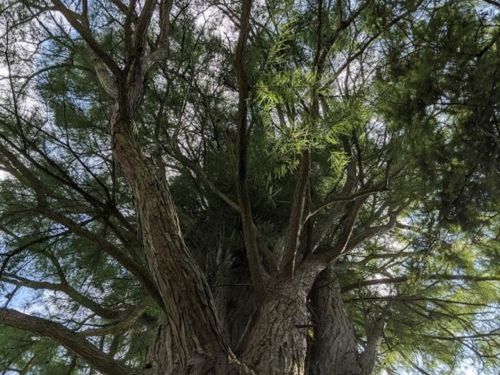 Meanwhile, the bald cypress was viewed as a utility tree, that had wide usage across the Southeast, where there are large native stands. It was the 'go to' tree if one had a need for a decay resistant wood for outdoor use. The wood is stable and easily worked and still is available in southern states for building purposes. Logs that have been under water for a long time are called sinkers. They are brought up from the bottoms of streams and rivers and processed to produce particularly beautiful boards and trim for the building industry.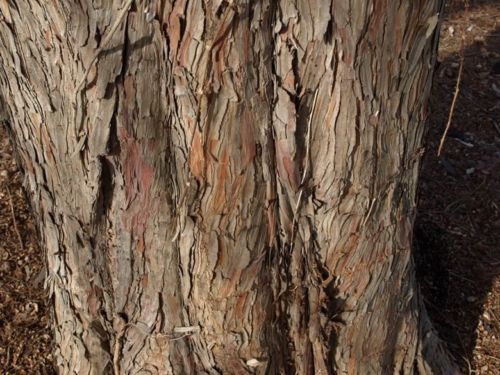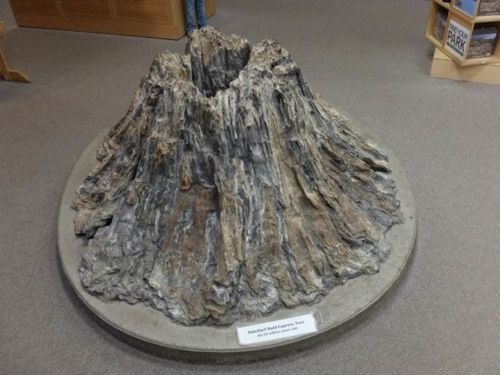 While often used as landscape trees in the southern states, it seems that neither bald nor pond cypresses were considered much for use in the northern states. This may be due to the misconception that they are not cold hardy. This is now changing because of the discovery and use of cultivars in recent years. Among the ornamental features that add interest are fastigiate and weeping types as well as those having appressed leaves and intermediate and slow growth rates.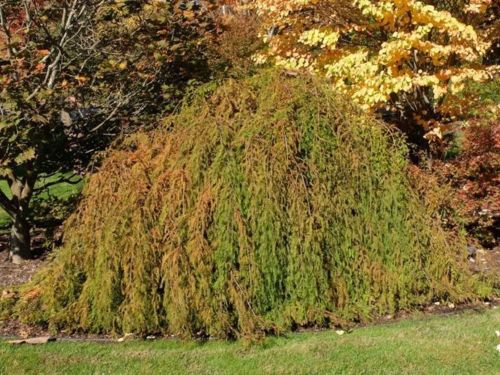 Bald cypress typically reaches a height of 50 to 70 feet and a width of 20 to 30 feet. Pond cypress is the junior tree to bald cypress as it grows more slowly but may eventually reach the same height, although it is narrower. Bald cypresses can grow in wet areas but are adaptable to places having normal rainfall. Traditionally, they have been planted next to ponds, allowing development of 'knees', vertical woody projections that emanate from the roots and appear around the trees (see photo). Pond cypress in its native habitat grows on higher ground than Baldcypress but is also capable of growing knees if the soil is moist. Neither tree will form knees in areas having only average rainfall. The reason that cypress form these structures on their roots is unknown. The leaves of the pond cypress are shorter and slenderer than those of the bald cypress and are in general angled upward, giving it a distinctive appearance.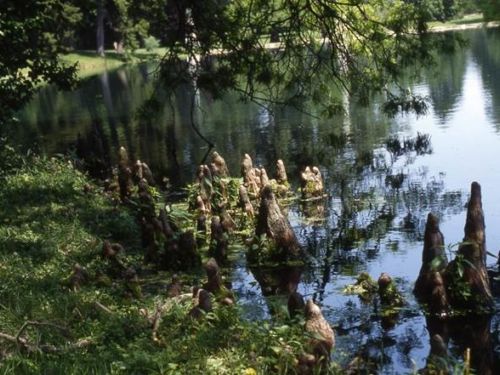 All Taxodium species are deciduous, and in most climates turn a fiery orange in autumn, another wonderful reason to include one in your landscape!
Have you thought of growing a Taxodium? Or maybe you already have one. Post photos and questions in the comments!
All photography by Frank Goodhart.
Editor's note: for more from Frank on Taxodium, both bald cypress and pond cypress, see his comprehensive article.

Comments
Great info on Taxodium. Because they take so well to pruning you can have all kinds of fun with them. I love the T. ascendens cluster that is cut down every year. I have a grove of T. distichum 'Pevé Minaret', which is a narrow form, but I make it way narrower by cutting the branches to 2" every year! A forest of green totem poles...
I am becoming a huge fan of Taxodium. Your articles are helping me to learn more about them. If I can find understock I would like to graft some this year. Looking forward to reading more about these great conifers.
I'm searching for the right taxodium distichum cultivar. It's an area of my yard with decent enough sunlight but had standing water maybe 3x a year. Otherwise, ground stays moist. A bald cypress seems to be perfect for that area, except the size makes me nervous.

I have awesome tree-loving neighbors so if the truck expands to their yard, they'd love it. But from the point location of planting, it's only 11" to my back porch.


I'm trying to plant native trees (zone 7, PA) and shrubs to help with improving native biodiversity and drink up some of the rain water when we get heavy falls and my yard turns into a squishy sponge.


I think peve minaret would be a good fit, but anywhere online I find it, it's upwards of $300.

Are there any other cultivars that are more narrow in their form?


It sounds like I could grow a full size and just trim off the understory level branches during winter?

I have rooting hormone here at home and would gladly grow from a cutting.


Just not sure what to do to find an affordable, more narrow bald cypress.



Thank you!
Marybeth,
Wonderful to learn from you about going back to nature! You have a very tight spot for any tree if it must be only nine inches from your porch. Perhaps your back yard would be better. 'Peve Minaret' has better availability now; for example it is being produced by Monrovia. Many garden centers use Monrovia for a wholesale supplier.
'Peve Minaret' is not narrow but can be heavily pruned like Sara said. Other smaller or slow growing cultivars are 'McLaren Falls', 'Cascade Falls' (wider than high), and 'Morris' (Pond cypress)which is quite narrow but becomes a big tree in time.
In less wet spots the Pond cypress may be considered as they are smaller trees and naturally slower growing.
Best wishes for a growing success; it was good to hear from you.
Frank