Take My Hand, I'm a Stranger in Photographer Paradise
Take My Hand, I'm a Stranger in Photographer Paradise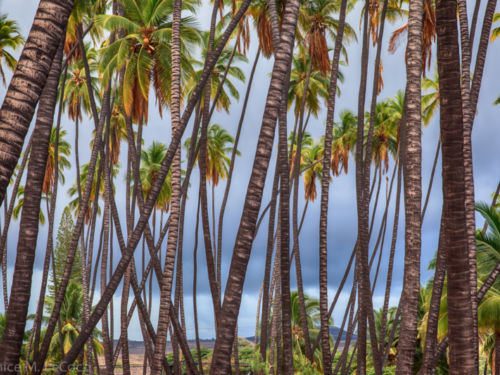 Jan just returned from Molokai where she attended the "See the Light" seminar run by Dewitt Jones, Rikki Cooke and Jonathan Kingston, three fabulous photographers whose professional lives all have passed through National Geographic at some point and whose breadth of experience and approach to photography are rich and inspiring. It would take pages to describe this course, but suffice it to say that she learned a lot, not only from this dynamic trio but also from their equally talented wives and the other course attendees.
She wanted to share a few "form and foliage" images from Molokai. While she didn't go to Hawaii just to photograph foliage, it's impossible to ignore that these exotic plants provide plenty of color, texture and interest, even before you notice that a lot of them also produce gorgeous blossoms.
The "See the Light" workshop was based at the Hui Ho'olana (www.huiho.org), the former hunting lodge for the Cooke family, one of the most influential families in the islands from the mid 1800s. What started as a general store to supply missions grew to become Castle & Cooke, one of the "Big Five" corporations that dominated the Hawaiian economy for generations, until the Hawaiian Democratic Revolution of 1954 struck a fatal blow to the sugar cane and pineapple industries as striking labor unions demanded the same wages and benefits as their mainland counterparts.
Molokai used to be the site of the best pineapples in the world; that is now long gone. The island remains largely undeveloped, and many, if not most, of the residents wish it to remain so. The Nature Conservancy and a foundation funded by Rikki Cooke and Dewitt Jones have purchased miles of coastline in an attempt to preserve the natural beauty and the habitats of the island's native creatures.
The Hui Ho'olana today is a non-profit organization that hosts educational workshops and volunteer residencies to support a self-sustaining facility and Hui's native Hawaiian reforestation projects. The Hui has hosted photography workshops since the 1980s. Rikki Cooke and his wife Bronwyn manage the Hui. The lodge is rustic, but roomy and comfortable, featuring a wrap-around porch with stunning panoramic views of the island.
The kitchen produces delicious meals, with many of the ingredients harvested from their extensive gardens and fruit trees. Miles of trails snake down the island, and with a little advance planning you can get an expert massage in one of the yurts nestled in the woods on the hillside. The Hui recently underwent a major upgrade of the landscaping.
While the plants in tropical gardens are vastly different than their temperate cousins (most are not even the same genera), design and color principles are the same, and year-round interest is the norm.
And although we wanted to showcase some of the foliage plants that Jan photographed, we couldn't resist ending with a more classic Hawaiian shot. Aloha from Form and Foliage!
Comments