South Seattle College Arboretum: a Hidden Gem of a Conifer Garden
South Seattle College Arboretum: a Hidden Gem of a Conifer Garden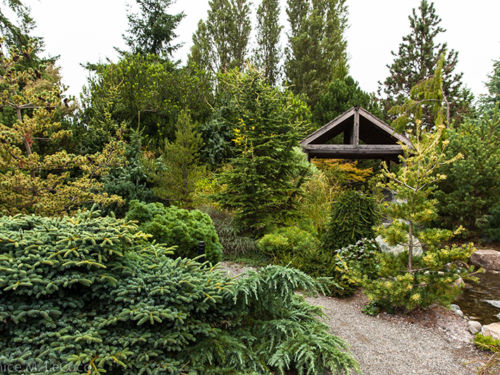 We've written about both large, grand public botanical gardens and small, private, intimate collections. In Southwest Seattle, open to all visitors with no fee, is the newest American Conifer Society Reference Garden: the arboretum at South Seattle Community College, a public space designed and crafted with a personal touch. This arboretum puts many large-university offerings to shame, particularly its Coenosium Rock Garden, specializing in gorgeous dwarf conifers, such as the Picea abies 'Gold Drift' gracing the entry stone.
The arboretum was established in 1978 at the north end of the campus, after students in the landscape horticultural program petitioned for an outdoor laboratory. The present-day garden is about five acres and has a sweeping view of downtown Seattle. Although the arboretum counts its Helen Sutton Rose Garden as one of its highlights and there are robust examples of perennial borders, rhododendron and ornamental grasses, it is the two conifer gardens that drew our interest for their excellent displays of form and foliage.
The Milton Sutton Conifer Garden, planted soon after the arboretum was begun, has lovely specimens (and the best view of Seattle!) but is of more interest to the conifer-addict than a gardener seeking ideas about plant combinations, as it does not feature the attention to plant placement and design that characterize the newer Coenosium conifer collection.
Amongst the conifers in this part of the arboretum, though, we found plenty of color and textural variety. The Japanese 'cedar' (not a true cedar, but that's its common name), replete with cones, on the left in the above photo, has distinctly different needles than the blue Atlas cedar on the right. Their colors, too, contrast pleasingly and their shapes are wildly different--the Cryptomeria stands about 40-50' tall while the Atlas cedar drapes itself horizontally in numerous directions.
The Coenosium Rock Garden was the brainchild and donation of Bob and Dianne Fincham of Coenosium Gardens, which we wrote about last year. Intended as a teaching tool and laboratory, it also functions as an attractive display garden, with careful attention paid to combinations of color, texture, shape and size. There are non-cone bearing plants sharing the space, from stately European beeches to humble black-eyed Susans, giving those looking for ideas much to see and inspire them.
The Rock Garden was begun in 2000, dedicated in 2005 and inducted into the Gardens for Peace Program in 2010. The site is problematic; much of the soil is heavy and drains poorly. The West end of the garden, which was planted as part of Phase I in 2000, required roughly 60 yard of fill before the 60 conifers and European beeches (which today are over 20' tall) could be planted to make a screen along busy 16th Avenue SW. Most of us don't use material in such large quantities but the principles are the same: poor soil can be amended and woody plants can be used functionally to create and delineate spaces.
Most of the non-coniferous plantings are European beeches and Japanese maples; both are long-lived, slow-growing trees with lovely shapes, bark, stature and leaf color and texture. The glossy leaves of the beeches and the lacy maple foliage provide a pleasing contrast to the conifer needles, although this garden's designers have taken pains to illustrate that all conifers are not alike.
We lingered in this garden for a couple of hours, partly because there was much to engage the eye, but also because Bob and Dianne envisioned this spot as more than just a laboratory, but also as a richer sensory experience, like most successful gardens. The garden includes a magnificent water feature, donated by the Arboretum Support Committee and designed and installed by SSCC students. The pleasant sound of the water and textural richness of the stone creek bring sound and earthiness into the impressive collection of plantings.
And, like all good gardens, there are benches where visitors can sit and take it all in.
Horticulture Instructor Van Bobbitt is the Arboretum Coordinator, and his students, in addition to using it as a living laboratory, maintain it for the pleasure of others. If you are in Seattle, don't miss this lovely spot: South Seattle Community College Arboretum. Follow the Arboretum on Facebook.
Comments