It Don't Mean a Thing if it Ain't Got That Bling!
It Don't Mean a Thing if it Ain't Got That Bling!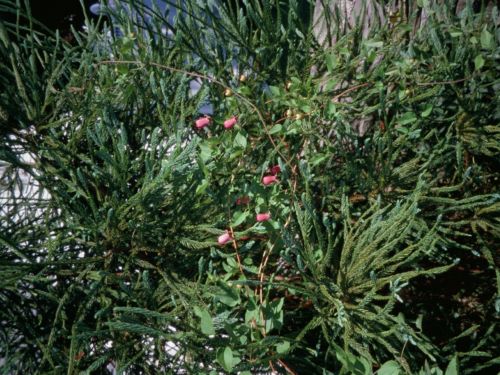 Most of us wouldn't dream of messing with a wonderful conifer specimen. They sit there in the sun regaling us with their colorful foliage or unique texture. Some stand alone or are nicely grouped with complementary conifers. Often, a non-conifer may be invited to join the party. What else is needed? May I suggest a little "bling"?
I don't mean going around adding necklaces, rings or frosting conifer foliage with sequins. I'm referring to botanical jewelry such as a non-obtrusive necklace of a delicate vine. A properly used vine can add interest and draw even more attention to a specimen conifer or conifer grouping, such as in the image above, where the 'Aurea' Japanese cedar wears some Clematis finery.

Vines used as conifer necklaces need to meet some requirements. They must be delicate enough not to smother the plant. They must not climb by twining so they can be easily removed at the end of the growing season and not add extra snow or ice load in the winter. I've enjoyed playing with one vine that is rarely seen and meets all the requirements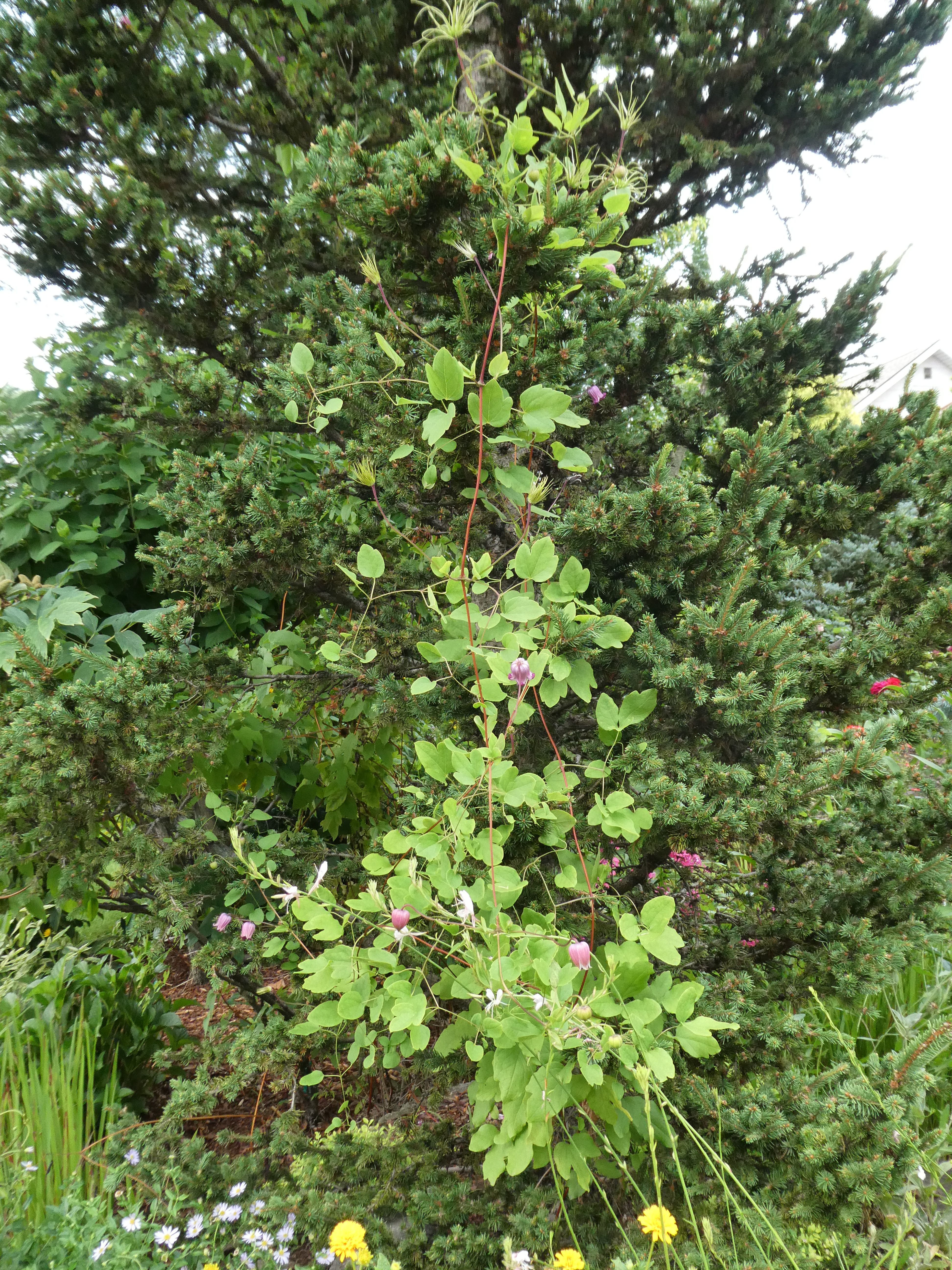 Clematis pitcheri (purple leather flower) is native to the Midwest, ranging from Iowa and Illinois to Texas. Pruning is not an issue. It is a perennial vine, freezing to the ground at the first killing frost. Just cut it at the base after the top freezes. In spring it will send up 3-4 sprigs that can eventually clamber 15-20 feet in a season. These emerging sprigs are brittle, so support them until the petioles clasp onto a conifer branch. Each vine shows little tendency to branch so it is unlikely to smother any conifer, certainly not the Hillside Upright Norway spruce.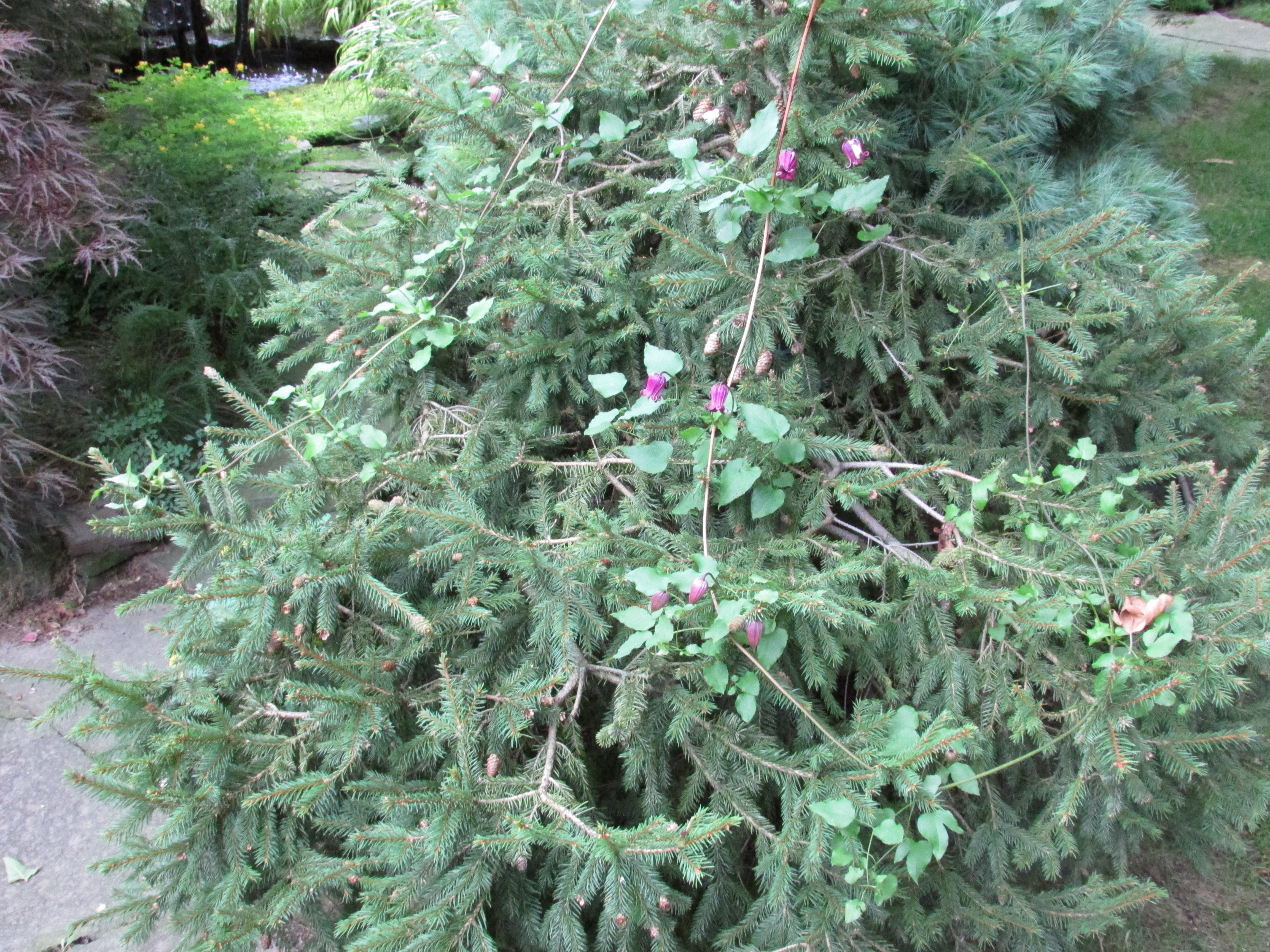 The small, purple, pitcher shaped blossoms are continuously produced from late May until frost. There are no selected cultivars. Species variation produce flowers from light purple to dark purple. Some will even show white edges on the petals. The following three photos show some of the flower color variation within the species: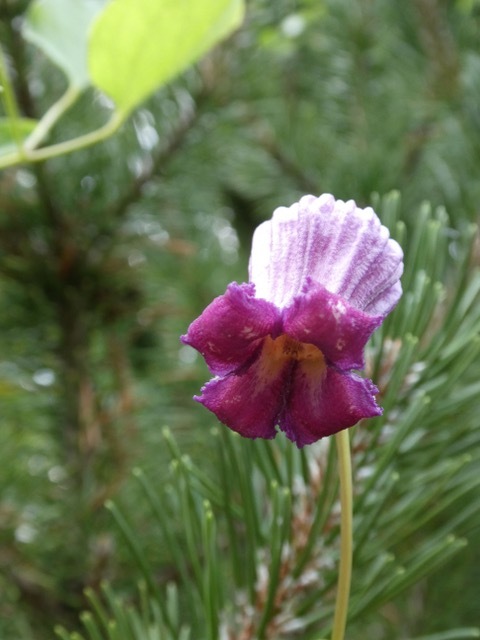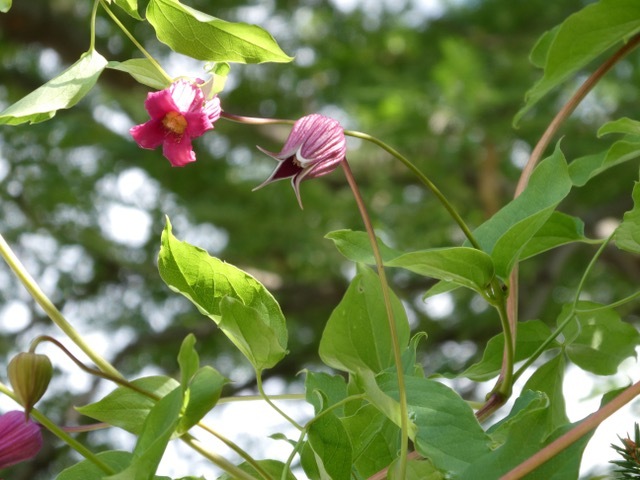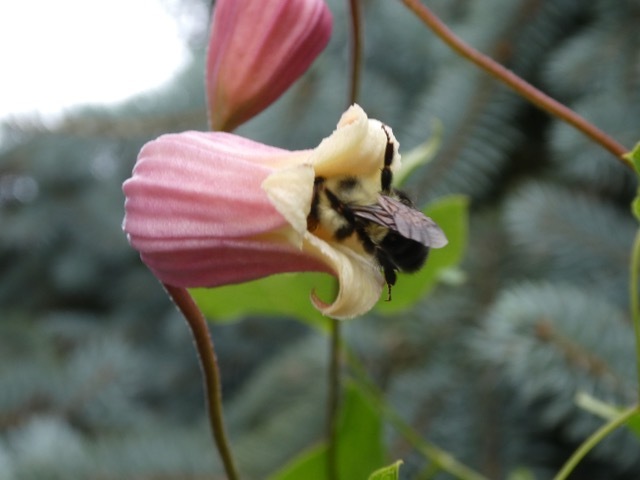 Since the vines are mostly unbranched and don't twine, they can be easily pulled out of even the most delicate conifer. This species is sun loving, so will clamber on the top of even the smallest dwarf conifer. Once established, it is quite drought tolerant. And, if that isn't enough, being a small flowered clematis, it is almost immune to clematis wilt! And, even better, rabbits and deer may find it slightly poisonous.
C. pitcheri likes well drained soil with consistent moisture. It is especially fond of alkaline soils, however, mine do very well in slightly acid soil mulched with pine bark. I even get 3-4 seedlings a year.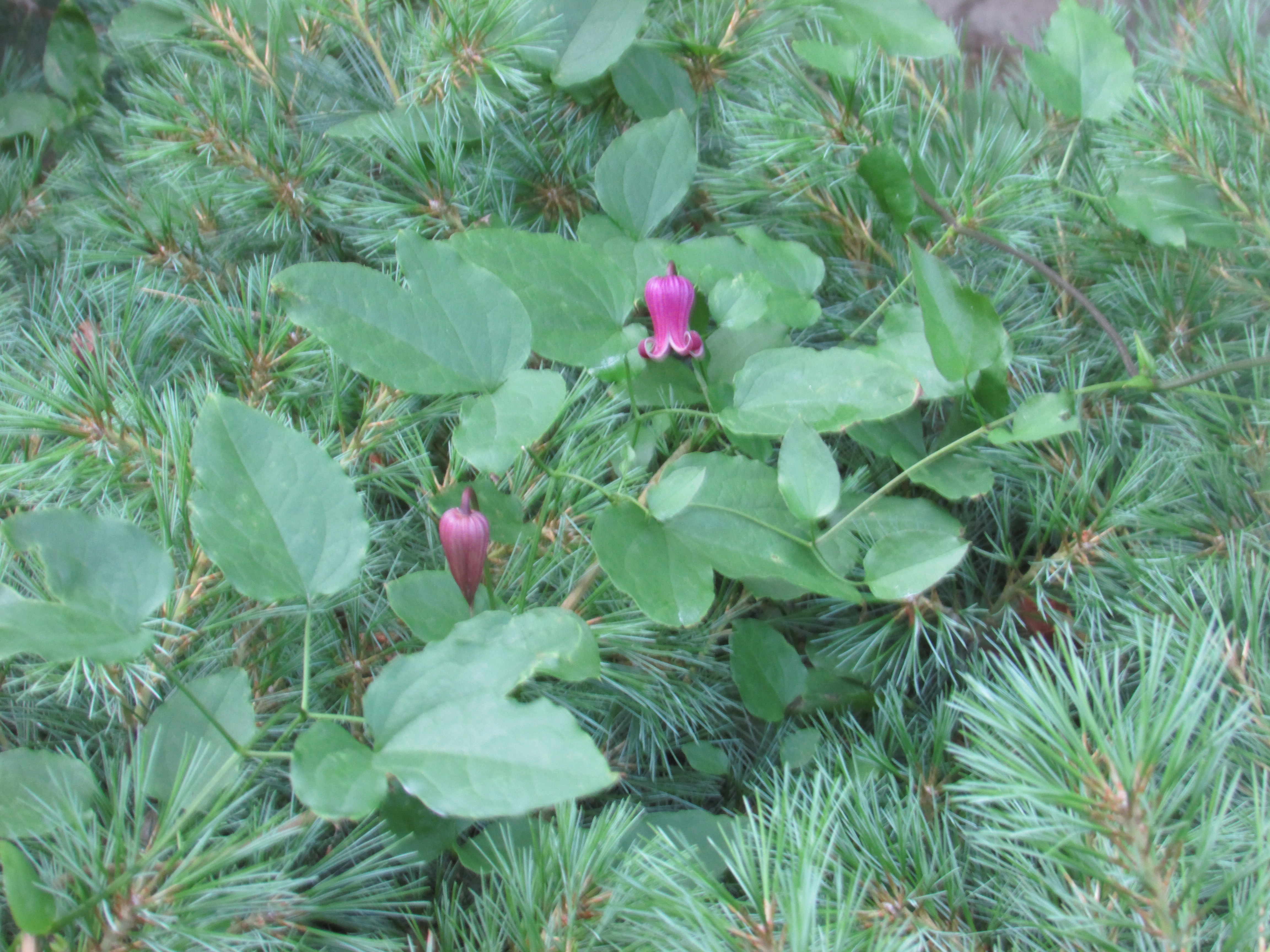 The purple flowers go beautifully with the blue-green needles of the Pinus strobus 'Minuta' (Minuta Eastern white pine).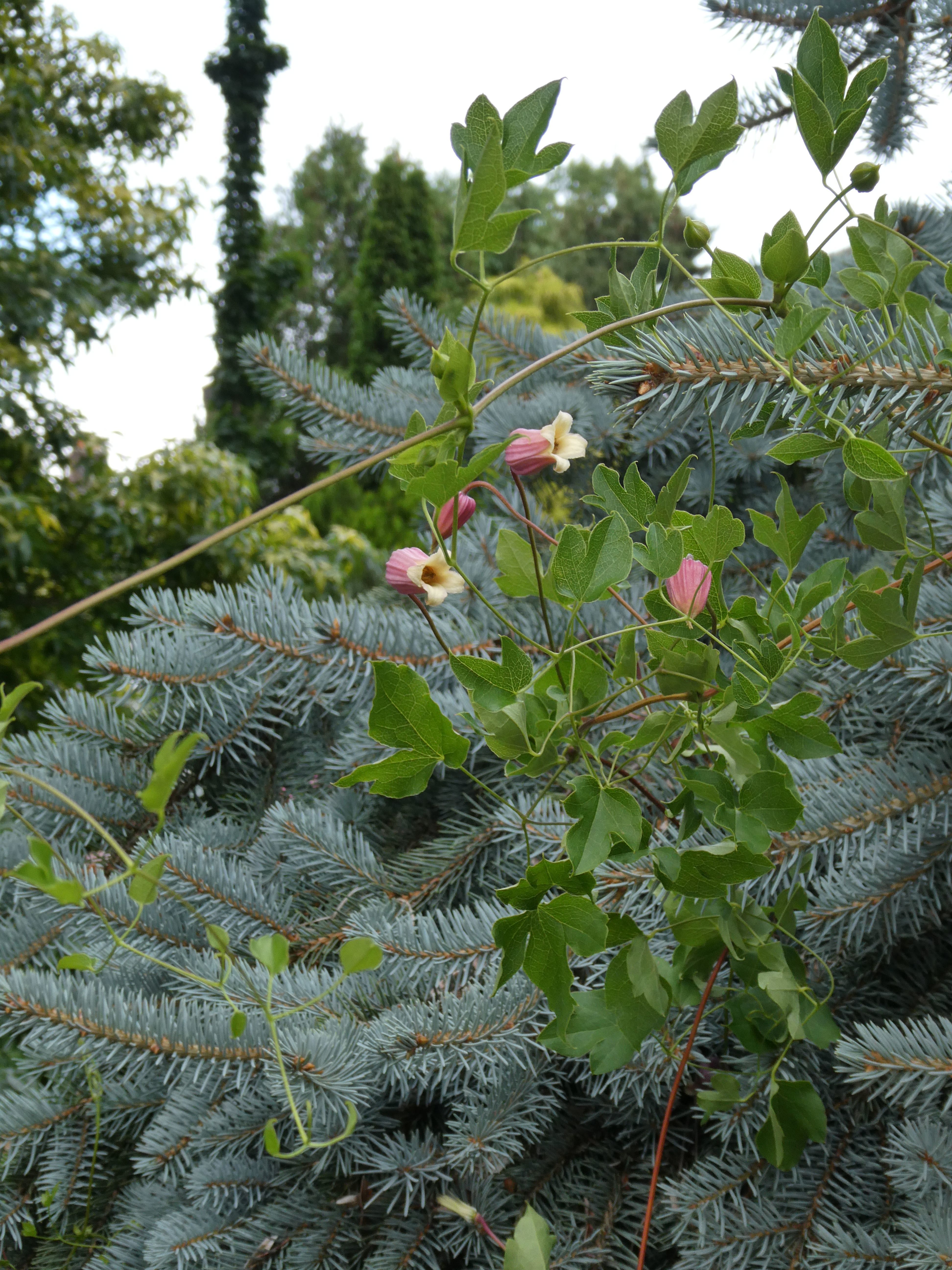 The lighter flowers and the baby-blue needles of Picea pungens 'Glauca Procumbens' produce a softer look.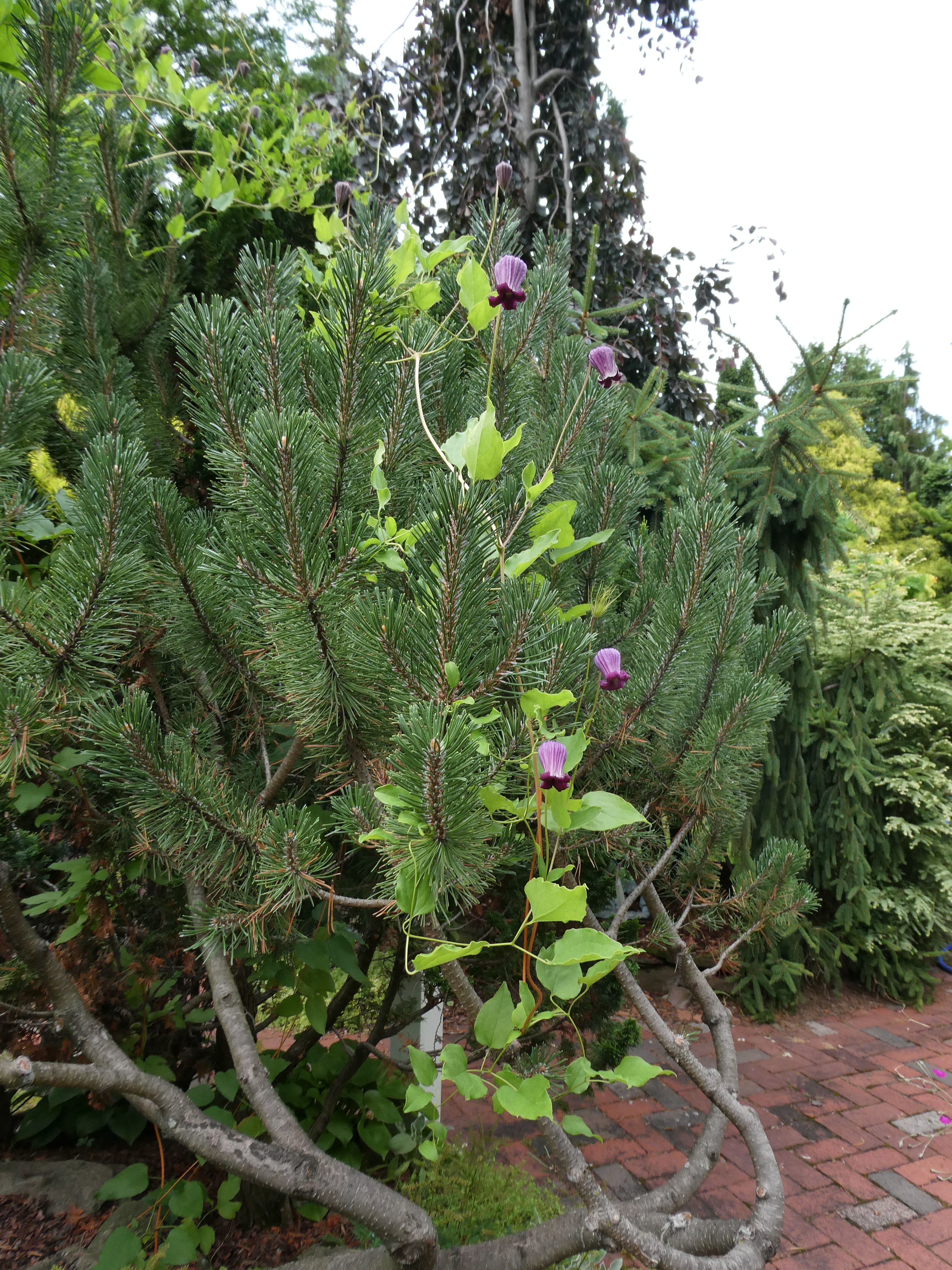 Paul's Dwarf mugo pine is a garden stalwart but is not above being bedecked with finery!
I'm sure there are many other tree and shrub friendly vines that can add that bit of bling to a specimen conifer and interest to your garden. Purple leather flower is so user friendly I have not tried any others, but you should investigate what vines grow in your climate that have the same habit. I usually have 2-300 visitors tour my gardens each year, and my use of this unique clematis seems to surprise and delight even the most jaded garden visitor. So do your thing and add some bling!
Jerry Kral is a longtime ACS member who gardens in Rochester, NY.
Comments
Jerry, I had to write and say that I loved, loved your article.You grabbed me with the title, and I was fascinated by your outside-the-box idea to allow a vine to grow on conifers. You seem to have found the ideal vine for doing this; if anyone can think of another vine that would decorate without harm, I'm sure we would all be interested. Thanks for introducing me to this lovely little clematis and for sharing photos of your unique garden!