Fall on Fire! A Trip Through the Feller Garden on Long Island
Fall on Fire! A Trip Through the Feller Garden on Long Island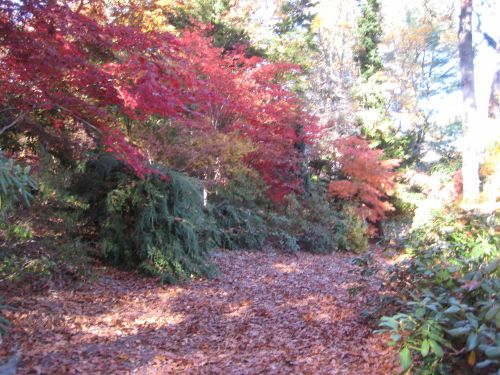 Bruce Feller and his wife Marianne have a two acre garden on Long Island, replete with not just conifers, but maples and rhododendron as well. Both Bruce and Marianne are long-time members of the American Rhododendron Society and Bruce was the national president in 2013-2014. Their son, Colby, has served as President of the ACS Northeast Region. The Fellers have graciously opened their garden daily to visitors; for specifics, go to the end of this article.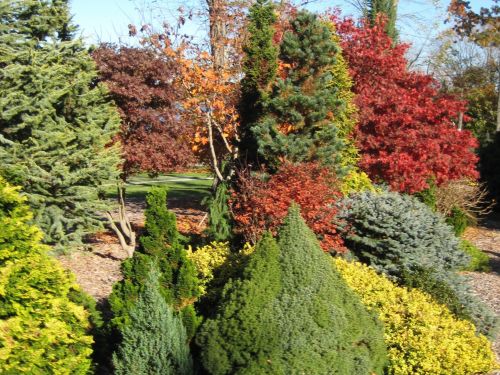 The Fellers' garden gets more coverage from the Rhododendron aficionados than from the coneheads or maple lovers, but in autumn the maples grab the limelight and it is the conifers that play off the fiery colors.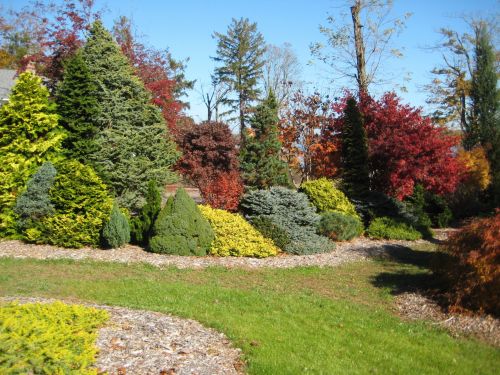 Color wheel opposites, such as red/green or orange/blue, produce the most dramatic combinations. Fall color is pretty dramatic by itself, but it is enhanced with the addition of conifers to the deciduous fireworks. The blues and greens of the conifers play against the hot autumn hues.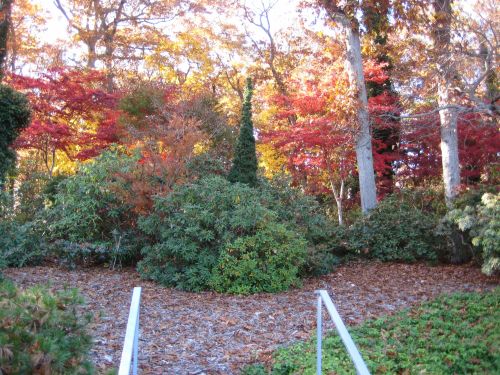 In the above photo, the rhododendron do yeoman work as foils for the maples. Like members of the chorus supporting the starring cast, they frame the drama and enhance it.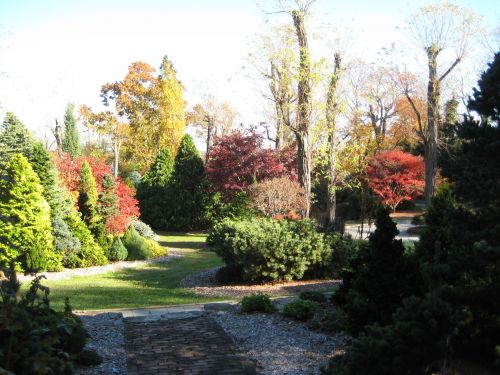 The conifers also provide some relief from the high drama and allow the eye to rest a bit. The green is cool and soothing and adds a note of lushness.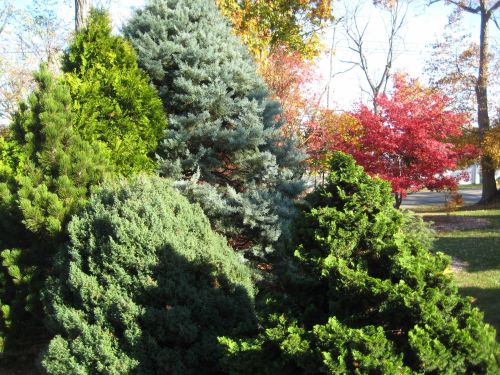 Conifers come in almost every shade of green, as well as blues, yellows, golds, and variegated foliage. In this shot we see five conifers, each of which has its own color and texture, creating a rich tapestry effect. Lest we forget who's in charge in autumn, a blazing maple looks over their shoulders.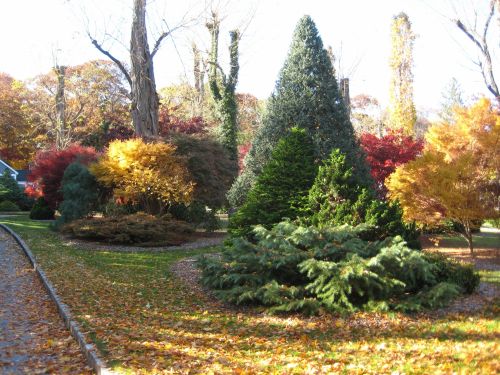 The green and blue shades of the conifers play equally well against yellow fall foliage, creating a softer display. As an added bonus, they don't produce leaf drop that needs to be raked!
Thanks to the Fellers for allowing us to peek into their garden. If this has whet your appetite for more, the garden is open daily from 10 am to 6 pm. The garden, in Oldfield, NY, is a perfect place for a change of scene, a casual stroll, or to get inspired to create the same kinds of captivating combinations that the Fellers have done. You can just drop by (88 Oldfield Road) or call ahead to Bruce at 631-689-9498. Bruce says peak maple color is late October but notes that the conifers always put on a show!
Comments