Buds, Shoots and Leaves: Rhododendron De-flowered
Buds, Shoots and Leaves: Rhododendron De-flowered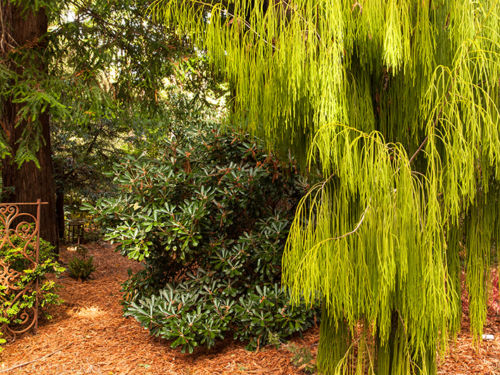 Say Rhodendron to most people, and they will envision shrubs dripping with large, showy blossoms. Indeed, the name comes from two ancient Greek words meaning 'rose' and 'tree'. We toured the Mendocino Botanical Gardens and the nearby private Gardens at Harmony Woods last week, but we focused on 'dendron', rather than 'rhodo'!
November is not the time of year when Rhododendron are thought to take center stage as garden divas, or are even believed to shine as notable members of the chorus. However, by selecting plants with attributes other than simply the showy trusses, one can have the exuberant floral display in spring, AND have gorgeous foliage, bark and structure all year round. The Rhododendron macabeanum, pictured above, has enormous leaves of bright, deep green, which are plenty decorative during the months that the plant is not in bloom.
Many Rhododendron serve year-round as stunning broad-leaved evergreens. They can have glossy, textured or pubescent (downy) foliage in a wide range of greens, with lovely shapes and interesting branching and bark.
Rhododendron provide form and interest to the garden even when most of the other plants have gone dormant for the season. Like Magnolias, they set their buds the year before they flower, so they carry them through the fall, winter and early spring. Both their leaf and flower buds are structural, and are often contrasting colors of chartreuse, rusty brown or maroon.
Many Rhododendron share another feature that requires closer observation, but provides fabulous year-round drama: contrasting leaf undersides. R. yakushimanum x 'Sir Charles Lemon', pictured above, while an attractive shrub from any angle, displays its hidden assets only when viewed from below:
R. neriiflorum var. neriiflorum 'Rosevallon' is really coy. It's an unassuming plant (which doesn't even have a particularly showy flower) with narrow, deep green elliptical leaves. Hidden beneath those leaves, however, are deep claret undersides, which match the tightly furled flower buds. This is a seldom seen plant--if you encounter it, be sure to turn the leaves over!
Other cultivars have extremely decorative leaves, with a range of colors and patterns far beyond what most of us associate with Rhododendron. This stunner, pictured below, which we saw at The Gardens at Harmony Woods, is not available commercially, and it has been nicknamed 'The Hybrid' because it is a result of so many crosses between both species and hybrids. There are others of similar hue, however.
Up close we can see that the blue cast comes from a fuzzy white coating:
R. pacysanthum is another Rhododendron with silvery blue leaves.
There are even variegated cultivars, such as 'President Roosevelt', which provides plenty of interest in the autumn and winter garden. This beauty is part of the collection at the Mendocino Botanical Gardens.
Many Rhododendron also have deeply textured leaves, some of which are puckered, which is botanically described as 'bullate'.
Then there is Rhododendron edgeworthii, which has not only texture, but cinnamon-flocked stems and leaf undersides. The Gardens at Harmony Woods has a lovely specimen that we were able to examine in detail:
There are even Rhododendron that make their statement by the shape of their leaves. R. orbiculare subsp. orbiculare (that should make it doubly clear to all that the leaves are round!) has crisp green lily-pad leaves with chartreuse buds and veins. It is one of the most charming plants we encountered, and needs no flowers to assert its individuality or its garden-worthiness.
And did we mention the bark? Rhododendron are often big shrubs (remember that 'dendron' means 'tree') and when the larger varieties or cultivars get some age on them, some display gorgeous, peeling bark, often cinnamon-colored. This Rhododendron ciliicalyx x formosum is one of the best:
Or take a look at Rhododendron ciliicalyx, one of the genetic parents of the plant pictured above, planted amongst the ferns at The Gardens at Harmony Woods:
If you must have fall color in your garden, don't rule out Rhododendron for that, either. Some, such as the Exbury hybrids (commonly called azaleas) are deciduous and provide as much autumn color as maples and ginkgo. This one at the Mendocino Botanical Gardens caught our eye and drew us from afar:
This little R. 'Washington State Centennial' at Harmony Woods was in full fall glory when we visited:
And if you think that the leaves only get a chance to show their glory in fall and winter, take a look at R. 'John Paul Evans' which, in a burst of confused enthusiasm, flushed new growth on one branch just in time for our visit to Harmony Woods:
This nuttallii form was a 2013 American Rhododendron Society pick of the year, and supposedly has huge, fragrant blossoms. We fell in love with the crinkly violet leaves!
Both the Mendocino Botanical Gardens and The Gardens at Harmony Woods are in USDA zone 9b or Sunset zone 17, meaning that freezes are rare. However, there are many, many hardy Rhododendron. If this essay has inspired you to learn more, try the American Rhododendron Society (ARS) for a wealth of information about cultivars and how to grow them.
The Gardens at Harmony Woods are private, but are open by appointment to members of the ARS and the American Conifer Society; members may consult their directories for information. Non-members: one of the benefits of belonging to these societies is access to wonderful private gardens, which provide enjoyment and inspiration for your own gardening endeavors. Membership is inexpensive and opens up new worlds of plants and people!
Comments