Brent Markus: Reigning at Conifer Kingdom
Brent Markus: Reigning at Conifer Kingdom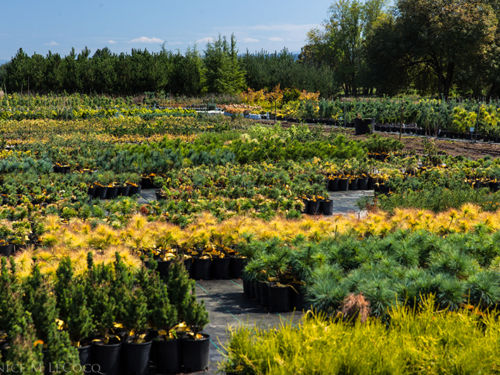 One of the difficulties in creating a form and foliage garden is that most nurseries and garden centers play to the 'perennialistas', with a focus on flowering plants. While there are some specialty nurseries with interesting selections of trees and shrubs, most garden-makers are relegated to shopping at the more mainstream spots where dwarf conifers, Japanese maples and the like are after-thoughts, if, indeed, thought of at all. That's just what Brent Markus, the wunderkind of the Oregon nursery world, aims to change. We visited Brent a couple of weeks ago and he showed us around his kingdom. We are now loyal subjects!
After mentoring by horticultural luminaries Henri Bort, Don Howse, Larry Stanley and Rich and Susan Eyre, Brent burst onto the scene in 2007 at the age of 24 when he bought Dick Haslebacher's Woods Creek Horticultural in Salem, OR and started Rare Tree Nursery in Silverton. Conifer Kingdom is the retail/mail-order arm of Rare Tree. Brent oversees an operation that today is propagating roughly 700 different varieties of conifers, Japanese maples and Ginkgo—more than any other single supplier in the U.S.
For Brent, it's all about quality and educating the customer, whether that means the wholesale buyer at the garden center or the retail consumer who orders on line. He starts with high quality plants that are showcased in gorgeous website photography by employee Sam Pratt. Brent has also developed distinctive and informative plant tags that provide planting and care instructions.
Most high quality conifers and Japanese maples are propagated by grafting cultivated varieties onto durable rootstocks, in the same manner as roses. Grafting is more expensive than growing from cuttings, but produces better plants. The quality at Rare Tree/Conifer Kingdom begins with their careful choice of understocks. Brent explains, 'For example, with firs, we've used what we have experienced to be the best performing understock for a broad range of hardiness, heat and humidity, Abies bornmuelleriana, the Turkish fir. However, this winter we're starting to use Abies firma as our rootstock. We believe that this will even allow firs to excel in the heat and humidity of the Southeast. They've never been able to grow firs down there, but with Abies firma as the rootstock, there is a very good chance that they will thrive.'
The quality continues with the maintenance of the plants. Dick Haslebacher, who has remained with Rare Tree, is the nursery manager and in charge of quality control. It is Dick who carefully monitors which plants need to be potted up into larger pots and regularly culls the blocks of sub-standard individuals. Brent notes that even though it raises the cost to repot plants into bigger pots and to discard some, it's critical to ensure that the customers always receive high quality plants that meet Rare Tree's standards.
'We want to make interesting varieties available to the educated landscape designer and the forward thinking garden centers. But there is only so much that they can carrry--they can't carry 600 varieties of conifers! So for that market, we focus on a smaller number of varieties but in much greater numbers. For retail, we have a much broader offering, with some new cultivars that are hard to find, especially in many parts of the country.'
The garden centers can order their plants in attractive wooden boxes with the informative labels, giving them a distinctive look with more eye appeal. Brent's idea is to focus on a key list of specific cultivars—similar to 'Proven Winners'—that the garden centers can promote and that retail customers will gravitate to.
No small part of Brent's success as a grower is that he is a credentialed designer and understands how to use plants in the landscape. He sells most cultivars in several different sizes: 'We have plants to fit every budget. If you're a collector and your budget needs to accommodate a lot of different cultivars, we offer small sizes for you to buy and grow them on. Or you can order a specimen from us in larger size.'
'You can accomplish the same design no matter what size plant you order, it's just a lot easier to visualize when the plants are bigger! The larger versions can be planted and mulched and they look great right away.' When asked about the conventional wisdom of larger plants being difficult to transplant successfully, Brent responded that that is not a problem as long as you don't buy large balled & burlapped specimens that aren't properly root-pruned over a period of time. 'That's one reason to buy larger plants from us where you will never encounter that problem, as we are vigilant about quality control. '
Rare Tree also carries large, 'specimen' plants, some of which are mountain-dug. All have unique shapes and character and each plant has an individual label; if you see a photo of a particular plant and order it, that is the exact plant that you will receive. The Taxodium pictured above, for example, is specimen #1468 and can be found on the website!
At this point we were confirmed believers and pleased to get such a detailed behind-the-scenes peek at how a high quality grower operates. The rows and rows of specimens--75,000 retail-ready plants!--are gorgeous in their own right, like racks of paint samples, yarn or piece goods. "But wait,' said Brent, 'there's more!' as he led us to a grouping of trees and shrubs of varying textures and colors.
Brent is a practicing landscape architect as well as a nurseryman, with academic credentials in landscape design and horticulture. He set out the grouping of plants pictured above to demonstrate the beauty of different colored foliage used in combination--not a hard sell with us!--and also to highlight power of yellow in the landscape. The maple in the center of the photo is a brilliant chartreuse and gold, and draws the eye in, as do all lighter colors. It 'pops' in the landscape and adds depth and interest. The burgundy, blue and orange also augment the different shades of green, and the chartreuse Thjua plicata 'Franky Boy' in the foreground echoes the foliage of the maple.
In the photo above, the chartreuse-leaved 'Autumn Moon' and 'Franky Boy' have ben replaced with a green-leaved 'Autumn Fire' and Thuja plicata 'Whipcord'. Pretty, but nowhere near as exciting or interesting as the first grouping. None of the other plants have been changed, and yet the burgundy and blue don't seem as striking as they do in the first photo. The lighter chartreuse livens up all of the plants around it.
So if you're looking for interesting dwarf conifers, Japanese maples and Ginkgo to add beauty, texture and value to your landscape and you don't have a good local source (or even if you do!), visit Conifer Kingdom. This kingdom is not found in a fairy tale, it's at www.coniferkingdom.com. Order some trees and we think that everyone will live happily ever after!
Comments
What wonderful nursery. I have been dealing with this amazing company for some time and have always received excellent plants from them. They take extra care in packing and shipping their plants so you don't have any problems with their product. As a BONSAI grower I will continue to use them and their amazing selection of rare and unusual plants.
Brent THANKS FOR ALL YOUR CARE,
Robert Gardner