Amphibious Coneheads Gather for a Conifer Walkabout
Amphibious Coneheads Gather for a Conifer Walkabout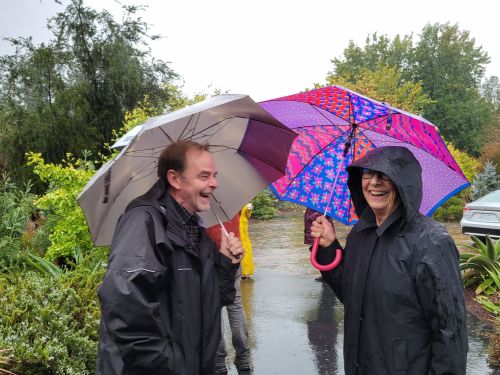 On October 24, Sonoma County, CA, experienced a record-breaking storm, the confluence of a 'bomb cyclone' and an 'atmospheric river'. Up to eight inches fell in the wettest locations over a 24-hour period. The ACS Western Region had scheduled a garden event with the horticulture staff of one of our reference gardens, San Francisco Botanical Garden. However, when the forecast became dire, we postponed the event.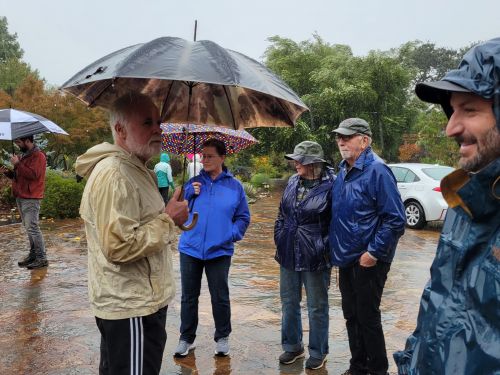 Not so fast, protested almost 20 coneheads (I'm going to resist the urge to accede to Spellcheck and refer to us as 'boneheads', although our sanity should clearly be questioned). These die-hard conifer geeks insisted on coming anyway. So, with admonitions to wear as much waterproof clothing as possible, we opened the garden at Circle Oak Ranch in Petaluma to what must be the most dedicated group of conifer enthusiasts we've seen yet.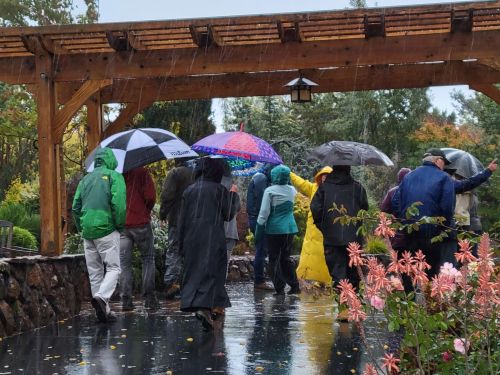 The rain came down hard for the two hours that we walked the garden, but everyone was so thrilled to see rain after such a long drought that most people seemed barely to notice. The rain washed away the dust (and a lot of the mulch!) and the garden sparkled. The overcast sky made the colors pop, as you can see from the roses and aloes in the above photo.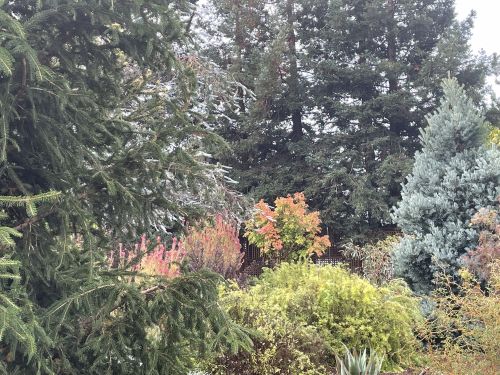 A feature of Bay Area gardens is that they tend to include plants from all over the world, and the Mediterranean climate means that on any given day, there will be plants in the garden beginning dormancy, breaking dormancy, flowering, going to seed, germinating, etc. On Sunday we saw all of that on display, from blooming roses and succulents to maples in fiery fall foliage. Conifers are quietest in autumn, but they sure do play an important supporting role.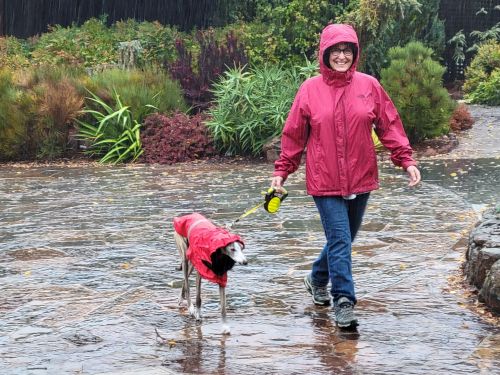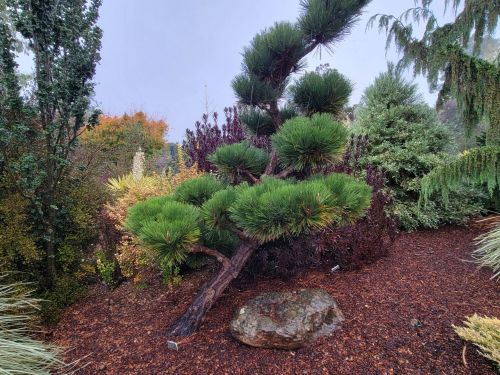 A virtue of the rain is the resulting depth of color of all of the plants. The rich green of the Pinus thunbergii 'Thunderhead' needles is hard to ignore. We agree that the yellows and oranges in the background are the supporting players in this particular drama.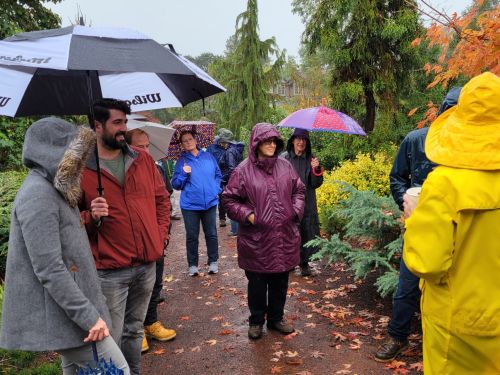 We trouped around the garden for almost two hours, at which point people were soaked (some were possibly swept downstream!) and we repaired to the garage for hot cider and cookies. The full-on event is postponed until spring, which will give everyone time to stock up on snorkels, fins, etc.
You can't keep a true conehead down! Or, evidently, dry.
Principal photography courtesy of Leah Alcyon, ACS Social Media Director.
Comments
David O must have felt right at home in the northwest style weather. I can't believe someone wore blue jeans, unless they were made of goretex.
Boy ! it sure would be nice if we could have coverage like this about every ACS gathering , if only a short mention and some pics
dated , and able to search

I wish this was possible too. Fact is that it's not possible to review an event from 1000s of miles away. You should ask your regional leadership why they don't do this.
Perhaps I will ... In fact, that is how I envision it — members attending events email pix to regional leadership, who email to (social media director??? After a while it might be a normal thing to share meetings with everyone.