Larix occidentalis / western larch
Larix occidentalis, as described in 1849 by Thomas Nuttall (1786–1859), is commonly known as western larch, western tamarack, hackmatack, mountain larch, as well as mélèze occidental in the French language. Although Lewis and Clark described seeing the tree in 1806, nobody formally recognized it as a distinct species until Nutall's study in 1849. The epithet occidentalis translates to "of the west" in the Latin language.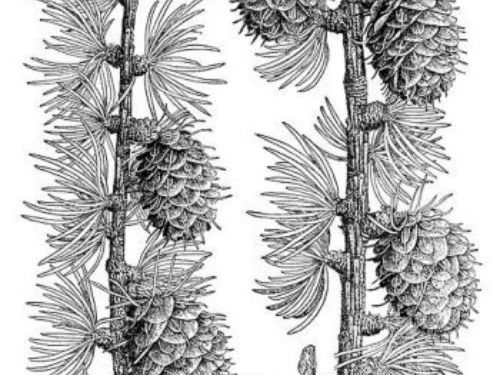 Description. Western larch is a deciduous coniferous species of tree that grows to heights of 150 feet (50 m) tall with a long clear trunk to 80 inches (200 cm) in diameter, measured at breast height. It matures with a short, conic crown.
Bark is thin and scaly when young, becoming up to 6 inches (15 cm) thick. It is plated, deeply furrowed, and reddish brown in color when older.
Branches grow horizontally, occasionally pendant in the lower crown of trees grown in the open. Twigs are orange-brown in color, pubescent at first, becoming glabrous or very sparsely pubescent within thefirst year. Buds are dark brown in color, generally puberulent, with erose scale margins.
Needles growing on short shoots, are 0.8 to 2 inches (2 - 5 cm) long, keeled abaxially, with shallow convex midrib adaxially. They are soft, pale green in color, turning bright yellow in autumn. They grow in circular clusters of 15 to 30 on spur twigs and singly along current year's growth.
Seed cones are oval in shape when closed, ovoid when open, 0.8 to 1.2 inches (2 - 3 cm) long and 0.52 to 0.64 inch (1.3 - 1.6 cm) wide on coarse curved stalks. Each cone as 45-55 seed scales with entire margins, a pubescent adaxial surface and bracts tipped by 0.12 inch (3 mm) awns that exceed scales by circa 0.16 inch (4 mm).
Seeds are reddish brown in color with a 0.12 inch (3 mm) body and a 0.24 inch (6mm) wing.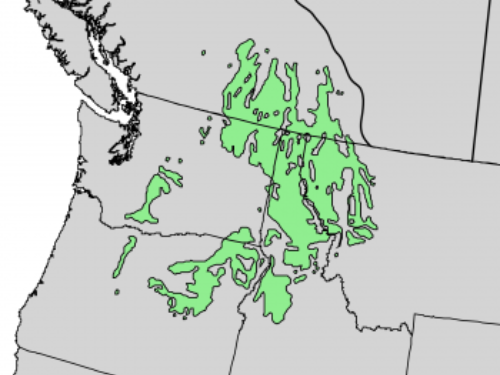 Distribution. This species is native to Canada's province of British Columbia and USA, Montana, Idaho, Washington and Oregon, growing at elevations of 1,600 to 6,800 feet (500 - 2,135 m) above sea level, usually in mountain valleys and lower slopes in mixed coniferous forests. It is hardy to Zone 4, cold hardiness limit between -30º and -20ºF (-34.3° and -28.9°C).