Larix lyallii / Alpine larch
Larix lyallii, first described in 1863 by Filippo Parlatore (1816–1877) is commonly known as Alpine larch, Mountain larch, tamarack as well as mélèze de Lyall in the French language. The species in named in honor of David Lyall, a Scottish surgeaon and naturalist who collected the first botanical specimens in 1858, as a member of the British Columbia Boundary Commission.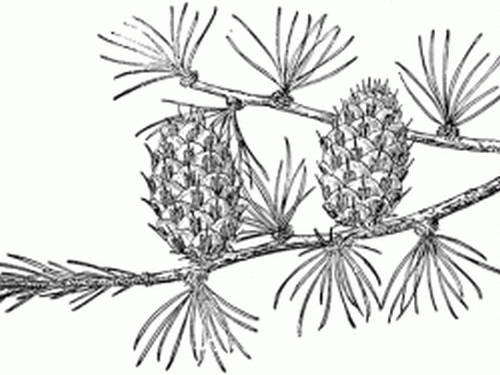 Description. Alpine larch is a deciduous coniferous species of tree that grows to heights of 80 feet (25 m) tall with a trunk up to 48 inches (120 cm) in diameter, measured at breast height with an irregular, sparse, conic crown.
Bark is thin, smooth, yellowish grey when young; becoming furrowed and flaking into red- to purple-brown scales with age.
Branches grow horizontally, occasionally pendulous, often gnarled and irregularly spaced. They persistent on trunk long after dead. Twigs are densely white- to yellow-tomentose for their first 2 to 3 years. Buds are tomentose as well with ciliate scale margins.
Needles are deciduous, growing in bundles of 30 to 40 on short shoots are 0.8 to 2.1 inches (20 - 35 mm) long and 0.16 to 0.24 inch (0.4- to 0.6 mm) thick, keeled abaxially, dual-angled adaxially, light green in color, turning golden yellow in autumn.
Seed cones are elliptic in shape, and upright oriented. They are red in color when young, turning purplish and then brown with age. The cones grow to 1 to 2 inches (2.5 - 5 cm) long and 0.44 to 0.76 inch (1.1 - 1.9 cm broad), on curved stalks. Each seed cone has 45 to 55 rounded seed scales, with erose margins and tomentose abaxial surfaces at maturity. Bracts are tipped by 0.16 to 0.2 inch (4 - 5 mm) awns that exceed mature scales by circa 0.24 inch (6 mm).
Seeds are yellow to purple in color with a 0.12 inch (3 mm) body and a 0.24 inch (6 mm) wing.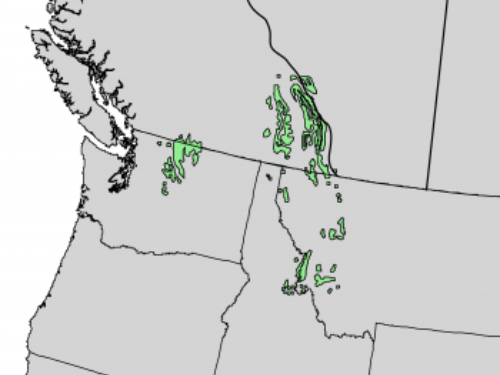 Distribution. This species is native to Canada: Alberta and British Columbia; and USA: Washington, Idaho and Montana at growing at elevation of 5,800 to 7,700 feet (1,800 - 2,400 m) above sea level. It is hardy to USDA Zone 3, cold hardiness limit between -40º and -30ºF (-39.9° and -34.4°C). It is adapted to growing on exposed northern subalpine slopes to the timberline, often with very rocky soils. It has very low shade tolerance and, due to its thin bark, low fire tolerance.
Attribution from: Parker, William H. 1993. Larix. Flora of North America Editorial Committee (eds.): Flora of North America North of Mexico, Vol. 2. Oxford University Press.