Larix griffithii / Sikkim larch
Larix griffithii, first described in 1854 by Joseph Dalton Hooker (1817–1911), is commonly known as Sikkim larch; as well as 西藏红杉 (Xizang hongshan) in the Chinese language. The species is named for W. Griffith (1810-1845), of whom J. D. Hooker (1854) wrote, "it is impossible to praise too highly Dr. Griffith's abilities and acquirements as a botanist, his perseverance and success as a traveler, or his matchless industry in the field and in the closet." Griffith discovered the tree during his travels in Bhutan.
There are two recognized specific varieties based on geography and differences in seed cones and fresh shoots:
Larix griffithii var. griffithii, the typical variety, fully described on this page. It ranges from the eastern Himalayan mountains to northern India. It has yellowish or light brown, pubescent shoots and strongly reflexed seed bracts.
Larix griffithii var. speciosa, the Yunnan larch, ranging from China's northwestern Yunnan through southeastern Xizang provinces. It has darker shoots and narrower and less strongly reflexed seed cones.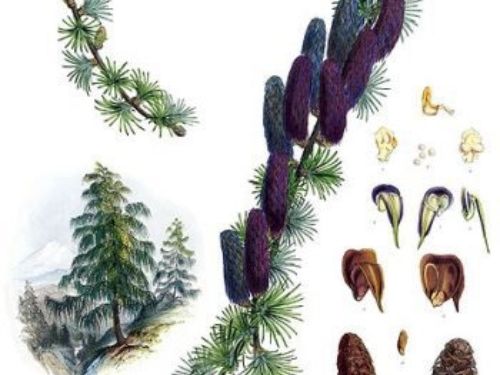 Description. Sikkim larch is a deciduous coniferous species of tree that grows to heights of over 65 feet (20 m) tall with trunks measuring 32 inches (80 cm) in diameter at breast height. The crown is slender conic; the main branches are level to upswept, the side branchlets pendulous from them.
Bark in old trees is gray-brown or dark brown in color with deep longitudinal fissures.
Shoots are dimorphic. long shoots are red-brown, light brown, or yellow-brown in color and 4 to 20 inches (10 - 50 cm) long. Short shoots are 0.24 to 0.32 inch (6 - 8 mm) in diameter, nearly smooth, with remnants of bud scales and rings of revolute scale bases. Winter buds are ovoid-globose or globose in shape and not resinous.
Leaves are needle-like, medium green in color and 1 to 2.2 inches (2.5 - 5.5 cm) long and 0.04 to 0.07 inch (1 - 1.8 mm) thick, keeled abaxially and toward the base adaxially.
Seed cones mature to brown or light brown in color, cylindric or cylindric-ellipsoid in shape, 2 to 4.4 inches (5 -11 cm) long and 0.88 to 1.2 inches (2.2 - 3 cm) wide.
Seeds are pale gray in color with irregular purplish spots, obliquely obovoid in shape, circa 0.4 inch (10 mm) long including wing. Pollination occurs from April to May, with seed maturing in October.
Distribution
. This species is native to the eastern Himalayan mountains: eastern Nepal, Sikkim, Bhutan, India's Arunachal Pradesh, and China: Tibet, Xizang province, growing at elevations of 9,600 to 13,120 feet (3,000 - 4,100 m) above sea level. The holotype was collected in Bhutan at 27.67ºN, 89.22ºE. It is hardy to USDA Zone 7, a cold hardiness limit between 0º and 10ºF (-17.7° and -12.2°C).
Attribution from: Wu Zheng-yi and Peter H. Raven (eds.). 1999. Flora of China, Volume 4. Beijing: Science Press; St. Louis