Juniperus squamata / scaly juniper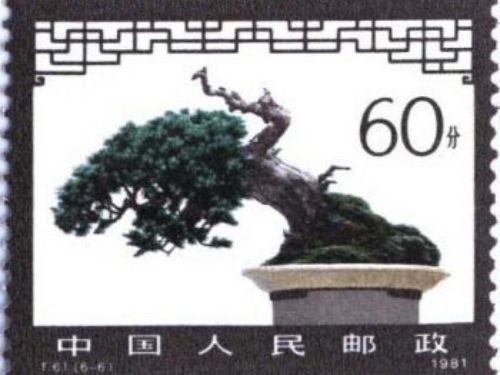 Juniperus squamata as described in 1824 by Francis Buchanan-Hamilton (1762–1829) in, A Description of the Genus Pinus, 2nd edition , is commonly known as scaly or flaky juniper, as well as Himalayan juniper in the English language. In other languages common names include, 高山柏 (gao shan bai) in Chinese, and Padma chunder in Hindi. The species name describes the sharp, prickly, "scaly" foliage. It unofficially represents the provincial tree of Khyber Pakhtunkhwa.
Three to six specific varieties are accepted, with treatment differing between different authors:

Juniperus squamata var. squamata - leaves mostly 0.2 to 0.36 inch (5 - 9 mm). Throughout the range.

Juniperus squamata var. fargesii, Rehder & E.H.Wilson - leaves are shorter, mostly 0.12 to 0.2 inch (3 - 5 mm). Confined to the eastern half of the range in China.

Juniperus squamata var. hongxiensis, Y.F. Yu & L.K. Fu; often included in var. squamata.

Juniperus squamata var. parviflora, Y.F. Yu & L.K. Fu; often included in var. squamata
.Juniperus morrisonicola, Hayata from Taiwan is often treated as a synonym, or a variety

Juniperus squamata var. morrisonicola (Hayata) H.L.Li & H. Keng, but is better treated as a distinct species as it has a distinct DNA profile.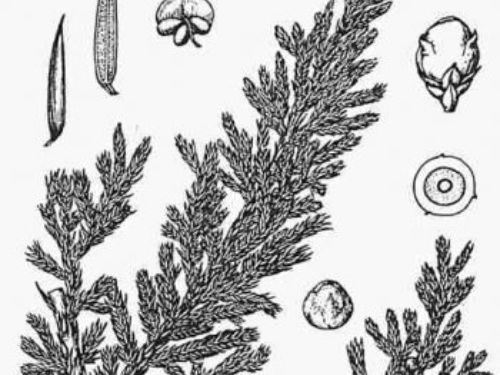 Description. Scaly juniper is a evergreen coniferous shrub (rarely a small tree) reaching 7 to 32 feet (2 - 10 m) tall (rarely to 50 feet / 15 m), with a prostrate to irregularly conical crown. This species is largely dioecious, with pollen and seed cones produced on separate plants, but occasionally monoecious.
Bark is flaky and dark brown in color.
Leaves are broad and needle-like, measuring 0.12 to 0.36 inch (3 - 9 mm) long, arranged in six ranks in alternating whorls of three, and are often strongly glaucous Blue-green in color.
Pollen cones measure 0.12 to 0.16 inch (3 - 4 mm) long, and shed pollen in late winter to early spring.
Seed cones are berry-like, with a globose to ovoid shape, each measuring 0.16 to 0.36 inch (4 - 9 mm) long and 0.12 to 0.16 inch (4 - 6 mm) in diameter, colored glossy black, and containing a single seed. They mature about 18 months after pollination.
Distribution. This species of juniper is native to the Himalayas and China, from northeastern Afghanistan east to western Yunnan in southwestern China, and with disjunct populations north to western Gansu and east to Fujian provinces. It grows at elevations of 5,000 to 15,000 feet (1,600 - 4,900 m) above sea level.
Juniperus squamata is widely grown as an ornamental plant in Europe and North America, valued for its bluish foliage and compact habit. The following cultivars have gained the Royal Horticultural Society's Award of Garden Merit: 'Blue Carpet' 'Blue Star' 'Holger'
Attribution from: R.P. Adams; Junipers of the World; ©2004, Trafford.