Juniperus rigida / temple juniper
Juniperus rigida, as described in 1846 by Philipp Franz von Siebold (1796–1866) and Joseph Gerhard Zuccarini (1790–1848), in Abhandlungen der Mathematisch-Physikalischen Classe der Königlich Bayerischen Akademie der Wissenschaften, 4th edition, is commonly known as temple or needle juniper, also as ネズミサシ、ネズ、ムロ (Nezu, Nezumi sashi, Muro) in the Japanese language and as 杜松 (du song) in Chinese. It is closely related to Juniperus communis (common juniper) and Juniperus conferta (shore juniper), the latter sometimes treated as a variety or subspecies of Juniperus rigida. Rigida is latin for "stiff or rigid," referring to its very spiny foliage.
There are two recognized subspecies:

J. rigida subsp. rigida, the typical subspecies which is described on this page.

J. rigida subsp. conferta, which is described here.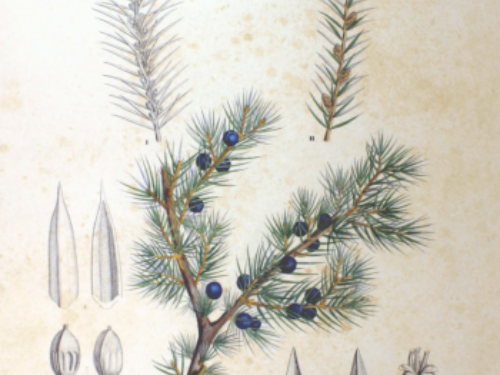 Description. Temple juniper is an evergreen coniferous species of shrub or small tree which will grow to matures heights of 20 to 32 feet (6 – 10 m) with a trunk up to inches (50 cm) in diameter, measured at breast height. This species is dioecious, with separate male and female plants.
Leaves are needle-like, growing in whorls of three, colored bright green to yellowish-green, measuring 0.4 to 0.9 inch (10 - 23 mm)long and 0.04 to 0.05 inch (1 - 1.3 mm) broad, with a single white stomatal band on the inner surface.

Pollen cones are yellow, measuring 0.12 to 0.2 inch (3 - 5 mm) long, and fall soon after shedding their pollen in spring.

Seed cones are berry-like, green when young, ripening 18 months after pollination to dark purple or brownish with a variable whitish waxy coating; they are spherical, measuring 0.2 to 0.36 inch (5 -9 mm) in diameter, and have three (rarely six) fused scales in one(rarely two) whorls of three, each bearing a single seed (when six scales, only the three larger scales with seeds).

Seeds are dispersed when birds eat the cones, digesting the fleshy scales and passing the hard seeds in their droppings.
Distribution. This species is native to Japan — Honshu (southward from Iwate Prefecture), northern Shikoku, and northern and central Kyushu growing at elevations of 300 to 3,000 feet (100 - 1,000 m) above sea level; Korea; China — Gansu, northern Hebei, Heilongjiang, Jilin, Liaoning, Nei Mongol, Ningxia, Qinghai, and Shaanxi provinces in dry mountainous areas at up to 7,000 feet (2,200 m) elevation; rare in Russia, where in only occurs in southern Ussuriland, on limestone rocks and sandy seashores.
Hardy to USDA Zone 6 — cold hardiness limit between -10° and 0°F (-23.2° and -17.8°C).
It is grown as an ornamental tree, often planted in temple grounds in Japan. It is also often grown as bonsai subject.
Attribution from: Aljos Farjon; Monograph of Cupressaceae and Sciadopitys; ©2009, Royal Botanic Gardens, Kew, United Kingdom.