Falcatifolium papuanum / New Guinea sickle pine
Falcatifolium papuanum, as described in 1969 by David John de Laubenfels (1925-2016), in Journal of the Arnold Arboretum, vol. 50, is commonly known as New Guinea sickle pine; as well as Mungag or Tugl in the local languages of Papua, New Guinea. The species name describes this species as endemic to Papua - New Guinea.
It is superficially similar to the New Caledonian sickle pine (F. taxoides), but in F. papuanum, the leaves are prickly and the podocarpium in the seed cones is larger.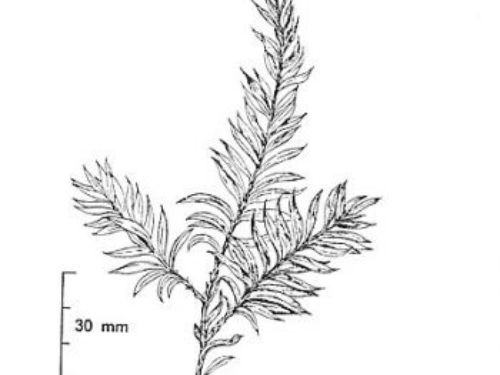 Description. New Guinea sickle pine is an evergreen coniferous species of tree that grows to mature heights of 20 to 70 feet (6 - 22 m), with a trunk from 3.2 to 24 inches (8 - 40 cm) in diameter, measured at breast height. Crown is broadly dome-shaped and branches are slender with numerous branchlets densely clothed with foliage.
Bark is redish brown in color, weathering gray to dark brown and flaking into distinct scales.
Seedling leaves measure 0.024 to 0.72 inch (6 - 18 mm) by 0.024 to 0.032 inch (0.6 - 0.8 mm). They are the same as the smaller adult leaves, but glaucous beneath.
Adult leaves have a falcate (sickle) shape and then more or less linear in the distal part of the leaf or tapering slightly, narrowing almost abruptly to an apiculate apex, the apex occasionally bent slightly forward. Individual needles measure 0.4 to 0.8 inch (10 - 20 mm) long by 0.08 to 0.16 inch (2 - 4 mm) broad.
Pollen cones measure 0.2 to 0.52 inch (5 - 13 mm) long and 0.08 to 0.1 inch (2 - 2.5 mm) in diameter.
Seed cones with included popocarpium measure 0.24 to 0.28 inch (6 - 7 mm) long and are black at maturity.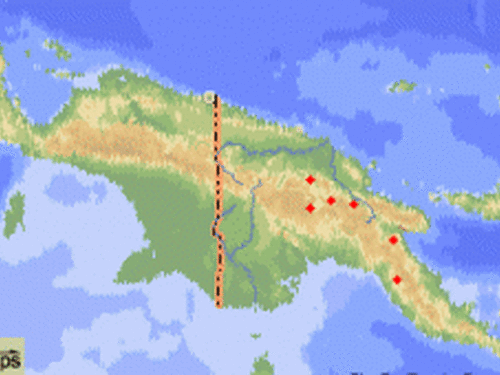 Distribution. This species is native to New Guinea, growing in moist mountain forests at elevations of 5,000 to 7,500 feet (1,500 - 2,400 m) above sea level. It grows naturally in the forest understory; typical associates include Nothofagus, Myrtaceae and other Podocarpaceae.
Hardy to USDA Zone 9 — cold hardiness limit between 20° and 30°F (-6.6° and -1.1°C).
Attribution from: David J. de Laubenfels; Coniferales. pp. 337-453 in Flora Malesiana, Series I, Vol. 10; ©1988, Kluwer Academic, Dordrecht, Germany.