Dacrydium xanthandrum / Kerapui
Dacrydium xanthandrum, first describied by Pilger in 1938 is commonly known as kerapui in the Malaysian state of Sabah In the Dusun and Sensuron languages, in Bokan and Mt Alab it is known as seringoun, and it Atjeh it is known as arun gunong.
Description. Dacrydium xanthandrum is an evergreen coniferous tree of shrub in the Podocarpaceae family which grows 6 to 115 feet (2 - 36 m) tall, and up to 28 inches (70 cm) in diameter. Juvenile leaves spread widely, bent slightly forward, linear-lanceolate, up to one ince (2 cm) long, strongly keeled on the dorsal side, slightly keeled and slightly convex on the axial side, and spiny. Adult leaves also spread widely, straight or slightly bent forward but the tips still directed outwards, lanceolate to linear-lanceolate, 0.24 to 0.4 inch (6-10 mm) long or shorter at the base of the shoot, spiny, strongly keeled on the dorsal side, slightly keeled and slightly concave on the axial side. Fertile stuctures are both terminal and lateral. Pollen cone subtended by a cluster of reduced leaves which are ca. 0.08 inch (2 mm) long. The pollen cone itself is 0.2 to 0.5 inch (5-13 mm) long. Seed-bearing structure subtended by a shoot up to 0.16 inch (4 mm) long with reduced leaves ca. 0.08 inch (2 mm) long or when seed cones appear on terminals sometimes following normal leaves; fertile bracts similar to leaves, spreading, 0.1 inch (2-3 mm) long. The shiny brown seeds are ca. 0.16 inch (4 mm) long, fully exposed, often in pairs.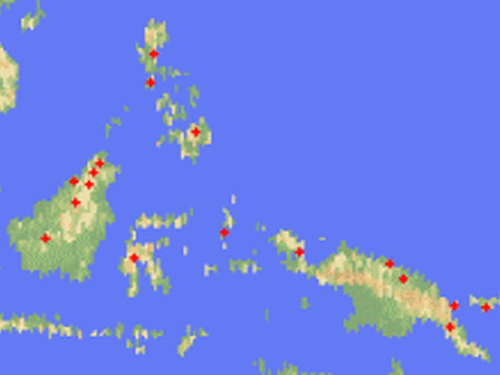 Distribution. This species is native to Solomon Islands (Bougainville); New Guinea (including New Britain); central East Celebes; Philippines (Mindoro); Borneo (Sabah; Central Kalimantan: Bt. Raya; Sarawak: Mt Mulu, Mt Murud); northern Sumatra (Atjeh) and in Malaysia. Native elevations range from 3,200 to 8,600 feet (1000-2700 m). Within its range, mean annual temperature is 73º F (22.9° C), with an average minimum in the coldest month of 64º F (18.0° C), and a mean annual precipitation of 115 inches (2,911 mm).
Attribution from: David J. de Laubenfels, © 1988. Coniferales. pp. 337-453 in Flora Malesiana, Series I, Vol. 10. Dordrecht: Kluwer Academic.