Dacrydium beccarii / Netukuria
Dacrydium baccarii, first described by Parlatore in 1867 is commonly known as netukuria in New Guinea; mejoop in New Britain, Kebar valley; kawau in Taliabu; kayu embun in Borneo on Merurong Plateau; ekor kuda in Malaysia, Kedah; and sampinur tali in Skawauumatra, Tapanuli.
Description. Dacrydium beccarii is a shrub or small tree in the Podocarpaceae family growing to 3 to 60 feet (1 - 20 m), exceptionally to 120 ft (35) m tall, profusely branched with the branches turned upward, often forming a dense umbrella- or dome-shaped crown. Leaves are crowded so that shoots resemble a furry animal's tail. Juvenile leaves are nearly straight, linear-lanceolate, becoming gradually curved forward, strongly keeled on three sides, nearly flat on the axial surface, up to 0.7 inch (17 mm) long. Adult leaves are spreading, bent slightly forward but the apiculate tips still directed slightly outward, triangular in cross section, 0.2 to 0.4 inch (5-10 mm) long, crowded, linear-lanceolate. Cones are both lateral and terminal, subtended by about a dozen reduced leaves around .04 (1 mm) long, the seed cone itself formed of a similar number of bracts up to 0.08 inch (2 mm) long and not completely covering the epimatium.
Distribution. This species is native to the Solomon Islands (Guadalcanal); New Guinea (including Normanby Island and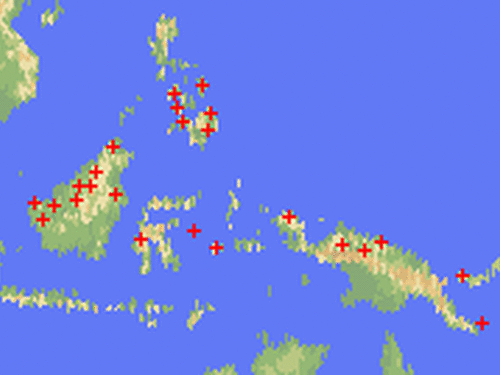 New Britain); Moluccas (Taliabu); Philippines (including Mindanao, Negros, and Biliran Islands); and mainly western Borneo to Malaysia and northern Sumatra at elevations of 1,800 to 7,500 feet (600 - 2,500 m). Typical climate in these areas includes an average annual low temperature of 65º F (18.3º C) and average annual rainfall of 125 inches (3,200 mm).
Attribution from: Chris Earle, The Gymosperm Database ©2012