Cupressus nootkatensis / Nootka cypress
Cupressus nootkatensis, as described in 1824 by David Don (1799 – 1841), in A Description of the Genus Pinus, 2nd edition, is commonly known as Nootka cypress, yellow cypress and Alaskan cypress. Even though it is not a true cedar (Cedrus), it is also sometimes confusingly called Nootka cedar, yellow cedar, Alaskan cedar, or Alaskan yellow cedar. Its name derives from its discovery on the lands of a First Nation of Canada. Those lands of the Nuu-chah-nulth people of Vancouver Island, British Columbia, were formerly referred to as the Nootka.

This species is a cypress of the Cupressaceae family that possesses a checkered taxonomic and nomenclatural history. Synonyms include:

Chamaecyparis nootkatensis (D.Don) Spach 1841
Callitropsis nootkatensis (D.Don) Oersted 1864
Xanthocyparis nootkatensis (D.Don) Farjon & Hiep 2002

It is one of the parents of the hybrid Leyland cypress (Cupressus × leylandii). Since the other parent, Monterey cypress (Cupressus macrocarpa), is also in genus Cupressus, the ready formation of this hybrid is further argument for placing the Nootka cypress closer to Cupressus.
For more taxonomic data, please refer to the Tropicos entry for this species.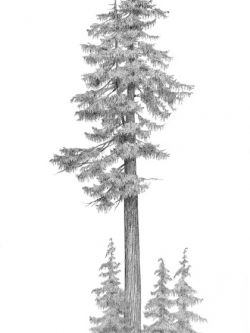 Description. Nootka cypress is an evergreen, coniferous species of tree that grows to mature heights of 125 feet (40 m) tall.
Branching is commonly pendulous, adapted to snowy winters.

Foliage consists of flat sprays, with dark green, 0.12 to 0.2 inch (3 – 5 mm) long scale-leaves.

Seed cones are comprised of 4 (occasionally 6) seed scales, and resemble the cones of Mexican cypress (Cupressus lusitanica), another Cupressus species which can show foliage in flat sprays fairly closely, except being somewhat smaller, typically 0.4 to 0.56 inch (10 – 14 mm) in diameter. Each seed scale has a pointed triangular bract about 0.06 to 0.08 inch (1.5 – 2 mm) long, again similar to other Cupressus and unlike the crescent-shaped, non-pointed bracts on the scales of Chamaecyparis cones.
Distribution. This species is native to the west coast of North America, from Alaska's Kenai Peninsula, south to the Klamath Mountains in northernmost California. It typically occurs on wet sites in the mountains, often close to the tree line, but sometimes also at lower elevations.

The Caren Range on the west coast of British Columbia is home to the oldest Nootka Cypress specimens in the world, with one specimen found to be 1,834 years old according to the Chris Earle's Gymnosperm Database.
In Alaska, where the tree is primarily referred to as yellow cedar," extensive research has been conducted into large-scale die-offs of yellowcedar stands. These studies have concluded that the tree has depended upon heavy coastal snowpacks to insulate its shallow roots from cold Arctic winters. The impacts of climate change have resulted in thinner, less-persistent snowpacks, in turn causing increased susceptibility to freeze damage.
Hardy to USDA Zone 5 — cold hardiness limit between -20° and -10°F (-28.8°C and -23.3°C).

For more pictures of mature plants in nature or large public gardens, please refer to the TreeLib entry for this species.