Cupressus macnabiana / McNab cypress
Cupressus macnabiana, first described by Andrew Dickson Murray (1812 - 1878), is commonly known as McNab or Shasta cypress. It was named for James McNab (1810-1878), curator of the Edinburgh Botanic Garden at the time the species was described (W.L Jepson; The Trees of California, ©1923). McNab is now remembered chiefly for his 1834 Mexican collecting trip, from which he successfully introduced the poinsettia. Although the species was described by Andrew Murray, a Scots politician who also made a name for himself studying insects and conifers, it was actually collected by A.F. Beardsley, a professional seed collector working for Murray.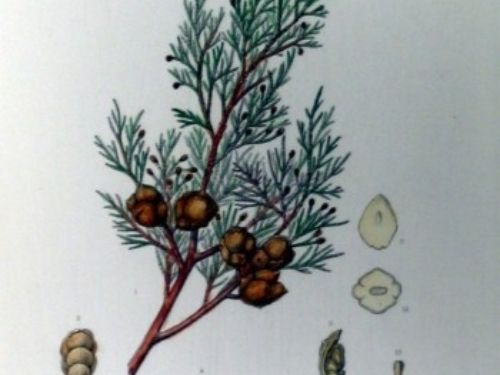 Description. McNab cypress is a shrubby evergreen coniferous tree, growing to a height of 40 feet (12 m) tall with a broadly conical, dense crown. Bark is rough, furrowed and fibrous. Branchlets are comb-like, 0.02 to 0.04 inch (0.5 - 1 mm) in diameter. The leaves have conspicuous, pit-like, abaxial glands that produce drops of resin and are sometimes glaucous. Pollen cones are ca. 0.1 inch by 0.08 inch (2 - 3 × 2 mm) in size. Seed cones are globose, mostly 0.6 to 1 inch (1.5 - 2.5 cm) around, brown or gray in color, not glaucous with 3-4 pairs of scales and are smooth except for erect conic 0.08 to 0.16 inch (2 - 4 mm) umbos. Seeds are 0.08 to 0.2 inch (2-5 mm) in size, light to medium brown in color, and are sometimes slightly glaucous.
"Among all the true Cypresses of North America this one is unique in having flattened branchlets always lying all in one plane, to form a 'spray' . .. instead of bristling all around the twig as in most other species of Cupressus" (Eckenwalder), James E. . Flora of North America North of Mexico, Vol. 2. ©1993 Oxford University Press).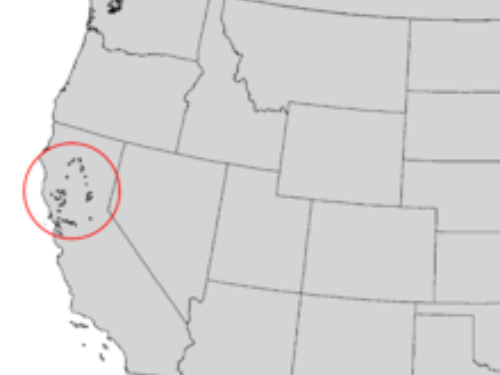 Distribution. This species is native to USA — California at elevations of 1,500 to 2,800 feet (300 - 850 m) over sea level in chaparral and foothill woodland, also at two remote locations in southwestern Oregon. It is often seen growing on serpentine soils.
Attribution from: James E. Eckenwalder; Flora of North America North of Mexico, Vol. 2. ©1993 Oxford University Press